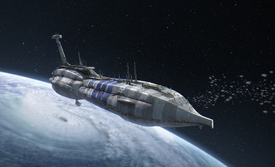 Dreadnoughts were massive capital ships. Dreadnoughts included the Providence-class[1] and the Subjugator-class used by the Confederacy of Independent Systems,[2] as well as the Mandator IV-class Siege Dreadnought used by the First Order.[3] Some Super Star Destroyers of the Galactic Empire,[4] such as the Executor-class,[5] and the First Order's Mega-class were referred to as Star Dreadnoughts.[6]
Community content is available under
CC-BY-SA
unless otherwise noted.