Jurassic World: Dominion Dominates Fandom Wikis - The Loop
Play Sound
"You're just a droid. You don't know about real duty, about what it's like to have a brother."
"I am sorry. I always wanted to have human feelings, but I do not."
―Clone trooper Fives and AZI-3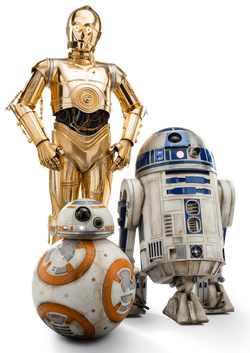 Droids, less commonly known as robots and automatons, were mechanical beings that possessed artificial intelligence. They were used in a variety of roles and environments, often those considered too menial or too dangerous for other species, but also in fields that required extensive specialization and knowledge.
History
[
]
"Never underestimate a droid."
―Leia Organa, to Rey
The earliest origins of droids were lost to history, and, by the time of the New Republic, it was unknown exactly when the first droid was created,[3] though some historians, only taking into account the more advanced worlds, placed the origin of the first droids to approximately 30,000 years before the Battle of Yavin.[4] Nevertheless, for millennia, droids served in galactic society alongside organic beings.[5] According to the B1-series battle droid R0-GR, the bond between organic and mechanical lifeforms were tenuous with the former fearing that droids would rise up against their masters. Though several droid revolts took place, Roger claimed that an "unspoken understanding" between human and droid cultures kept everyone working on the same team throughout the ages.[3]
Droids existed as far back as the earliest days of the Jedi Order,[6] which was founded over 25,000 years before the Clone Wars.[7] One such ancient droid, Professor Huyang, served the Jedi for several millennia.[6] As a result of this ancient coexistence with living beings, the galaxy often had an uneven relationship between organics and mechanicals. Records of uprisings and clashes between droids and their organic overlords became increasingly common as droids slowly became more important in galactic society.[5] During the High Republic Era, the Nihil deployed blaredroids and scav droids.[8]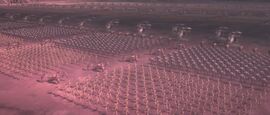 During the pan-galactic conflict known as the Clone Wars, the Confederacy of Independent Systems used a variety of battle droids in its fight against the Galactic Republic. This mass use of droids in combat cemented the idea of the "droid as an existential threat to biological life" narrative in the minds of the Republic.[5] Droids were not utilized by the Chiss Ascendancy by the time of the Clone Wars.[9]
Ultimately, the Republic won the war and was replaced by an authoritarian Galactic Empire. Under the new regime, many people in the galaxy were afraid or otherwise distrustful of droids, due to their bad memories of the conflict.[10] The Galactic Empire fostered anti-droid sentiment, treating droids as property. Many sentients continued the Clone Wars policies of wiping droids' memories, fitting them with restraining bolts, and curtailing their movements. Several establishments also excluded droids.[3] After the Clone Wars, the Imperial Senate passed a law prohibiting programming that would allow for the harming of organics in the droids used by the Empire. However, this law was bypassed by Arakyd Industries in conjunction with the Imperial Military by marketing their KX-series droids as "security droids".[11]
The Rebel Alliance, which opposed the Empire, treated droids not as property but as sentient beings.[12] Several droids were encouraged by the Rebellion and carried out acts of resistance such as bypassing repressive programming, deactivating restraining bolts, and demanding freedom. The Rebellion's acceptance of droids as equals was continued by the New Republic and Resistance.[3]
Definition
[
]
"Droids are not good or bad. They are neutral reflections of those who imprint them."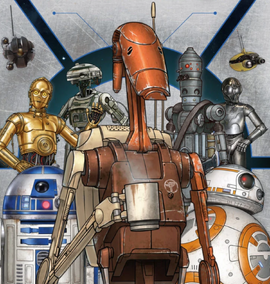 Droids were mechanical constructs designed to assist organic lifeforms in various tasks. Depending on the nature of the work they performed, they possessed various degrees of artificial intelligence.[14] Most droids had hard-coded restrictions against harming organics. Notable exceptions included security droids[15] and assassin droids.[10]
Droids came in all sizes and shapes, and many of them resembled humanoid organics, possessing an upright posture, two arms, two legs, hands, feet, one thorax, a neck, and a head.[16] The B1 battle droids were designed to resemble their insectoid Geonosian creators.[17] Likewise, the Colicoids designed the three-legged droidekas in their image.[18] Some droids, like the LOM-series unit, were made to resemble the organics they served.[14]
Contrary to organics, who were born and healed slowly,[19] droids were easily built en masse, were less fragile, and could be repaired easily.[20] They also did not have to learn skills (such as calculation abilities), as they were directly programmed with them. Most droids possessed a form of self-awareness, with advanced models even having emotions such as fear for their existence.[19] Droids did not need to breathe, eat or drink. They were capable of surviving in a vacuum and underwater, and were immune to all poisons and toxins.[21] They did not need to sleep, although they could be deactivated as a form of sleep and had occasional maintenance cycles.[22]
Because they were not technically alive, droids could not access the Force,[20] an energy field that connected all living things in the galaxy.[23] The reprogrammed protocol unit Triple-Zero, however, theorized that the Force might flow through a droid equipped with a special engine driven by human blood.[20] Additionally, not being alive, droids could not be sensed in the Force, though a skilled Jedi might sense their presence through the empty spots they left in the Force.[24]
Droids were usually completely obedient and precise, and normally followed their proprietors' orders.[23] Some droids, however, were emancipated and fended for themselves.[25]
Unlike mere machines or primitive computers, droids were capable of developing unique personalities by gathering experiences. They could form friendships, and experience emotions such as happiness, pain, and sadness.[26] To avoid that, most droid owners performed regular memory wipes on their properties.[16] However, memory wipes were not always perfect, occasionally leaving droids with vague recollections.[27][28]
It was the nature of less complex droids to assume that if a human acted as if they belonged somewhere, then that human did belong there.[29]
Characteristics
[
]
"Droids are not Jedi. And Jedi are not droids. But we do have something in common. For us…fear isn't much of an issue."
―Jedi Master Loden Greatstorm
Droids were considered not to be very tasty by the nightwatcher worms, a non-sentient predatory species native to the planet Jakku. As a result, the BB-series astromech droid BB-8 was not eaten by a nightwatcher worm following his escape from the First Order's attack on Tuanul.[31]
Classes of droids
[
]
"For easy identification, droids are traditionally divided into five classes based on their specifications. (Frankly, I think that lumping us together like this is a little rude. I assume this list was developed by a human with zero class.)"
Droids could be entrusted with a multitude of tasks, ranging from running elementary diagnostics to performing complicated medical procedures, or sending communications to flying starships.[14] Depending on their technology, skills, and purpose, droids were grouped into five "classes,"[32][33] also called "degrees."[5]
First class droids
[
]
The first class was made up of droids skilled in mathematical, physical, and medical sciences. Examples included the JN-66 analysis droid, the 2-1B-series medical droid,[33] the midwife droid,[33] the DD-13 tripedal medical droid, and the GH-7 series medical assistance droid.[32]
Second class droids
[
]
Droids of the second class were skilled in engineering and technical sciences. Examples included the DUM-series pit droid, the PLNK-series power droid, and the WED-15 Septoid Treadwell.[32]
Third class droids
[
]
Third class droids were skilled in social sciences and service functions. Examples included the CZ secretary droid, the LEP-series service droid, the FA-5 valet droid, and the BD-3000 luxury droid.[32]
Fourth class droids
[
]
Droids of the fourth class were skilled in military and security functions. Examples included the GU-series Guardian police droid, the KX-series security droid, and the B1 battle droid.[32]
Fifth class droids
[
]
Fifth class droids were programmed for manual labor and intensive jobs that did not require a high level of intelligence. Examples included the GNK-series power droid,[33] the MSE-6 series repair droid,[33] the IW-37 pincer loader droid, the R-H029 sifter droid, the PK-series worker droid, and the UX-53 Autopolisher MK.II Droid.[32]
Behind the scenes
[
]
"Well, the droids were there to serve. Obviously droids are servants of man. They do as they are commanded and all that kind of stuff but at the same time I love droids, they're my favorite people. I didn't want them to be cold robots. Even the robots in THX are very friendly. They're not malevolent. In Star Wars I really wanted to get into the robots and their problems in life; a little equal time for robots, who have taken a lot of shit over the years and have never really had a chance to prove themselves."
―George Lucas, referring to Star Wars: Episode IV A New Hope
The word droid is derived from android, which means "man-like." The word droid was stylized as 'droid in the novelization of Star Wars: A New Hope and other early Star Wars Legends material.
In 1977, during an interview regarding the original trilogy film Star Wars: Episode IV A New Hope, George Lucas stated that droids were designed to serve sentients. However, droids were Lucas' favorite people, and the filmmaker did not want droids to be cold or malevolent, just like how the robots in THX 1138 were "very friendly." Lucas wanted to focus on droids and their issues in life, giving them equal screentime since they had endured much suffering over the years and had little to no opportunities to prove themselves.[34] As with Akira Kurosawa's film Seven Samurai, A New Hope follows the points of view of two lowly beings—the droids R2-D2 and C-3PO.
Trademark
[
]
George Lucas holds a trademark on the term "droid." The miniature 'mech combat wargame BattleTech was originally released under the name BattleDroids, but was renamed due to trademark issues with Lucasfilm.
Pixar Animation Studios' film The Incredibles (2004) contains a reference to Lucasfilm's droid with the large weapon of destruction, the Omnidroid; an apparently unrelated killer droid of the same name also appears in Star Wars Galaxies. The credits of the film give a nod to Lucasfilm.
From Mickey News (25 November 2004):
[In] the closing credits... a notice that the term "Omnidroid" was used by permission of Lucasfilm Ltd. has prompted some fans to speculate that The Incredibles offers a sneak peak at a character from the next Star Wars film.
"No. No, no, no," Bird [Brad Bird, director of The Incredibles] says with a laugh, when asked if the secret weapon has a secret of its own. "I like that they think that, but it's more the term 'droid' is Lucas and we made the term Omnidroid (and then got the OK as a courtesy). So, no, there's no sneak. But God bless those fans. They're crazy."
The term "Droid" has been licensed by Verizon Wireless for their line of smartphones based on the Android operating system. Motorola's late-2009 Google Android-based cell phone is called the Droid, and this line of phone has been expanded to include other Android-based phones released under Verizon. The term is used under license from Lucasfilm.[35]
Appearances
[
]
Non-canon appearances
[
]
Sources
[
]
Astromech droids in the Encyclopedia (content now obsolete; backup link)
battle droid in the Encyclopedia (content now obsolete; backup link)
battle droid 513 in the Encyclopedia (content now obsolete; backup link)
BNI-393 in the Encyclopedia (content now obsolete; backup link)
C-21 Highsinger in the Encyclopedia (content now obsolete; backup link)
C-3PO (See-Threepio) in the Encyclopedia (content now obsolete; backup link)
Commando droid in the Encyclopedia (content now obsolete; backup link)
Droid gunship in the Encyclopedia (content now obsolete; backup link)
Droideka in the Encyclopedia (content now obsolete; backup link)
Dwarf spider droid in the Encyclopedia (content now obsolete; backup link)
Fire-breather in the Encyclopedia (content now obsolete; backup link)
Hyena bombers in the Encyclopedia (content now obsolete; backup link)
Imperial probe droid in the Encyclopedia (content now obsolete; backup link)
Jawas in the Encyclopedia (content now obsolete; backup link)
MTT in the Encyclopedia (content now obsolete; backup link)
Padmé Amidala in the Encyclopedia (content now obsolete; backup link)
pit droid in the Encyclopedia (content now obsolete; backup link)
police droid in the Encyclopedia (content now obsolete; backup link)
protocol droids in the Encyclopedia (content now obsolete; backup link)
R2-D2 in the Encyclopedia (content now obsolete; backup link)
Retail Caucus droid in the Encyclopedia (content now obsolete; backup link)
sandcrawler in the Encyclopedia (content now obsolete; backup link)
Sith probe droid in the Encyclopedia (content now obsolete; backup link)
sniper droid in the Encyclopedia (content now obsolete; backup link)
super battle droid in the Encyclopedia (content now obsolete; backup link)
vulture droid in the Encyclopedia (content now obsolete; backup link)
"

Chopper Rolls Out!

" – Star Wars Insider 152
Star Wars: Rebels (Pack: Zeb Maquette) (backup link)
Star Wars: Destiny – Awakenings (Card: All In) (Picture only)
Star Wars: Destiny – Awakenings (Card: BB-8)
Star Wars: Destiny – Awakenings (Card: Cannon Fodder) (Picture only)
Star Wars Helmet Collection 1 (Databank A-Z: Ask Aak–Stass Allie; Helmets: Darth Vader, Master of the Dark Side)
Star Wars Helmet Collection 2 (Databank A-Z: Alzoc III–Antilles; Weapons & Uniforms: Bounty Hunters)
Star Wars Helmet Collection 8 (Databank A-Z: Bric–C-3PO; Helmets: General Grievous; Weapons & Uniforms: Imperial Droids; Highlights of the Saga: Kidnap of the Chancellor)
Star Wars Helmet Collection 9 (Databank A-Z: C-21–Chandrila; Weapons & Uniforms: Imperial Droids; Highlights of the Saga: Ground Assault on Hoth)
Star Wars Helmet Collection 11 (Helmets: Tusken Raiders; Weapons & Uniforms: Inhabitants of Tatooine)
Star Wars Helmet Collection 13 (Databank A-Z: Poe Dameron–Delta 7-B; Helmets: Naboo Pilot; Highlights of the Saga: The Battle for Naboo)
Star Wars Helmet Collection 16 (Databank A-Z: E-11 Blaster–Cornelius Evazan; Helmets: 501st Legion Stormtroopers)
Star Wars Helmet Collection 17 (Databank A-Z: Ewoks–Finn (FN-2187); Helmets: Anakin Skywalker Podracer; Weapons & Uniforms: Sebulba and Rival Pilots; Highlights of the Saga: The Boonta Eve Classic)
Star Wars Helmet Collection 18 (Databank A-Z: First Order–Fyrnocks; Highlights of the Saga: Assault on Jakku)
Star Wars Helmet Collection 20 (Databank A-Z: Saw Gerrera–Commander Gree; Highlights of the Saga: The Capture of the Tantive IV)
Star Wars Helmet Collection 21 (Databank A-Z: Greedo–Gundarks; Weapons & Uniforms: Maz Kanata's Castle; Highlights of the Saga: Raid on Takodana)
Star Wars Helmet Collection 22 (Databank A-Z: Gungans–Rako Hardeen; Helmets: Phase I Clone Trooper; Highlights of the Saga: The Battle of Geonosis)
Star Wars Helmet Collection 24 (Databank A-Z: The HoloNet–General Hux; Helmets: Magnaguard; Highlights of the Saga: Duel to the Death)
Star Wars Helmet Collection 25 (Databank A-Z: Hydroid Medusas–Imperial Academies; Helmets: Commander Cody; Weapons & Uniforms: The Utapauns; Highlights of the Saga: Intrigue on Utapau)
Star Wars: Build Your Own R2-D2 1 (Building the Galaxy: Designing R2-D2, Part 1; Droid Directory: R2-series Astromech Droids, Part 1; Understanding Robotics: LEDs; Build R2-D2: Head & Right Shoulders)
Star Wars: Build Your Own R2-D2 2 (Building the Galaxy: Designing R2-D2, Part 2; Droid Directory: 3PO-series Protocol Droid, Part 1; Understanding Robotics: Integrated Circuits; Build R2-D2: Right Leg)
Star Wars: Build Your Own R2-D2 3 (Building the Galaxy: Motion Control Filming; Droid Directory: R2-series Astromech Droids, Part 2; Understanding Robotics: Printed Circuit Boards; Build R2-D2: Right Leg and Head Features)
Star Wars: Build Your Own R2-D2 4 (Building the Galaxy: Filming R2-D2, Part 1; Droid Directory: 3PO-series Protocol Droids, Part 2; Understanding Robotics: CMOS Image Sensors; Build R2-D2: Right Leg & Battery Box)
Star Wars: Build Your Own R2-D2 5 (Building the Galaxy: Filming R2-D2, Part 2; Droid Directory: Medical Droids, Part 1; Understanding Robotics: Rotary Bearings)
Star Wars: Build Your Own R2-D2 6 (Building the Galaxy: Filming R2-D2, Part 3; Droid Directory|Droid Directory: EGL Power Droids; Understanding Robotics: LCDs; Build R2-D2: R2-D2's Diagnostic Display)
Star Wars: Build Your Own R2-D2 7 (Building the Galaxy: The Star Wars Stunt Team; Droid Directory: LOM-series Protocol Droids; Understanding Robotics: Artificial Assistants; Build R2-D2: Head Frame & Leg Components)
Star Wars: Build Your Own R2-D2 8 (Droid Directory: Imperial Mark IV Sentry Droid; Understanding Robotics: Humanoid Robots; Build R2-D2: Head Frame & Ankle Components)
Star Wars Helmet Collection 27 (Databank A-Z: InterGalactic Banking Clan–Jakku; Helmets: Commander Gree; Weapons & Uniforms: The Wookiees; Highlights of the Saga: Battle of Kashyyyk)
Star Wars Helmet Collection 28 (Databank A-Z: Queen Jamillia–Jedi Temples; Helmets: Coruscant Emergency Crew; Weapons & Uniforms: Droid Firefighters)
Star Wars Helmet Collection 29 (Databank A-Z: Jelucan–Lord Junn; Highlights of the Saga: The Empire Strikes Back!)
Star Wars Helmet Collection 30 (Databank A-Z: Tee Watt Kaa–Kamino; Weapons & Uniforms: Senate Commandos)
Star Wars Helmet Collection 35 (Databank A-Z: Kyber Crystals–Laser Cannons; Helmets: 212th Attack Battalion; Weapons & Uniforms: Ready for Action)
Star Wars Helmet Collection 36 (Databank A-Z: Cut Lawquane–Lothal; Helmets: Boushh; Highlights of the Saga: Attack on Jabba's Palace)
Star Wars Helmet Collection 37 (Databank A-Z: Luggabeast–Malakili; Helmets: AT-RT Drivers; Weapons & Uniforms: Republic Ground Vehicles; Highlights of the Saga: The Battle of Ryloth)
Star Wars Helmet Collection 38 (Databank A-Z: Baze Malbus–Darth Maul; Helmets: Commander Thire; Highlights of the Saga: Ambush on Rugosa)
Star Wars Helmet Collection 39 (Databank A-Z: Kwazel Maw–Sly Moore; Helmets: Zam Wesell; Highlights of the Saga: Raid on the Jedi Temple)
Star Wars Helmet Collection 40 (Databank A-Z: Moraband–Muftak; Highlights of the Saga: Battle on Geonosis)
Star Wars Helmet Collection 41 (Databank A-Z: 'Occupier' Tank–Oola; Weapons & Uniforms: The Kaminoans)
Star Wars Helmet Collection 43 (Databank A-Z: Leia Organa; Weapons & Uniforms: Inhabitants of Jakku; Highlights of the Saga: Breakout)
Star Wars Helmet Collection 45 (Databank A-Z: Petranaki Arena–Proton Torpedoes; Helmets: Odd Ball; Weapons & Uniforms: Republic Pilots; Highlights of the Saga: The Battle of Teth)
Star Wars Helmet Collection 47 (Databank A-Z: Max Rebo–Sabacc; Helmets: Ezra Bridger; Weapons & Uniforms: The Lothal Rebels)
Star Wars Helmet Collection 48 (Databank A-Z: Sabe–The Separatist Council; Weapons & Uniforms: First Order Fleet Personnel; Highlights of the Saga: Fire on Jakku)
Star Wars Helmet Collection 50 (Databank A-Z: Luke Skywalker–Han Solo; Weapons & Uniforms: D'Qar Resistance Base Personnel)
Star Wars Helmet Collection 52 (Databank A-Z: Hera Syndulla–Ahsoka Tano; Helmets: The Guavian Death Gang; Highlights of the Saga: Reclaiming the Falcon)
Star Wars Lightsabers: A Guide to Weapons of the Force (Picture only)
Star Wars: The Black Series (Pack: Jawa) (backup link)
Star Wars: X-Wing Second Edition – Galactic Empire Conversion Kit (Card: GNK "Gonk" Droid) (Reissued in Rebel Alliance Conversion Kit, Scum and Villainy Conversion Kit, First Order Conversion Kit, Resistance Conversion Kit, VT-49 Decimator Expansion Pack, Hound's Tooth Expansion Pack)
Star Wars: X-Wing Second Edition – Lando's Millennium Falcon Expansion Pack (Card: L3-37 (Custom YT-1300))
Star Wars: X-Wing Second Edition – Lando's Millennium Falcon Expansion Pack (Card: L3-37 (Escape Craft))
Star Wars: X-Wing Second Edition – Rebel Alliance Conversion Kit (Card: AP-5) (Reissued in Ghost Expansion Pack)
Star Wars: The Black Series (Pack: L3-37) (backup link)
Star Wars: X-Wing Second Edition – Resistance Conversion Kit (Card: Blue Squadron Rookie) (Reissued in T-70 X-Wing Expansion Pack, Heralds of Hope Squadron Pack)
Star Wars: Build Your Own X-Wing 1 (Creating a Starship Fleet: Ralph McQuarrie – The Man Who Drew Star Wars; Starfighter Aces: Luke Skywalker – Savior of the Rebel Alliance; Rocket Science: Fighter Design; Build the X-Wing: Cockpit Canopy, Cannon, and Astromech Droid (R2-D2))
Star Wars Helmet Collection 54 (Databank A-Z: Tauntaun–TIE Craft; Helmets: Naboo Royal Guard; Highlights of the Saga: Flight from Naboo)
Star Wars Helmet Collection 55 (Databank A-Z: Saesee Tiin–Toydaria; Weapons & Uniforms: Saw Gerrera's Partisans; Highlights of the Saga: Target: The Holy City)
Star Wars Helmet Collection 56 (Databank A-Z: Tractor Beams–Tri-Fighters; Helmets: Imperial Ground Crew; Highlights of the Saga: Infiltrating the Citadel)
Star Wars Helmet Collection 57 (Databank A-Z: Trident Assault Ship–Turbolasers; Helmets: Wedge Antilles; Weapons & Uniforms: Chopper Base–Atollon)
Star Wars Helmet Collection 58 (Databank A-Z: Tusken Raiders–Captain Typho; Helmets: 2-1B Surgical Droid; Weapons & Uniforms: 2-1Bs in the Galaxy; Highlights of the Saga: To Save a Jedi)
Star Wars Helmet Collection 59 (Databank A-Z: Darth Tyranus; Weapons & Uniforms: Denizens of Maz Kanata's Castle)
Star Wars Helmet Collection 60 (Helmets: Clone Scout Trooper (Kashyyyk); Weapons & Uniforms: The 41st Elite Corps; Highlights of the Saga: The Second Battle of Geonosis)
Star Wars Helmet Collection 66 (Databank A-Z: Venator–Asajj Ventress; Weapons & Uniforms: Growing up on Tatooine)
Star Wars Helmet Collection 67 (Databank A-Z: Vibroblades–Cikatro Vizago; Highlights of the Saga: Birth of the Blade Wing)
Star Wars: X-Wing Second Edition – Servants of Strife Squadron Pack (Card: Grappling Struts (Closed)) (Reissued in Vulture-class Droid Fighter Expansion Pack)
Star Wars: X-Wing Second Edition – Servants of Strife Squadron Pack (Card: Grappling Struts (Open)) (Reissued in Vulture-class Droid Fighter Expansion Pack)
Star Wars: X-Wing Second Edition – Servants of Strife Squadron Pack (Card: Haor Chall Prototype) (Reissued in Vulture-class Droid Fighter Expansion Pack)
Star Wars: X-Wing Second Edition – Servants of Strife Squadron Pack (Card: Precise Hunter) (Reissued in Vulture-class Droid Fighter Expansion Pack)
Star Wars: X-Wing Second Edition – Servants of Strife Squadron Pack (Card: Separatist Drone) (Reissued in Vulture-class Droid Fighter Expansion Pack)
Star Wars: X-Wing Second Edition – Servants of Strife Squadron Pack (Card: Trade Federation Drone) (Reissued in Vulture-class Droid Fighter Expansion Pack)
Star Wars: X-Wing Second Edition – Vulture-class Droid Fighter Expansion Pack (Card: Buzz Droid Swarm)
Star Wars: X-Wing Second Edition – Hyena-class Droid Bomber Expansion Pack (Card: Bombardment Drone)
Star Wars: X-Wing Second Edition – Hyena-class Droid Bomber Expansion Pack (Card: Landing Struts (Closed))
Star Wars: X-Wing Second Edition – Hyena-class Droid Bomber Expansion Pack (Card: Landing Struts (Open))
Star Wars: X-Wing Second Edition – Hyena-class Droid Bomber Expansion Pack (Card: Separatist Bomber)
Star Wars: X-Wing Second Edition – Hyena-class Droid Bomber Expansion Pack (Card: Techno Union Bomber)
Star Wars: Creatures Big & Small (Picture only)
Star Wars: Card Trader (Card: Overall Award - Episode 3 - Star Wars: The Clone Wars - Season 7 Episode Series)
Star Wars: Card Trader (Card: Overall Award - Episode 5 - Star Wars: The Clone Wars - Season 7 Episode Series)
Star Wars: X-Wing Second Edition – HMP Droid Gunship Expansion Pack (Card: Kalani) (Picture only)
Star Wars: X-Wing Second Edition – HMP Droid Gunship Expansion Pack (Card: Multi-Missile Pods) (Reissued in LAAT/i Gunship Expansion Pack) (Picture only)
Star Wars: X-Wing Second Edition – HMP Droid Gunship Expansion Pack (Card: Repulsorlift Stabilizers (Active)) (Picture only)
Star Wars: X-Wing Second Edition – HMP Droid Gunship Expansion Pack (Card: Repulsorlift Stabilizers (Inactive))
Star Wars: The Black Series (Pack: DJ R-3X) (backup link)
Season 1 Recap | The Mandalorian | Disney+ on the official Star Wars YouTube channel (backup link)
Star Wars: X-Wing Second Edition – Heralds of Hope Squadron Pack (Card: Overdrive Thruster) (Picture only)
Star Wars: X-Wing Second Edition – Heralds of Hope Squadron Pack (Card: R2-D2) (Picture only)
Star Wars: X-Wing Second Edition – Heralds of Hope Squadron Pack (Card: R6-D8) (Picture only)
Star Wars Bust Collection 1 (Star Wars Universe: Darth Vader; Behind the Cameras: How the Death Star Was Created)
Star Wars Bust Collection 2 (Star Wars Universe: Stormtroopers; Behind the Cameras: Evolution of the Stormtroopers)
Chancellor Lina Soh | Characters of Star Wars: The High Republic on the official Star Wars YouTube channel (backup link)
Yoda | Star Wars Full Circle on the official Star Wars Kids YouTube channel (backup link)
10 Helpful Droids | Star Wars: List It! on the official Star Wars Kids YouTube channel (backup link)
The Mandalorian | Star Wars Full Circle on the official Star Wars Kids YouTube channel (backup link)
7 Clones You'd Want on Your Team | Star Wars: List It! on the official Star Wars Kids YouTube channel (backup link)

Star Wars: Retro Collection

(Pack: IG-11) (backup link)
Star Wars: The Black Series (Pack: Tech) (backup link)
Star Wars: The Black Series (Pack: K-2SO) (backup link)
Faithful Friends | Star Wars: List It! on the official Star Wars Kids YouTube channel (backup link)
Make the Jump Into Star Wars: Hyperspace Stories With the New Dark Horse Comic – Exclusive on StarWars.com (backup link)
Droid Friends | Star Wars Mindful Matters on the official Star Wars Kids YouTube channel (backup link)
2-1B Droid in the Databank (backup link)
2BR-NTB in the Databank (backup link) (Picture only)
4-LOM in the Databank (backup link)
4D-M1N in the Databank (backup link)
5-L in the Databank (backup link)
79's in the Databank (backup link) (Picture only)
8D8 in the Databank (backup link)
AA-9 Coruscant freighter in the Databank (backup link)
AAT Battle Tank in the Databank (backup link)
Abafar in the Databank (backup link)
Admiral Wullf Yularen in the Databank (backup link)
Agamar in the Databank (backup link)
Ahsoka Tano in the Databank (backup link)
Alderaan in the Databank (backup link)
Alexsandr Kallus in the Databank (backup link)
Anakin Skywalker in the Databank (backup link)
AP-5 in the Databank (backup link)
Aqua Droid in the Databank (backup link)
ARC Trooper Fives in the Databank (backup link)
ARC-170 Starfighter in the Databank (backup link)
Asajj Ventress in the Databank (backup link)
ASP General Purpose Droid in the Databank (backup link)
Astromech Droid in the Databank (backup link)
AT-RT walker in the Databank (backup link)
autovalet droid in the Databank (backup link)
AZI-3 in the Databank (backup link)
Azmorigan in the Databank (backup link)
B-U4D (Buford) in the Databank (backup link)
B1 in the Databank (backup link)
B2-RP battle droid in the Databank (backup link)
Babu Frik in the Databank (backup link)
Babu Frik's workshop in the Databank (backup link)
Barriss Offee in the Databank (backup link)
Battle Droid in the Databank (backup link)
Battle droid 513 in the Databank (backup link)
Bespin in the Databank (backup link)
BD-1 in the Databank (backup link)
Bibo in the Databank (backup link)
BNI-393 in the Databank (backup link)
BT-1 in the Databank (backup link)
C-21 Highsinger in the Databank (backup link)
C-3PO (See-Threepio) in the Databank (backup link)
CG-67 in the Databank (backup link)
Clone Trooper Kix in the Databank (backup link)
Cloud City in the Databank (backup link)
Commando Droid in the Databank (backup link)
Courier Droid in the Databank (backup link)
D-O in the Databank (backup link)
D-wing security droid in the Databank (backup link)
Datarod in the Databank (backup link)
DD-BD in the Databank (backup link)
Droideka in the Databank (backup link)
Droid Gunship in the Databank (backup link)
Droid Popper in the Databank (backup link)
Dwarf Spider Droid in the Databank (backup link)
E-XD Infiltrator Droid in the Databank (backup link)
EGL-21 "Amps" Power Droid in the Databank (backup link)
EV-9D9 in the Databank (backup link)
EV-A4-D in the Databank (backup link)
ferry droid in the Databank (backup link)
Fire-breather in the Databank (backup link)
First Order Medical Droid in the Databank (backup link)
First Order probe droid in the Databank (backup link)
GA-97 in the Databank (backup link)
Garindan in the Databank (backup link)
General Tandin in the Databank (backup link)
Gonky in the Databank (backup link)
Gotal in the Databank (backup link)
GS-8 in the Databank (backup link)
GX1 Short Hauler in the Databank (backup link)
Han Solo in the Databank (backup link)
Homing Spider Droid in the Databank (backup link)
Hondo Ohnaka in the Databank (backup link)
Horizon Base in the Databank (backup link)
hovering pram in the Databank (backup link) (Picture only)
Hyena Bomber Droid in the Databank (backup link)
Hype Fazon in the Databank (backup link)
IG-11 in the Databank (backup link)
IG-88 in the Databank (backup link)
Imperial Police Droids in the Databank (backup link)
Imperial Probe Droid in the Databank (backup link)
Jawa in the Databank (backup link)
Kazuda "Kaz" Xiono in the Databank (backup link)
keelboat in the Databank (backup link) (Picture only)
Kessel Control Center in the Databank (backup link)
L3-37 in the Databank (backup link)
Lieutenant Mitaka in the Databank (backup link)
Magistrate Morgan Elsbeth in the Databank (backup link) (Picture only)
Major Brance in the Databank (backup link)
MB-13 in the Databank (backup link)
MTT in the Databank (backup link)
Neeku Vozo in the Databank (backup link)
Peli Motto in the Databank (backup link)
Pit Droid in the Databank (backup link)
Police Droid in the Databank (backup link)
Protocol Droid in the Databank (backup link)
Pyke guards in the Databank (backup link)
Pyke torture droid in the Databank (backup link)
Q9-0 (Zero) in the Databank (backup link)
R4-D12 in the Databank (backup link)
R4-G77 in the Databank (backup link)
R5-G9 in the Databank (backup link)
R7-A7 in the Databank (backup link)
R23-X9 in the Databank (backup link)
Ram Jomaram in the Databank (backup link)
Retail Caucus Droid in the Databank (backup link)
Sandcrawler in the Databank (backup link)
SC-X2 in the Databank (backup link)
Sith Probe Droid in the Databank (backup link)
Sniper Droid in the Databank (backup link)
Super Battle Droid in the Databank (backup link)
T3-K10 in the Databank (backup link)
Tech in the Databank (backup link)
Tech stormtrooper in the Databank (backup link)
tool caddy in the Databank (backup link)
Torch in the Databank (backup link)
Training Remote in the Databank (backup link)
Transport ticketing droid in the Databank (backup link)
Type II Loadlifter in the Databank (backup link)
WA-7 in the Databank (backup link)
WAC-47 in the Databank (backup link)
Wald in the Databank (backup link)
Wat Tambor in the Databank (