Spider-Man: No Way Home Trailer Dropped - The Loop
Play Sound
The EG-6 power droid by Veril Line Systems was an ambulatory power droid.
Characteristics
[
]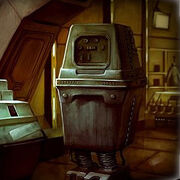 A fifth-degree[4] power droid, the EG-6 was 1.1 meters tall.[3] Outfitted with low artificial intelligence, EG-6's only function was to provide energy to diverse machinery, starships, and other vehicles. Most of the EG-6's interior was filled out by its fusion generators. Its hull was heavily armored, and the droid was designed to survive extreme temperatures or radiation.[5]
There were two heavy power plug-in sockets on the right side of the EG-6's body and a standard power plug-in socket on the lower half of its front. There was also a light power plug-in socket in the face-like unit on the upper half of its front side, which also contained a system diagnostic package and visual sensors as well as an acoustic signaler. The droid was able to speak droid and computer languages only.[5]
The system diagnostic package included a spectrometer and infrared, sonar, and X-ray scanners and was used for equipment checks. Although rarely used, the EG-6 had a manipulator arm that was hidden under a small panel on its lower front side.[5]
History
[
]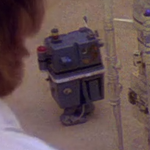 The EG-6 was found nearly everywhere throughout the galaxy, but its lead in the energy-supply market diminished a bit when Industrial Automaton released the nearly identical GNK power droid.[5]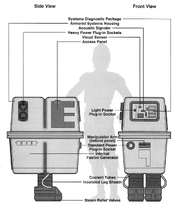 Its follow-up model, the S9-series heavy power droid, a larger and more powerful version of the EG-6, was Veril Line Systems' answer to the GNK droid.[6]
The EG-6 that was owned by the Lars family on Tatooine was several hundred standard years old.[6]
After the Battle of Yavin, EG-6 power droids were used by the Talusian Smugglers in their base on Talus.[7]
Behind the scenes
[
]
The Complete Star Wars Encyclopedia states that the power droid that C-3PO and R2-D2 found in the Jawa sandcrawler in A New Hope was an EG-6. However, this droid emits the "gonk" sound, which is a feature of the GNK power droid.
A different version of the EG-6 can be seen in The Phantom Menace, and it was often mistaken for the GNK power droid.
Appearances
[
]
Sources
[
]
Notes and references
[
]
↑ 2.00 2.01 2.02 2.03 2.04 2.05 2.06 2.07 2.08 2.09 2.10 2.11 Cynabar's Fantastic Technology: Droids
↑ Star Wars Galaxies: Starter Kit—Legacy Quest: "Exploiting a Weakness" on Talus