"We're in space, Sis. You can't go outside the ship while we're in space!"
"What do you think spacesuits are for?"
―Milo and Lina Graf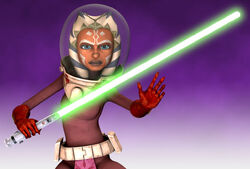 EVA suits, also known as spacesuits, environment suits, atmospheric suits, vac suits, or g-suits, were pressure suits that enabled wearers to survive and operate in zero gravity space and other dangerous conditions. The Resistance pilots Poe Dameron, Iolo Arana, and Karé Kun donned EVA suits during Operation: Sabre Strike.[1]
Community content is available under
CC-BY-SA
unless otherwise noted.