Jurassic World: Dominion Dominates Fandom Wikis - The Loop
Play Sound
"Coruscant, the capital of the Republic. The entire planet is one big city."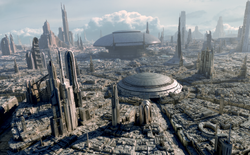 An ecumenopolis was a city encompassing an entire planet or moon. Due to their lack of exploitable ground, such world-spanning cities were dependent on imports for food and raw materials.[2]
Many ecumenopoleis, such as the galactic capitals of Coruscant[2] and Hosnian Prime,[3] as well as Denon[4] and Eufornis Major,[5] were situated in the Core Worlds; others were in the Deep Core, such as Troithe,[6] and Empress Teta.[7] City-worlds in the Outer Rim Territories included Nar Shaddaa,[8] Taris,[9] Uchinao,[10] and Wind.[11]
Behind the scenes
[
]
"Ecumenopolis" comes from the Greek "οἰκουμένη" (oikouménē) meaning "world," and "πόλις" (pólis) meaning "city," thus translating to "world-city, a city made of the whole world." The Greek city planner Constantinos Doxiadis coined the term in 1967.
The first ecumenopolis seen on-screen within the Star Wars films was Coruscant in The Star Wars Trilogy Special Edition, released in 1997. The term made its first Star Wars appearance in the Legends novel Coruscant Nights I: Jedi Twilight, in 2008. In Star Wars canon, the term was first used in the 2015 novel Heir to the Jedi, written by Kevin Hearne.
Appearances
[
]
Sources
[
]
Notes and references
[
]
↑ 2.0 2.1 Coruscant in the Databank (backup link)
External links
[
]