Empire 16: To the Last Man, Part 1 is the sixteenth issue in the Star Wars: Empire series of comics. It was published on January 28, 2004 by Dark Horse Comics.
He may have washed-out as a pilot at the Imperial Academy, but Lt. Janek Sunber has found a new home in the infantry. Hoping for a post on a world where he could see some action against the Rebels, he instead finds himself on the jungle world of Maridun as part of a regiment overseeing the construction of a new base. But just when he's resigned himself to a long, uneventful tour of duty, things heat up. The alien natives are restless, and on the hunt for Human skulls! Sunber is about to learn one of the truths about the infantry: all service is sacrifice, and in the infantry that sacrifice is usually in blood!
By type
Characters
Creatures
Events
Locations
Organizations and titles
Sentient species
Vehicles and vessels
Weapons and technology
Miscellanea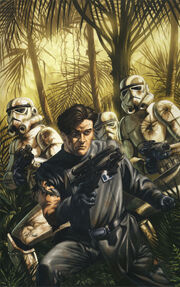 Community content is available under
CC-BY-SA
unless otherwise noted.