Empire 32: In the Shadows of Their Fathers, Part 3 is the thirty-second issue in the Star Wars: Empire series of comics. It was published on June 29, 2005 by Dark Horse Comics.
Imperial Slave Ships are coming to take possession of the conquered population of Jabiim, and the only thing standing between them and the successful completion of their mission are two Rebel X-wing pilots. Hobbie Klivian and Wedge Antilles are in for the fight of their lives!
Meanwhile, planetside, Luke Skywalker and his captors have joined forces to battle an army of stormtroopers. But Luke's having a hard time focusing his fledgling Jedi powers as he is haunted by the recent knowledge that his father, Anakin Skywalker, was not a hero to the people of Jabiim, but a traitor!
By type
Characters
Droid models
Events
Locations
Organizations and titles
Sentient species
Vehicles and vessels
Weapons and technology
Miscellanea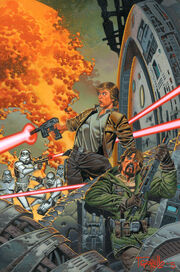 Community content is available under
CC-BY-SA
unless otherwise noted.