Empire 9: Darklighter, Part 2 is the ninth issue in the Star Wars: Empire series of comics. It was published on July 2, 2003 by Dark Horse Comics.
As a newly commissioned officer in the Empire, Biggs Darklighter is assigned to the frigate Rand Ecliptic. In his new post he learns that expediency is preferable to honesty, and that the deaths of innocents is an acceptable price to pay for covering one's mistakes. Horrified by what he has seen of the Empire in action, Biggs and a circle of his close companions plot to desert their posts and join the Rebellion. But when their plan is uncovered by another officer, desertion becomes a fight for survival!
Don't miss this stunning Classic Era story of how Biggs Darklighter and his boyhood friend, Luke Skywalker, came to fight side-by-side for the Rebellion!
By type
Characters
Creatures
Events
Locations
Organizations and titles
Sentient species
Vehicles and vessels
Weapons and technology
Miscellanea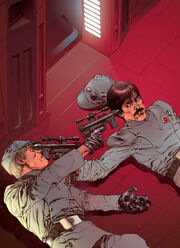 Community content is available under
CC-BY-SA
unless otherwise noted.