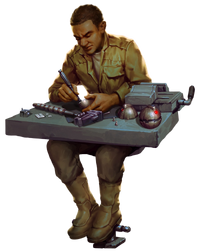 "Engineers and their conclusions are sometimes wrong."
An engineer was an individual involved in the design,[1] maintenance[2] or construction of infrastructure,[3] starships[4] or technology. Some ships had a dedicated engineering area.[5] Several companies specialized in engineering, such as the Quarren Free Dac Volunteers Engineering Corps, Corellian Engineering Corporation, Theed Engineering, and Cygnus Spaceworks.[4]
Community content is available under
CC-BY-SA
unless otherwise noted.