"For two years, we had three series, Droids, Ewoks and the second season of Ewoks, that were really superior efforts as far as what's out there on television. Each one of the Ewoks episodes had the quality in artwork that went into it, and production values that you usually only see when you have a primetime special. And it was a very good effort from everybody. I'm sorry we won't be back, but we're looking ahead—onward and upward."
―Ewoks story editor Paul Dini in 1988
Ewoks is an animated television series that follows the adventures of the Ewoks of Bright Tree Village prior to the Battle of Endor.[2] The primary recurring villains are Morag the Tulgah Witch and the Ewoks' rival species the Duloks.[3] Produced by Nelvana on behalf of Lucasfilm Ltd., Ewoks was broadcast on ABC from 1985 to 1986. The first season was advertised as simply Ewoks, and was aired as part of the Ewoks and Droids Adventure Hour, whereas the second season was advertised as The All New Ewoks.
Development
[
]
"I've always been interested in animation. And, again, it's a chance to experiment with ideas and new people and Star Wars characters. The Star Wars world is much easier to deal with in animation. You can be much more flexible in development of ideas. I've put off doing it for years because I didn't have the time."
―George Lucas, in Starlog #100
Star Wars creator George Lucas had long been interested in animation, and had wanted to tell Star Wars stories in an animated form.[4] During production of The Star Wars Holiday Special in 1978, director David Acomba showed Lucas a recent film made by Canada-based animation company Nelvana. This convinced Lucas to hire the company to produce the animated segment for that film. Lucas was pleased with their work, and in 1984, he again hired them to work on the two animated series he was developing, Droids and Ewoks. These two subjects were chosen because they would appeal to young audiences and because, as the future of the film franchise was uncertain, they would be the least likely characters to conflict with the stories of the feature films.[5] With these two shows, Lucas (who served as executive producer) hoped to raise the standards for Saturday morning animation; he wanted the animation and voice acting to be better than the average animated series of the time.[6]
Pre-production began in May of 1984. During this time, Lucas met with the show's producers, directors and writers, who all collaborated on story ideas. Lucas laid out his basic ideas for the series, but wasn't involved with day-to-day matters.[6] He wanted the Ewoks' culture to be based on themes universal to Earth mythology and religion, and suggested the crew read The Hero with a Thousand Faces and The Uses of Enchantment.[4] Writer Paul Dini later reflected on these sessions: "In my first meeting with George, one of the things we kept coming back to was that the Ewoks would have a sense of community and continuity." Though the main characters from the saga films were off-limits, the writers were given almost complete creative freedom to develop the Ewoks beyond Return of the Jedi.[7] The crew reimagined the Ewok characters for the animated format, giving each Ewok a unique, distinguishable personality and distinctive features.[8] The stories were often inspired by The Lord of the Rings, Pogo and the Uncle Scrooge stories.[5]
For visual reference, Lucasfilm had the crew travel to Muir Woods National Monument, a location near Skywalker Ranch where the Endor scenes were filmed for Star Wars: Episode VI Return of the Jedi.[8] Writer Bob Carrau recalled the experience: "What was really great for me about Ewoks, was that you could walk around in nature (like when you were camping or something) and you would come across a pine cone that looked really neat. What [sic] was great, because you could go back to the writing table and write a story about it!"[9] Clive Smith estimated that each hour-long pair of Droids and Ewoks episodes cost approximately $500,000 to $600,000 to produce,[5] making them amongst the more expensive animated series for that time.[4] He later commented on the production: "Ewoks wasn't as problematic because you could get away with more animal characters. Droids had many recognizable humanoid characters which are much harder to do and make look right".[5] Layout artist Brian Lemay had a different take: "The Droids show was much more challenging as it had far more locations and they required perspective drawing which I really enjoy (a lot more than drawing trees, that's for sure). […] The main difference was the lack of trees in Droids. […] I guess the other key difference was the lack of emotion in the characters in the Droids series. They always seemed to have the same emotion on their faces where as with the Ewoks they had lots of emotion, happy, sad, surprised, angry, the whole range." During production, the American animation team would often play games during down time, and would regularly play practical jokes on each other.[10] Wang Film Productions contributed some of the animation for this series.
For the second season, Lucasfilm moved a majority of the production to their own studios, and thus exherted more direct control over producing the series than Nelvana. Production started on season two in late 1985. The new executive producers, Cliff Ruby and Elana Lesser, suggested making a few changes to the series. Most of the new episodes were shorter in length, and now focused on the core characters of Wicket, Tebbo, Kneesaa and Latara, with the other characters either playing lesser roles or written out entirely. Changes were made to better distinguish the Ewoks from one another and to make them more distinctive. Other changes included different voice actors, new music and a new opening which utilized CGI.[4] Denny Delk (who voiced Wicket in the second season) commented on the actors' recording schedule: "We usually completed a story in about an hour and a half, unless there was something especially tricky. We'd do two or three stories in a day, and record every week or so."[11] According to Jim Henshaw (who voiced Wicket in the first season), the cast had access to a list of Ewokese words and phrases that they would consult to invigorate their dialogue; "When there were long speeches of exposition, to get a story rolling or something, we'd stick in a few more choice phrases – and all of a sudden, we would sound like we really did come from another planet!"[12]
As the episodes were being worked on, rough cuts were screened for Lucas.[6] The first season's musical score was created by Patricia Cullen, David Greene and David Shaw, with an opening song by Taj Mahal and Inshira Mahal.[13] The second season's music was composed by Patrick Gleeson,[14] and had a different opening song in which the Ewoks sing about friendship.[5] The series was under strict broadcast standards, and there were limitations—set by ABC's Standards and Practices Board—as to what could be shown or dealt with in the episodes.[5][4] Dini commented on this in a 2004 interview: "...we were dealing with a regime at the network that just wanted safe children's programming. Every time we wanted to stretch it a little bit, they would kick up a fuss over it";[15] ABC rejected an episode Dini had written called "The Starman" because it was "too Star Warsy".[5] At one point, Lucasfilm considered making an animated Ewoks special in the vein of The Great Heep, but opted instead to make Ewoks: The Battle for Endor.[4]
Release
[
]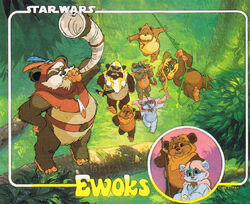 Ewoks debuted on September 7, 1985, and ran against Muppet Babies and The Smurfs. Despite frequent schedule changes and generally low ratings, the series was renewed for a second season in late 1985. However, ratings did not improve and the series was canceled in 1986. Writer/producer Paul Dini speculated that, had the series been renewed for a third season, it would have featured more stories about Malani, Asha and the woklings.[4]
In the mid 1990s, beginning in 1994, the US Sci-Fi Channel ran episodes of the series, along with those of its counterpart, Droids, on its "Cartoon Quest" and "Animation Station" blocks of programming.[8][16][17]
Merchandising
[
]
In 1984, Joe Johnston wrote and illustrated The Adventures of Teebo: A Tale of Magic and Suspense, an Ewok storybook that introduced many of the elements that would later appear in the series. Also that year, Random House began publishing a series of children's books with the subtitle "An Ewok Adventure," which were meant to tie into both the series and Caravan of Courage: An Ewok Adventure. In 1985, Kenner produced a toy line based on the series, including action figures, ship models, and other items. Also that year, Star Comics, an imprint of Marvel Comics, published a bimonthly Ewoks comic, which was based on the animated series. The comic ran for two years, ending with issue #14. Like the TV series, this was aimed towards a younger audience. It was produced along with the Droids comic, which was based on the Droids animated series. Star Comics' Ewoks 10 was a crossover with Droids (1986) 4. An LP record and a cassette were released of the French theme song by Dorothée.[18]
After the series finished production, Nelvana sent the majority of pre-production materials to Lucasfilm, who later partnered with the former company Royal Animated Art to sell these materials to private owners. Some were bought by a California business,[8] and some were later given out as part of the Hyperspace fan club.[19] In 2010, StarWars.com celebrated the 25th anniversary of both Droids and Ewoks by featuring a series of articles about the collectibles available from each series.[20] The 2013 one-shot comic Star Wars: Ewoks—Shadows of Endor was designed to tie together all the various aspects of Ewok lore.[21]
Home video
[
]
The series received its first home video release in 1990 when J2 Communications released The Star Wars Trilogy Animated Collection. The collection consisted of three VHS tapes; one tape contained one episode, while the other two tapes contained two episodes each—with one of those repeating the episode from the single-episode tape. Each tape began with a Star Wars Animated Classics trailer promoting the "Special Double Length Edition" volumes. However, for the single volume tapes, the white box covers were shown, but differing content was advertised. CBS/Fox Video also released the complete series on Region 2 VHS in the UK.[8][16]
On June 26, 2002, prequel trilogy producer Rick McCallum responded to a question about a complete DVD release on StarWars.com's now-defunct "Ask the Jedi Council" feature, in which he said "I hope so. Definitely. At some point after we're finished with Episode III, we'd really like to make all of that material available to our fans on DVD. Unfortunately, we won't be even thinking of making any firm plans until we're finished with this trilogy."[22] He also expressed this privately to Paul Ens.[23] According to Pablo Hidalgo, a full series release was considered as an alternative to the Animated Adventures DVDs: "I don't know what numbers are run in the mysterious background that decides to say 'You know what? That doesn't look like a product that we can move.'"[24] At 2005's Celebration III, McCallum and Lucasfilm's Vice President of marketing Jim Ward dodged questions about a complete DVD release of the series.[25] At the Celebration VI "StarWars.com and Beyond" panel, it was mentioned that both Droids and Ewoks may be streamed on StarWars.com in the future.[26]
On March 16, 2021, it was announced on Disney's fan club website D23.com that the both seasons would be available on Disney+ starting April 2.[27] It arrived on that date as part of the new Star Wars Vintage Collection.[28]
Continuity
[
]
The Ewoks in the series speak mostly Basic, mixed with occasional words or phrases of Ewokese. Although this break from continuity is clearly for the convenience of an Earth-based audience, no official in-universe explanation has been provided. It does not appear that Ewok dialogue is translated from Ewokese for viewers, as the episode "Battle for the Sunstar" shows Ewoks communicating with Doctor Raygar and Imperial droids without a translator.
The novel Fate of the Jedi: Outcast also contains a reference to the show: Ben Skywalker takes a deep breath of Dorin's helium-rich atmosphere and sings, his voice "as high and ridiculous as that of an animated Ewok in a children's broadcast."[29]
The developers of Star Wars Galaxies watched the entirety of the Ewoks series to prepare for creating Endor in the game.[30]
Episodes
[
]
| Season | Episodes | First airdate | Last airdate |
| --- | --- | --- | --- |
| One | 13 | September 7, 1985 | November 30, 1985 |
| Two | 22 | September 13, 1986 | December 13, 1986 |
Credits
[
]
By type
Cast
Warwick Davis auditioned to voice Wicket W. Warrick for the first season, but was not given the role.[33]
Sources
[
]
"New TV Series Stars Star Wars Stars" – Bantha Tracks 28
"Ewoks & Droids TV Series" – Bantha Tracks 29
Bantha Tracks 29 ( Classic Bantha Tracks: Miki Herman Talks TV on Hyperspace (content removed from StarWars.com; backup link))
"Ewoks & Droids: Read All About 'Em" – Bantha Tracks 31
"Come Join Our Tribe: Ewoks Return This Fall" – Bantha Tracks 33
"Star Wars—The First Ten Years 1977—1987" – Bantha Tracks 35
"Scouting the Galaxy: Droids, Ewoks and the Mysterious Vlix (And the Truth about 4-LOM and Zuckuss!)" – Star Wars Insider 27
"

Dressed For Success

" – Star Wars Galaxy Collector 8
Homing Beacon #97 - Fine-Tooned Heroes on StarWars.com (content now obsolete; backup link)
Spanish Star Wars Magazine #19 on StarWars.com (content now obsolete; backup link)
Comic-Con International 2004 - Report from Star Wars Spectacular on StarWars.com (content now obsolete; backup link)
Homing Beacon #115 on StarWars.com (content now obsolete; backup link)
A Closer Look at the Ewoks & Droids DVDs on StarWars.com (content now obsolete; backup link)
"Creatures of Endor" on StarWars.com (article) (content now obsolete; backup link)
Star Wars: The Best of 2004 on StarWars.com (content now obsolete; backup link)
Early Star Wars Animation Collectibles on StarWars.com (content now obsolete; backup link)
Droids et Ewoks de Marchandises on StarWars.com (content now obsolete; backup link)
Castaways of Endor on Hyperspace (article) (content removed from StarWars.com; backup link)
Star Wars Collecting Panels -- First List Announced on StarWars.com (content now obsolete; backup link)
CV Collecting Panels: Animation Art on StarWars.com (content now obsolete; backup link)
25 Years of Collecting Droids and Ewoks! on StarWars.com (article) (content now obsolete; backup link)
Droids Revisited: An Interview with Artist Jeff Carlisle on StarWars.com (content now obsolete; backup link)
Droids Vintage Comic Book Sets for 25 Hyperspace Members! on StarWars.com (content now obsolete; backup link)
"Everything You Always Wanted to Know about the Nightsisters but Were Afraid to Ask" – Star Wars Insider 122
Offscreen, but Not Forgotten: Mini-Rigs, Body-Rigs, and Other Kenner Vehicles on StarWars.com (backup link)
An Iconic Star Wars Toy, the Imperial Troop Transport, Returns to Shelves and Screens on StarWars.com (backup link)
From Wicket to the Duloks: Revisiting the Star Wars: Ewoks Animated Series on StarWars.com (backup link)
The Star Wars Archives Author Paul Duncan on George Lucas and the Making of a Universe on StarWars.com (backup link)
Obi-Wan Kenobi Series Casting News, The Bad Batch Gets a Trailer, and More! on the official Star Wars YouTube channel (backup link)
Notes and references
[
]
External links
[
]