"Feline poop. From some species that's lived here so long that it's practically native to the planet. Imagine. A planet with no solid ground but plenty of cats."
―Maz Kanata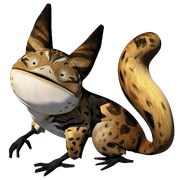 Felines were a type of creatures. Cats,[1] including Tooka[2] and Loth-cats,[3][4] were considered to be feline.[1] Some sentient species were also classified as feline, such as Zygerrians and Togorians.[5] Feline creatures are generally characterized by large ears, short snouts with sharp teeth, fur, claws, and tails.
↑  Tooka in the Databank (backup link)
↑ Since the loth-cat Databank entry says they are members of the tooka family and the tooka databank entry says that tookas are felines, loth-cats are also felines.
↑  Loth-cat in the Databank (backup link)
Community content is available under
CC-BY-SA
unless otherwise noted.