Wiki Targeted (Entertainment)
Play Sound
"You did all this for fruit?"
―An Imperial stormtrooper, to Ezra Bridger
"Fighter Flight" is the fourth episode of the first season of Star Wars Rebels.[2]
The episode was released on WatchDisneyXD.com on October 13, 2014 and made its Disney XD television debut on October 20. The episode was written by Kevin Hopps and directed by Steven G. Lee.
The episode focuses heavily on Ezra Bridger and Garazeb Orrelios, who are sent on a supply run after constantly arguing with one another aboard the Ghost. During their mission, they steal an Imperial TIE/ln space superiority starfighter and are ordered by Hera Syndulla and Kanan Jarrus to return to the Ghost. Along the way, they discover that a family of farmers, including Bridger's old friend Morad Sumar, have been arrested by the Empire. The two rebels rescue the farmers and fight the Imperials. After hiding the TIE fighter, Ezra and Zeb return to the Ghost, having become better friends for the experience.
A simple supply run for hard-to-find meiloorun fruit takes a dangerous turn, as Zeb and Ezra draw the attention of Imperials...and steal a TIE fighter.[1]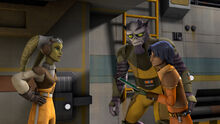 Aboard the Ghost, the astromech droid Chopper disturbed the young rebel and Jedi-in-training Ezra Bridger while he was attempting to levitate a bowl. Enraged by Chopper's antics, Ezra pursued Chopper through the Ghost. On the way, he encountered the Mandalorian weapons expert and part-time artist Sabine Wren's room to offer some "inspiration" for her artwork. Continuing his pursuit of Chopper, the two entered the Lasat warrior Garazeb Orrelios's bunk room. Before Ezra could leave, Chopper zapped Zeb with his electro-shock prod; sparking a fight between Ezra and Zeb. Chopper further aggravated the situation by sabotaging Zeb's bunk bed, which fell apart. Blaming the pranks on Ezra, Zeb pursued the boy through the Ghost. The pursuit ended up in the main cargo hold where the two rebels made a mess.
As punishment for creating the mess in the main cargo hold, the ship's captain Hera Syndulla punished them by sending them to buy a list of groceries. She also warned them not to return without at least one meiloorun fruit. While strolling through the streets of the Lothalian town of Kathol, Ezra encountered the farmer Morad Sumar, who ran a fruit stall and knew Ezra when he was younger. Morad gave Ezra a jogan fruit but was unable to sell him a meiloorun, since the plant species did not grow on Lothal. Shortly later, Morad was visited by the Imperial Supply Master Yogar Lyste, who tried to buy the Morad's family farm. However, Morad refused to sell his farm to the Empire.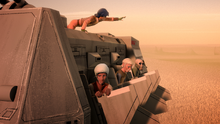 Later, Ezra joined up with Zeb, who had successfully obtained the list of groceries with the exception of the meiloorun fruit. Before giving up the search, they stumbled upon a crate of meilooruns. However, the Rodian trader Tsoklo had already sold them to the Empire and they were being loaded onto Imperial Troop Transports. Against Zeb's objections, Ezra attempted to steal a crate of meilooruns and attempted to use the Force to levitate them. However, Ezra was quickly spotted by Lyste and his stormtroopers. In the ensuing scuffle, Zeb hurled several crates at his Imperial pursuers. While climbing over a wall, the two rebels were separated.
Zeb eventually found himself trapped between two stormtroopers and Baron Valen Rudor's TIE starfighter. Following a struggle, Zeb managed to jump into Rudor's TIE fighter and hijack the craft; throwing Rudor out. After taking out some stormtroopers, Zeb flew the hijacked TIE fighter through the town. Meanwhile, Ezra was evading his Imperial pursuers by leaping across several buildings. He managed to catch up with Zeb's TIE fighter. Zeb agreed to take Ezra aboard after the youth said that they were both even. While fighting for control of the TIE fighter, Ezra accidentally fired on Tskolo's stall. Using his Force senses, Ezra also managed to avoid flying into a nearby hill by telling Zeb to make a sharp ascent.
While Kanan was playing a game of dejarik with Chopper, he and Hera received a call from Ezra and Zeb. After learning of their predicament, he ordered them to destroy the TIE fighter. Meanwhile, Supply Master Lyste seized Morad's farm and forcibly evicted him, his wife Marida Sumar, and their Aqualish helper. After razing the farm, they departed in three Imperial Troop Transports. While making their way back to the Ghost, Ezra and Zeb spotted smoke rising from the ruined Sumar farm. At Ezra's request, Zeb agreed to fly ahead to look for the Imperials and their captives. They soon catch up with the Imperial transports.
When contacted by Supply Master Lyste, Zeb pretends to be "Commander Meiloorun" but his bravado did not fool Lyste for long, who then ordered his transport's gun turret to shoot down the stolen TIE fighter. Meanwhile, Ezra landed on the middle transport and used the Force to free Morad, Marida, and their Aqualish porter. The farmers escaped by jumping into the surrounding grasslands. Using his Force-enhanced agility and energy slingshot, Ezra fought off several stormtroopers while Zeb strafes the Imperial transports. At the height of the fighting, Ezra shoves a wrench into the main gun turret, causing it to implode. After stealing a crate of meiloorun fruits, Ezra escaped with Zeb aboard their stolen TIE fighter.
After "disposing" of the TIE fighter, Zeb and Ezra returned to the Ghost with their goods and the crate of meilooruns. As a result of their recent adventure, the two rebels have established a better rapport with each other. Kanan and Hera were both pleased with Zeb and Ezra's work. Later, Sabine showed Zeb and Ezra a graffiti painting of them being tripped over by Chopper. After realizing that Chopper had instigated their earlier fight, the two pursue the astromech droid on a chase through the Ghost.
The episode was slated to be adapted into the young readers book TIE Fighter Trouble from Disney–Lucasfilm Press with a release date of March 31, 2015. The title was canceled as a U.S. release,[6] but was nevertheless released in India by Scholastic India.[7] In the season finale "Fire Across the Galaxy," it was revealed that Ezra and Zeb's stolen TIE fighter had not been destroyed but had instead been hidden in the wilderness.[8]
By type
Cast
Crew
Created By — Simon Kinberg, Dave Filoni, Carrie Beck
Based On STAR WARS Created By — George Lucas
Executive Producers — Simon Kinberg, Dave Filoni, Greg Weisman
Supervising Director — Dave Filoni
Producer — Kiri Hart
Associate Producer — Carrie Beck
Directed By — Steven G. Lee
Written By — Kevin Hopps
Music By — Kevin Kiner
Original Star Wars Themes & Score By — John Williams
Produced by — Athena Yvette Portillo
Art Director — Kilian Plunkett
Digital Asset Supervisor — Paul Zinnes
Animation Supervisor — Keith Kellogg
CG Supervisor - Lighting and FX — Joel Aron
Editor — Alex McDonnell
Concept Designers — Amy Beth Christenson, Chris Glenn, Andre Kirk
Lighting Concept Artist — Christopher Voy
Storyboard Artists — Douglas Lovelace, Nathaniel Villanueva
Pipeline Technical Director — Ed Casperson
1st Assistant Editor — Nate Cormier
Editorial Production Assistant — Alex Rawlings
Online Editor — Michael Parkinson
Colorist — Sean Wells
Script Coordinator — Megan Engle
Casting Director — Aaron Drown
Casting Manager — Lindsay Perlman
Look Development & Asset APM — Liz Marshall
Story, Layout & Editorial APM — Diane Caliva
Story & Layout Coordinator — Alex Spotswood
Story & Layout Production Assistant — Vicki Wong
Shot Coordinator — Caitlin Satchell
Shot Production Assistant — Jessica Brunson
Production Accountant — Josie Huynh
Lucasfilm Business Affairs — Nigel McNulty, Josh Andrews
Senior Vice President, Physical Production, Lucasfilm Ltd. — Jason McGatlin
Vice President, Post Production, Lucasfilm Ltd. — Pippa Anderson
Vice President, Studio Operations & Finance, Lucasfilm Ltd. — Jeff Ruggels
Additional Production Support — Rayne Roberts, Pablo Hidalgo, Diana Williams, Leland Chee, Michael Kohn
Production Services Provided By CGCG, Inc.:
Dialogue Recording Services By The L.A. Studios, Inc.:
Post Production Sound Effects Provided By Skywalker Sound, Marin County, California
Other
By type
Characters
Creatures
Droid models
Events
Locations
Organizations and titles
Sentient species
Vehicles and vessels
Weapons and technology
Miscellanea
↑ 5.0 5.1 Star Wars Rebels – "Fighter Flight"
↑ See this image
Community content is available under
CC-BY-SA
unless otherwise noted.