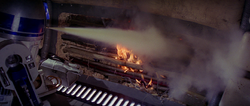 A fire extinguisher was a tool used to put out fires with the use of some sort of fire-retardant material.
After escaping from the first Death Star, R2-D2 put out a small fire that was started on the Millennium Falcon after it took several hits from pursuing TIE fighters.[1] In 3 ABY,[2] he again made use of his built-in extinguisher while on Cloud City. This time it was used as a smokescreen to blind the stormtroopers that were chasing them.[3]
Non-canon history
Edit
After losing his duel with his former master, Obi-Wan Kenobi on Mustafar, Darth Vader, saddened, sat too close to lava and caught his pants on fire. However, Emperor Sheev Palpatine arrived just in time to save him by putting out the fire with a fire extinguisher, stating that he liked his Sith Lords on the dark side, not burned to a crisp. Despite this, Vader was forced to henceforth wear armor due to his burns.[4]
Appearances
Edit
Non-canon appearances
Edit
Notes and references
Edit
Community content is available under
CC-BY-SA
unless otherwise noted.