Jurassic World: Dominion Dominates Fandom Wikis - The Loop
Play Sound
"You're with the First Order now, Terex?"
"Yes, and it's Agent Terex. I'm an officer in their intelligence-gathering arm."
―Kan Be and Terex
The First Order Security Bureau (FOSB) was an intelligence agency of the First Order. Agent Terex was a ranking officer of that agency, as was Lieutenant Weel. Successor of the Imperial Security Bureau, the Security Bureau saw action against the Resistance starfighter pilot Poe Dameron and his Black Squadron during the early stages of the Cold War.
Description
[
]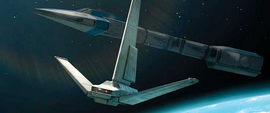 The First Order Security Bureau was the First Order's intelligence agency.[2] Agents like Terex and Lieutenant Weel were tasked with guarding the First Order's secrets and recovering information that had been stolen by the First Order's enemies.[1][3] Terex operated a spy network consisting of various individuals he had coerced into spying for him including the Resistance technician Oddy Muva.[4] Terex maintained Muva's cooperation by keeping his wife Sowa Chuan among a harem of slaves, whose relatives had also been coerced into doing his bidding, aboard his personal ship, the Carrion Spike.[5] Under Supreme Leader Snoke's directive, First Order agents and other First Order military forces were prohibited from seeking open hostility against forces aligned with the New Republic including the Resistance.[4]
History
[
]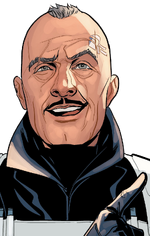 Mission to Ovanis
[
]
During the early stages of the Cold War, First Order Security Bureau agents were deployed on intelligence-gathering missions against Resistance forces such as Commander Poe Dameron's Black Squadron.[1] After the former stormtrooper–turned–crime lord Terex intercepted a shipment of stormtrooper armor bound for the First Order, Terex decided to join the First Order.[6] He subsequently became an agent of the First Order Security Bureau.[7] Following Operation: Sabre Strike, Terex was dispatched by Captain Phasma to recover information that Dameron had stolen from New Republic Senator Erudo Ro-Kiintor, an undercover First Order asset.[1]
Terex was given substantial resources including a Maxima-A class heavy cruiser, stormtroopers, TIE/fo space superiority fighters and a First Order landing platform. During the mission to Ovanis, Terex terrorized the Crèche cult in an attempt to force them to surrender Dameron.[1] Terex and his forces were subsequently involved in a conflict with Dameron's Black Squadron, the Crèche, and two winged creatures. Dameron and BB-8 defeated Terex in combat and forced the agent to order his forces to stand down. To avoid further hostilities between the New Republic and the First Order, Black Squadron allowed Terex and his men to leave peacefully.[7]
Competing for Grakkus
[
]
With the help of his unwilling spy Muva,[4] Terex learned that Dameron and Black Squadron were traveling to Megalox prison on the high gravity world of Megalox Beta to question Grakkus the Hutt about the location of the explorer Lor San Tekka,[8] who General Leia Organa believed could help them find her lost brother, Luke Skywalker.[9] Terex bribed Warden Luta and the guards into abandoning Black Squadron inside the prison. However, Black Squadron managed to fight their way into Grakkus' fortress. Due to the competition, Grakkus decided to disclose his information to whoever freed him from Megalox prison first.[8]
Angered that Grakkus had broken their deal, Terex met with the rival crime lords Toren, Kan Be, and Isin. Identifying himself as a First Order intelligence agent, Grakkus hired the imprisoned crime lords to use their gangs to attack Grakkus' palace, and kill Black Squadron and Grakkus' guards. Terex planned to kill Grakkus after extracting the information from him. In return, he offered to give the crime lords transportation out of Megalox. The crime lords agreed and attacked Grakkus' compound.[2] However, Dameron outmaneuvered Terex by having his squadron's astromech droids sabotage the prison's gravity shield, exposing Terex and the gangsters to Megalox Beta's high gravity.[10]
Dameron forced Luta to let Black Squadron leave with Grakkus in return for restoring the prison's gravity shield. Terex was rescued by the crew of his starship Carrion Spike. Angered by his failure, Terex used the Carrion Spike to attack the orbiting Megalox space station and the rescue shuttles. However, he was forced to retreat into hyperspace by Black Squadron, who inflicted damage on the Carrion Spike. Rather than report back to First Order Space to face a debriefing for his failure, Terex decided to seek revenge against Dameron.[10]
Skirmish on Pheryon
[
]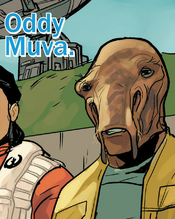 Later, Lieutenant Weel captured Dameron and the Galaxy Beacon journalist Suralinda Javos during a skirmish on Pheryon. He interrogated Javos at a warehouse. The Squamatan Javos, however, escaped by ejecting a corrosive spray from her mouth, a unique physiological feature of her species. She and Dameron then escaped back to the Resistance with information about the First Order's illegal rearmament program in violation of the Galactic Concordance.[3]
Terex's rogue mission
[
]
Continuing his vendetta against Dameron, Terex traveled back to the Ranc gang's stronghold on Kaddak.[11] After retaking control of the Ranc gang, Terex embarked on a rogue mission to destroy the Resistance in order to improve his standing within the First Order.[12] Terex's plan involved feeding the Resistance spy droid N1-ZX with disinformation in order to track Dameron to the Resistance base. Despite Phasma's objections that his plan violated Snoke's directive to avoid conflict with the Resistance, Terex believed that the Ranc gang could succeed. However, Dameron realized his plan and led Terex and the Ranc gang to a remote desert planet.[4]
Terex's Ranc gang forces were involved in a skirmish with Dameron, Black Squadron, and Muva. Muva managed to free his wife and the other slaves from Terex's captivity.[5] Following a battle in space and on land, Terex and his forces were defeated by Black Squadron and First Order forces led by Commander Malarus. After destroying the Carrion Spike and the Ranc gang's "Uglies," Malarus arrested Terex with the consent of Dameron.[13] Aboard a First Order Star Destroyer, Terex demanded to speak with Phasma about vital information that would lead to the Resistance's destruction. Terex told her how the Resistance used an ancient protocol droid to run their spy network and told her that he was able to retrieve its memory core. However, Phasma told him that it was worthless[14] due to a electrical surge created by BB-8.[13] Despite this, Terex claimed he was the First Order's most valuable agents and still had many secrets to share with the First Order. Phasma agreed to let Terex out of his cell, but decided to give him a brain/cyborg construct in order to control him.[14]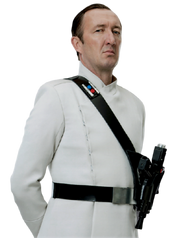 During the First Order's occupation of the Colossus on Castilon, Agent Tierny was sent to assist Commander Pyre and his garrison in capturing known Resistance agents. Following her arrival, Tierny questioned mechanic Tamara Ryvora about her employer Jarek Yeager, fellow mechanic Kazuda Xiono, and their involvement with the Resistance. Ryvora said that she was not with the Resistance, and knew nothing about them except that Yeager was friends with Commander Poe Dameron. Tierny believed her and told her the truth about Xiono: his upbringing on Hosnian Prime from a wealthy family, his time in the New Republic Defense Fleet, and subsequent recruitment into the Resistance as spy.[15]
First Order–Resistance war
[
]
During the First Order's attack on the Resistance fleet, Colonel Ansiv Garmuth was stationed aboard the Supremacy. Garmuth was tipped off by BB-9E that FN-2187 and Resistance fighter Rose Tico had infiltrated the ship. He gathered stormtroopers and informed Phasma of this.[16][17]
Behind the scenes
[
]
The First Order Security Bureau first appeared in the 2016 comic book Poe Dameron 2[1] and was identified in the following issue, both issues written by Charles Soule and illustrated by Phil Noto.[7]
Appearances
[
]
Sources
[
]
Notes and references
[
]