Jurassic World: Dominion Dominates Fandom Wikis - The Loop
Play Sound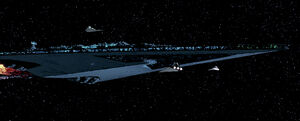 A flagship was the primary command ship in a commander's fleet of ships and the one that the commander was aboard.
Description
[
]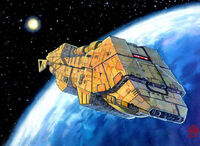 For the safety of the ranking officer and possibly for intimidation, the flagship was usually the most powerful ship available in the fleet, such as a Super Star Destroyer. However, it is interesting to note that this was not always the case, as Thrawn was known to have ships larger than an Imperial Star Destroyer in his fleet, yet made the Star Destroyer Chimaera his flagship. Similarly, Admiral Ackbar has never been recorded in commanding the Lusankya despite his position as commander of the New Republic Defense Force for many years, and Garm Bel Iblis commanded his old Dreadnaught Peregrine for years after joining the New Republic, despite its smaller size and firepower.
The flagship, such as Home One to the Alliance Fleet in 3 ABY, was considered the command ship of the entire fleet. Significantly, a flagship could easily be changed in the middle of a deployment or even a battle, as the primary definition of a flagship was the ship that had the highest ranking command officer onboard, making it the command ship for the fleet. However, starfighters and other smaller ships such as the Millennium Falcon, even when carrying the highest ranked member of the fleet, were not usually considered flagships.
While throughout galactic history, flagships have traditionally been powerful battleships capable of slagging any other ship in combat, the New Republic and the Ssi-ruuk developed different strategies in the use of starfighter carriers as flagships, such as the Endurance-class fleet carrier in the New Class. This was due to the more prevalent roles that starfighters played in the New Republic and Ssi-ruu navies respectively.
Famous flagships in chronological order
[
]
Tof fleet

[

]
Appearances
[
]
Sources
[
]
External links
[
]