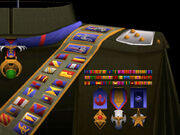 Flight Badges were badges that were awarded for the successful completion of a starfighter training course in the Rebel Alliance. By the Battle of Hoth, four were known to have been issued, for the RZ-1 A-wing interceptor, the T-65 X-wing starfighter, the BTL Y-wing starfighter, and the B-wing starfighter.
By the time of the Battle of Yavin, Keyan Farlander had received the X-wing, Y-wing, and A-wing Flight Badges, all three of which he had placed on his uniform's sash. He later received the B-wing Flight Badge, although he placed it in a Medals case.
Appearances
Edit
Community content is available under
CC-BY-SA
unless otherwise noted.