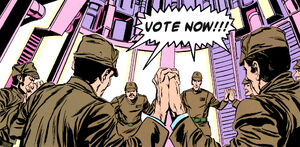 The Consensus track page is a forum for organizing votes on site-wide changes, such as new policies and amendments to existing policy. The Consensus policy outlines how Wookieepedia determines consensus. Anyone may participate in the debate, but only votes from eligible Wookieepedians are counted.
In contrast, the Senate Hall is a place for discussing potential site-wide changes and other topics related to Wookieepedia.
Administrators: When closing a Consensus track thread, please follow the instructions here. For threads that result in a change of Wookieepedia policy, be sure to update Wookieepedia:Policy and consensus updates. Also, please consult Wookieepedia:Consensus when the outcome of a forum is unclear.
---