This page is an archive of a community-wide discussion.
This page is no longer live.
Further comments or questions on this topic should be made in a new
Senate Hall
page rather than here so that this page is preserved as a historic record.
Advanced Jedi Training Droid 6
(

Talk to my master

)
18:00, May 18, 2015 (UTC)
---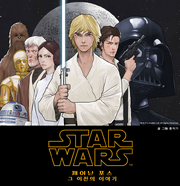 Hi Wookieepedians. I heard news about a new Star Wars webtoon published serially for South Korean website named "Daum.net". The title is Star Wars: Before The Force Awakens (The original Korean title is "스타워즈: 깨어난 포스 그 이전의 이야기"). Its purpose is no doubt promoting the upcoming Star Wars film The Force Awakens, and it is a story of Luke Skywalker's youth, between Episode III and Episode IV.
I thought this webtoon was non-canon, because there are no news about it in starwars.com, but I still wondered if this is part of the new Canon continuity. So I sent a mail to the author of this webtoon, asking if this is an official Canon webtoon.
He responded:
(Translated) "Yes, this is Star Wars Canon webtoon. I get confirmation of every episode from Lucasfilm so there won't be any conflicting errors with other Canon works."
I don't know how to contact Lucasfilm directly, so I can't be sure if this webtoon is within the Canon continuity. If anyone knows how to contact Lucasfilm, please ask if this is Canon for sure. Thanks.
Although it's written in Korean, I'll leave a link for people who will be curious about this.
Jaewade (talk) 07:32, April 11, 2015 (UTC)
"I make the webtoon using some contents from Episode IV, V, VI+ novels, comics. The final approval of the webtoon is made by Lucasfilm story group boss Leland. I sent a mail to Disney Korea to make it sure."
I assume that he meant "Leland Chee". Jaewade (talk) 03:35, April 14, 2015 (UTC)
Heddle is working with a Korean creator, Writer Hong, who is retelling the original trilogy in an artful new way. It adds in bits about Luke's childhood, Uncle Owen struggling, and deleted scenes. If I haven't missed something this is telling us that the webtoon is Canon, right? Jaewade (talk) 00:56, April 18, 2015 (UTC)