Spider-Man: No Way Home Trailer Dropped - The Loop
Play Sound
Francis Tsai is an American comic book artist, illustrator, author and conceptual artist who has worked in the entertainment industry since 1998. After working in the gaming industry for eight years, he is now a freelance artist whose distinctive and award-winning style of work is used worldwide in a variety of media including commercials, books, comics and movies.
Biography
[
]
Born in Honolulu, Hawaii and raised in Lubbock, Texas, Francis Tsai's interest in art began at a young age. Francis Tsai's college education was in chemistry where he studied physical chemistry and quantum mechanics. He then went on to receive a graduate degree in architecture, which proved to be a strong foundation for his design work.
Conceptual Design Work
[
]
In 1998, Francis Tsai joined Presto Studios as Conceptual Designer where he provided visual development and game design for the video games Myst 3: Exile; Whacked!; and Star Trek: Hidden Evil. He moved on to Rock Star Studios from 2001 to 2003 where he was Art Director for game production including the visual development for SpyHunter 2. Francis Tsai then joined High Moon Studios from 2003 to 2006 as Conceptual Designer, responsible for the visual development of video games including Darkwatch and The Bourne Conspiracy.
As an independent Conceptual Designer, Francis Tsai has provided visual development for the video games Tomb Raider: Anniversary; Splatterhouse; and Star Trek Online.
Illustration Work
[
]
Francis Tsai has created covers for Marvel Comics including Marvel Adventures Spiderman, Marvel Adventures Iron Man, Heroes for Hire and Gamma Corps. He has also contributed cover artwork for DC Comics/Wildstorm Publications.
Francis Tsai provided artwork for many of Wizards of the Coast's role playing games, such as Dungeons and Dragons; Magic: The Gathering; and Star Wars. He is also a regular contributor to ImagineFX magazine, a UK print magazine specializing in character design and art techniques, where he has created a series of workshops including topics such as using 3-D in 2-D, effective character design and game concept art.
Francis Tsai provided artwork for Mattel's Hot Wheels Collectible Card Game; Decipher's WARS trading card game; as well as Upper Deck's World of Warcraft trading card game based upon the video game of the same name.
TV and Movie Work
[
]
Francis Tsai's work has extended into television and movies with his visual development work for Lenovo's "Think Pad Rollcage" TV spot; Gatorade's "Inside Crosby" TV spot; and the feature film Teenage Mutant Ninja Turtles released in 2007.
Star Wars bibliography
[
]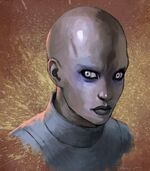 Publications
[
]
Francis Tsai authored and illustrated the book 100 Ways to Create Fantasy Figures released in Fall 2008. He is currently working on a second book focused on sci-fi art called Extreme Worlds which will be released in November 2009.
He has made contributions to several books including Machine Flesh; Fantasy Art Now: The Very Best in Contemporary Fantasy Art and Illustration; 50 Robots to Draw and Paint: Create Fantastic Robot Characters for Comic Books, Computer Games, and Graphic Novels; and How to Draw Fantasy Females as well as to the Fantasy: Illustrated Fantasy and Sci-Fi Magazine.
Awards
[
]
The Society of Illustrators of Los Angeles - Illustration 45 West Awards and Publications
The Society of Illustrators of Los Angeles - Illustration 46 West Awards and Publications
Inclusion in Spectrum - The Best in Contemporary Fantastic Art Volumes 11 through 14
External links
[
]