"My variation is drippin' with natural flavor, makin' it one of my biggest sellers at nearly every spaceport I visit. Maybe it ain't the traditional way that Ewoks cook up their feathered friend, but if you ask me, there's plenty of room on Endor for more than one type of tip-yip."
―Strono Tuggs, The Official Black Spire Outpost Cookbook
Fried Endorian Tip-Yip was a dish comprised of fried tip-yip from Endor, mashed chokeroot, mixed vegetables, and Gurreck Gravy. Recipes for the dish and its components were included by its creator, Strono Tuggs, in his cookbook. The dish was served at Tuggs' Grub whenever the mobile restaurant visited Docking Bay 7 Food and Cargo in Black Spire Outpost on Batuu.
Description
[
]
Fried Endorian Tip-Yip was a dish centered on fried meat from a tip-yip, an avian species that originated on Endor. The traditional preparation of tip-yip by Ewoks was oven-roasted. Artiodac chef Strono Tuggs created his own version which was breaded and fried. He covered the fried tip-yip with Gurreck Gravy, which was created by Ewoks and made with Endorian herbs, and served it with a side of mixed vegetables and mashed chokeroot stirred together. The dish could be consumed by Artiodacs,[1] humans,[4] and Togrutas.[5]
History
[
]
"You should have seen how packed this place was when he first arrived. I might have snuck off work early just to get an order of fried Endorian tip-yip or seven."
―Julen Rakab, about Tuggs' Grub
Around 9 ABY,[6] the Mandalorian warrior Din Djarin traveled to Lafete as he sought help from fellow Mandalorians Bo-Katan Kryze and Koska Reeves to rescue his foundling, Grogu. He located them at a diner that served Endorian tip-yip.[3]
Sometime after the Battle of Takodana[1] in 34 ABY,[7] Strono Tuggs wrote a cookbook that included recipes for Gurreck Gravy, mashed chokeroot, and fried tip-yip. He also began his mobile restaurant, Tuggs' Grub, which he operated out of a modified transport shuttle.[1] In 34 ABY,[8] he brought Tuggs' Grub to Black Spire Outpost on the planet Batuu and worked at Docking Bay 7 Food and Cargo, a building where rotating guest chefs brought mobile restaurants. On Batuu, he served Fried Endorian Tip-Yip in portions sized for adults or for younglings.[2] Explorer and author Eloc Throno wrote in his guidebook Traveler's Guide to Batuu that the hearty dish, which he referred to as Endorian Fried Chicken, was the best preparation of tip-yip he had eaten outside of Endor.[9]
In 34 ABY,[8] Resistance spy Vi Moradi ate Fried Endorian Tip-Yip at Tuggs' Grub during its monthly week-long visit to Batuu.[4] In that same year,[10] Tuggs served the farmer Julen Rakab and the smuggler Izal Garsea his dish along with a fiery red sauce and Moof Juice. After Garsea left, the musician Neelo came to their table and ate from Rakab's dish. When Garsea returned, Tuggs prompted her to eat by questioning why she had not eaten her tip-yip yet; she enjoyed it even though it had grown cold. Rakab later gave a morsel of the tip-yip to a feral tooka cat.[5]
Behind the scenes
[
]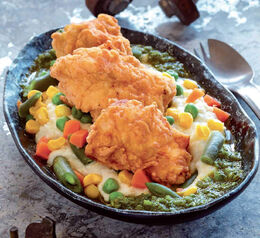 Fried Endorian Tip-Yip was first made available to guests in the restaurant Docking Bay 7 Food and Cargo at Star Wars: Galaxy's Edge, a themed attraction that opened at Disneyland Park on May 31, 2019.[11] It is served as an entrée or as a kids' meal called Fried Endorian Tip-yip Youngling Meal. In the past, the entrée's menu description read, "Crispy chicken, roasted vegetable potato mash, herb gravy." The entrée has since added another side option that originated with the youngling meal, becoming "Crispy chicken with choice of vegetable mashed potatoes with herb gravy or macaroni and cheese and roasted vegetables." Since its debut, the dish has been renamed more than once, including to Endorian Fried Chicken Tip-Yip[12] and to Endorian Fried Chicken.[9]
Recipes for the dish and its components are included in the 2019 recipe book Star Wars: Galaxy's Edge: The Official Black Spire Outpost Cookbook, written by Marc Sumerak and Chelsea Monroe-Cassel. The ingredients for the dish are boneless, skinless chicken breasts; an oil for frying such as vegetable oil; all-purpose flour; salt; black pepper; cayenne pepper; egg; buttermilk; mashed chokeroot or mashed potatoes; mixed vegetables, such as peas, carrots, and corn; and Gurreck Gravy.[1]
Appearances
[
]
Non-canon appearances
[
]
Sources
[
]
Notes and references
[
]
↑ 1.0 1.1 1.2 1.3 1.4 1.5 1.6 1.7 1.8 1.9 Star Wars: Galaxy's Edge: The Official Black Spire Outpost Cookbook
↑ SWCC 2019: 9 Things We Learned from The Mandalorian Panel on StarWars.com (backup link) establishes that The Mandalorian is set about five years after the events of Star Wars: Episode VI Return of the Jedi, which Star Wars: Galactic Atlas dates to 4 ABY. Therefore, The Mandalorian is set in 9 ABY.
↑ 8.0 8.1 Galaxy's Edge: Black Spire begins concurrent with the events of Star Wars: Episode VII The Force Awakens, then jumps four months ahead to the Resistance establishing its presence on Batuu, and concludes with an epilogue set several weeks later, when the First Order occupies the planet and the Battle of Batuu begins. Star Wars: Galaxy's Edge is also set during the occupation of Batuu and depicts the Battle of Batuu via the attraction Star Wars: Rise of the Resistance. The Star Wars Book dates the Battle of Batuu to 34 years after the events of Star Wars: Episode IV A New Hope, which corresponds to 34 ABY according to Star Wars: Galactic Atlas. Star Wars: The Rise of Skywalker: The Visual Dictionary also places the Battle of Batuu six months after The Force Awakens, which Galactic Atlas dates to 34 ABY. Therefore everything within Star Wars: Galaxy's Edge and any related tie-in media depicting the Battle of Batuu, or set between The Force Awakens and the battle, must also occur in 34 ABY.
↑ The events of A Crash of Fate, including Julen Rakab and Izal Garsea's visit to Tuggs' Grub, occur months after the Hosnian Cataclysm, which Star Wars: Galactic Atlas dates to 34 ABY.