Cobra Kai Season 4 - The Loop
Play Sound
From a Certain Point of View is an anthology of 40 short stories that was released on October 3, 2017, in celebration of the 40th anniversary of Star Wars. The first book in the From a Certain Point of View series, each short story is told from the perspective of background characters in Star Wars: Episode IV A New Hope. The title's audiobook version was performed by a variety of narrators.
Publisher's summary
[
]
Forty years. Forty stories.
In honor of the fortieth anniversary of Star Wars: A New Hope, this collection features Star Wars stories by bestselling authors, trendsetting artists, and treasured voices from Star Wars literary history. More than forty authors have lent their unique vision to forty "scenes," each retelling a different moment from the original Star Wars film, but with a twist: Every scene is told from the point of view of a background character. Whether it's the X-wing pilots who helped Luke destroy the Death Star or the stormtroopers who never quite could find the droids they were looking for, Star Wars: From a Certain Point of View places the classic movie in a whole new perspective, and celebrates the influence and legacy of the unparalleled cultural phenomenon, Star Wars.
Development
[
]
From a Certain Point of View was first teased on social media on April 6, 2017, using the hashtag #OperationBlueMilk. The anthology was officially announced on April 7 with the news that it was a collection of 40 short stories, written by 40 authors, to celebrate the 40th anniversary of Star Wars: Episode IV A New Hope, which was released in 1977. The book was released in October 2017.[5] It is now also available as an e-book.[2]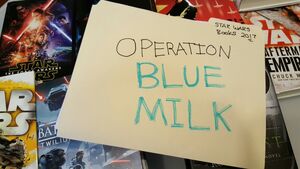 The book is told from the perspective of background characters in A New Hope. Characters include X-wing pilots who fought in the Battle of Yavin alongside Luke Skywalker, as well as stormtroopers who searched for R2-D2 and C-3PO on Tatooine. The characters who populated the background of A New Hope helped create the world that fans fell in love with, so this book helps flesh those characters out in the official Star Wars canon.[5]
Stories
[
]
From a Certain Point of View is a collection of 40 stories written by 43 authors.[5] The stories, their authors, and their main characters are as follows:
Additional authors were announced prior to the book's publication. All of the authors have forgone being compensated for their writing. The book's proceeds are being donated to First Book, a nonprofit organization that provides books and other educational material to teachers and children's organizations. Penguin Random House has also donated $100,000 to First Book, and Lucasfilm donated 100,000 children's books, valued at $1 million, as well.[5]
In Star Wars Insider 174, Adam Savage was announced as an author for the book, but his work did not appear in the final product.[6]
The audiobook features multiple narrators, including Jonathan Davis, Ashley Eckstein, Janina Gavankar, Jon Hamm, Neil Patrick Harris, January LaVoy, Saskia Maarleveld, Carol Monda, Daniel José Older, and Marc Thompson[7].
Continuity
[
]
Although From a Certain Point of View forms part of the Star Wars canon, it presents several contradictions. As such, Lucasfilm Story Group's Matt Martin confirmed that the contradictions present in the stories were intentional, as that was part of the project's nature.[8]
Media
[
]
Editions
[
]
American
[
]
International
[
]
Cover gallery
[
]
Sources
[
]
Notes and references
[
]
↑ 1.0 1.1  From a Certain Point of View (Star Wars) on Penguin Random House's official website (backup link) (Hardcover)
↑ 2.0 2.1 2.2  From a Certain Point of View (Star Wars) on Penguin Random House's official website (backup link) (eBook)
↑ 3.0 3.1 Star Wars Books on Facebook: Hello Friends! Our NYCC schedule has been finalized and is now available. Below is a list of all signings and panels. A reminder that all freebies are while supplies last. (September 25, 2017). (backup link) Del Rey confirms October 5, 2017 as the first date of availability for From a Certain Point of View 2017 Limited Convention Edition.
↑ 4.0 4.1  From a Certain Point of View (Star Wars) on Penguin Random House's official website (backup link) (Paperback)
↑ 5.0 5.1 5.2 5.3 Star Wars: From A Certain Point of View Anthology Book Celebrates 40 Years of a Galaxy Far, Far Away on StarWars.com (backup link)
↑ From a Certain Point of View Audiobook Exclusive – Jon Hamm (as Boba Fett!) Leads an All-Star Cast on StarWars.com (backup link)
↑ Matt Martin (@missingwords) on Twitter: "FACPOV has a lot of contradictions, that's sort of the nature of that project. But yeah, the latest film release is most accurate." (backup link)
↑ From a Certain Point of View, New York Comic Con 2017 Limited Convention Edition
External links
[
]