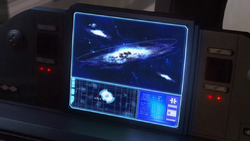 A galaxy was a massive collection of stars, star systems, planets, moons, asteroids, comets, nebulas, star clusters, black holes and other celestial bodies residing within the universe. One known galaxy was the galaxy home to the Galactic Republic[1] and the Galactic Empire,[2] also notable for containing the Wellspring of Life which gave birth to the midi-chlorians.[3] Another was the Rishi Maze.[4]
Taka Jamoreesa, when advertising themselves as a pilot, was said to be "wanted" in 18 galaxies.[5]
Appearances
Edit
Non-canon appearances
Edit
Notes and references
Edit
External links
Edit
Community content is available under
CC-BY-SA
unless otherwise noted.