George Walton Lucas, Jr. (born May 14, 1944[1]) is a four-time Academy Award–nominated American film and television writer, director, and producer. He is best known as creator of the epic Star Wars saga and the archaeologist-adventurer character Indiana Jones. From 1977 to 2005, he served as co-writer and executive producer of all six Star Wars films, as well as director for four of the films. He also appeared in a cameo role in Star Wars: Episode III Revenge of the Sith. He is famous for his advances in special effects and filming techniques.
Today, Lucas is one of the American film industry's most financially successful independent directors/producers, with an estimated net worth of around $5.9 billion.[2]
Biography
Early life and education
George Walton Lucas Jr. was born in Modesto, California[1] to George Walton Lucas, Sr. (1913–1991) and Dorothy Ellinore Bomberger Lucas on May 14, 1944. His father was mainly of British and Swiss-German heritage and his mother was a member of a prominent Modesto family (one of her cousins is the mother of former U.S. Secretary of Agriculture and director of UNICEF Ann Veneman) and was mainly of German and Scots-Irish heritage.
His parents sold retail office supplies and owned a walnut ranch in California. His father ran a stationery store and owned a small walnut orchard. His mother was in poor health, often bedridden, throughout Lucas's childhood. Lucas himself was short and scrawny as a child; his younger sister reportedly fought with other kids who picked on him. His experiences growing up in the sleepy suburb of Modesto and his early passion for cars and motor racing would eventually serve as inspiration for his Oscar-nominated low-budget phenomenon, American Graffiti. Before young Lucas became obsessed with the movie camera, he attended Thomas Downey High School, where he was an indifferent student at best. He was interested in race car driving; he dreamed of becoming a professional race car driver. For better or worse, that dream was abruptly ended in his early adulthood when on June 12, 1962, he crashed his Autobianchi Bianchina in a car accident. The car was clipped from behind while he tried to make a left turn into his driveway. The car rolled; the racing harness that he had installed snapped, and he was thrown from the car. Had the harness not snapped—and Lucas has said it shouldn't have—he would most likely have been crushed to death by the steering column when the car smashed into a walnut tree. (The force of the impact uprooted the tree.) As it was, emergency personnel had difficulty finding a pulse and at first thought him dead.
During his recovery, Lucas reevaluated his life and decided to go to college after graduating high school. He enrolled at Modesto Junior College, where he earned an AA degree and developed a passion for cinematography and camera tricks. During this time an experimental filmmaker named Bruce Baillie tacked up a bedsheet in his backyard in 1960 to screen the work of underground, avant-garde 16 mm filmmakers like Jordan Belson, Stan Brakhage, and Bruce Conner. For the next few years, Baillie's series, dubbed Canyon Cinema, toured local coffeehouses, where art films shared the stage with folksingers and stand-up comedians.
These events became a magnet for the teenage Lucas and his boyhood friend John Plummer. The 19-year-olds began slipping away to San Francisco to hang out in jazz clubs and find news of Canyon Cinema screenings in flyers at the City Lights bookstore. Already a promising photographer, Lucas became infatuated with these abstract films.
"That's when George really started exploring," Plummer recalls. "We went to a theater on Union Street that showed art movies, we drove up to San Francisco State for a film festival, and there was an old beatnik coffeehouse in Cow Hollow with shorts that were really out there." It was a season of awakening for Lucas, who had been a D-plus slacker in high school.
At an autocross track, Lucas met his first mentor in the film industry - famed cinematographer Haskell Wexler, a fellow aficionado of sleek racing machines. Wexler was impressed by the way the shy teenager handled a camera, cradling it low on his hips to get better angles. "George had a very good eye, and he thought visually," he recalls.
Lucas then transferred to the University of Southern California School of Cinematic Arts in Los Angeles. USC was one of the earliest universities to have a school devoted to film studies. During the years at USC, George Lucas shared a dorm room with Randal Kleiser. Lucas was deeply influenced by the Filmic Expression course taught at the school by filmmaker Lester Novros which concentrated on the non-narrative elements of Film Form like color, light, movement, space, and time. Another huge inspiration was the Serbian montagist (and dean of the USC Film Department) Slavko Vorkapich who had been a colleague of Sergei Eisenstein's before moving to Hollywood to make stunning montage sequences for studio features at MGM and Paramount. Vorkapich taught the autonomous nature of the cinematic art form, emphasizing the unique dynamic quality of movement and kinetic energy inherent in moving film images.
Lucas saw many inspiring movies in class, particularly the visual films coming out of the National Film Board of Canada like Arthur Lipsett's 21-87, the French-Canadian cameraman Jean-Claude Labrecque's cinema verite 60 Cycles, the work of Norman McLaren, and the documentaries of Claude Jutra. Lucas fell madly in love with pure cinema and quickly became prolific at making 16 mm nonstory noncharacter visual tone poems and cinema verite with such titles as Look At Life, Herbie, 1:42.08, The Emperor, Anyone Lived in a Pretty (how) Town, filmmaker, and 6-18-67. He was passionate and interested in cinematography and editing, defining himself as a filmmaker as opposed to being a director, and he loved making abstract visual films that create emotions purely through cinema.
After graduating with a bachelor of fine arts in film in 1967, he drifted a little, trying to figure out what to do next. He tried joining the United States Air Force as an officer, but was turned down because of his numerous speeding tickets. He was later drafted by the Army, but tests showed he had diabetes, the disease that killed his paternal grandfather. Lucas was prescribed medication for the disease, but his symptoms are sufficiently mild that he does not require insulin and would not be considered diabetic under the disease's current classification.[3]
In 1967, Lucas re-enrolled as a USC graduate student in film production. Working as a teaching instructor for a class of U.S. Navy students who were being taught documentary cinematography, Lucas directed the short film Electronic Labyrinth: THX 1138 4EB, which won first prize at the 1967-68 National Student Film Festival, and was later adapted into his first full-length feature film, THX 1138. Lucas was awarded a scholarship by Warner Brothers to observe the making of Finian's Rainbow (1968) which was being directed by Francis Ford Coppola, who at the time was revered among film-school students as a cinema graduate who had "made it."
Film career
"I thought it was too wacky for the general public."
―George Lucas on Star Wars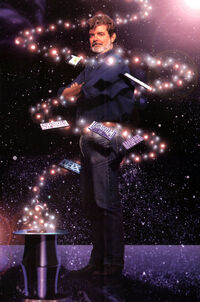 Lucas co-founded the studio American Zoetrope with Coppola—whom he met during his internship at Warner Brothers—hoping to create a liberating environment for filmmakers to direct outside the perceived oppressive control of the Hollywood studio system. American Zoetrope never really succeeded, but from the financial success of his films American Graffiti (1973) and Star Wars: Episode IV A New Hope, is highly regarded in the gaming industry.
San Anselmo is a city in California and arguably, according to George Lucas, the birthplace of Star Wars. On June 20, 2013, George Lucas donated two bronze statues to Imagination Park. The statues were of Yoda and the first life-sized statue of Indiana Jones.[4]
Following the success of American Graffiti, Lucas proposed a new Flash Gordon film adaptation, but the rights were not available. Under the American Zoetrope banner Lucas developed Apocalypse Now to direct following work on Star Wars. As work on Star Wars dragged on, Coppola took over directing Apocalypse Now, leading to the breakdown of the American Zoetrope partnership.
Lucas was also influential in the development of industry-standard post-production tools such as the Avid Film and Video non-linear editor, first developed as the Edit Droid, and the Sound Droid, which later became the Digidesign Pro Tools sound editing and mixing software.
The animation studio Pixar was founded as the Graphics Group, one third of the Computer Division of Lucasfilm. Pixar's early computer graphics research resulted in groundbreaking effects in films such as Star Trek II: The Wrath of Khan[5] and Young Sherlock Holmes,[5] and the group was purchased in 1986 by Steve Jobs shortly after he left Apple Computer. Jobs paid U.S. $5 million to Lucas and put U.S. $5 million as capital into the company. The sale reflected Lucas's desire to stop the cash-flow losses associated with his seven-year research projects associated with new entertainment technology tools, as well as his company's new focus on creating entertainment products rather than tools. A contributing factor was cash-flow difficulties following Lucas's 1983 divorce concurrent with the sudden drop-off in revenues from Star Wars licenses following the release of Return of the Jedi. (Some twenty years later, on January 24, 2006, Disney announced that it had agreed to buy Pixar for approximately $7.4 billion in an all-stock deal.)
On a return-on-investment basis, Star Wars proved to be one of the most successful films of all time. During the filming of Star Wars, Lucas waived his up-front fee as director and negotiated to own the licensing rights—rights which the studio thought were nearly worthless. This decision earned him hundreds of millions of dollars, as he was able to directly profit from all the licensed games, toys, and collectibles created for the franchise. In 2006 Forbes Magazine estimated Lucas's personal wealth at U.S. $3.5 billion. In 2005 Forbes.com estimated the lifetime revenue generated by the Star Wars franchise at nearly $20 billion.
Some considered Star Wars to be the first "high concept" film, while others feel the first was Steven Spielberg's Jaws, released two years prior. In fact, Lucas and Spielberg had been acquaintances for some time and eventually worked together on several films, notably the first Indiana Jones vehicle, Raiders of the Lost Ark in 1981. Along with Spielberg, Lucas is credited with (and even blamed for) establishing the blockbuster approach to filmmaking.
Lucas and director Steven Spielberg enjoy a friendship that dates to their college years, and that has resulted in collaborations on films including the Indiana Jones movies Raiders of the Lost Ark (1981), Indiana Jones and the Temple of Doom (1984), Indiana Jones and the Last Crusade (1989), and Indiana Jones and the Kingdom of the Crystal Skull (2008).
The Directors Guild of America fined Lucas for refusing to have a standard title sequence in his Star Wars films. After paying the fine, he quit the guild. This made it hard for him to find a director for some of his later projects. According to some, he wanted his friend Spielberg to direct some of the later Star Wars movies, but as a member of the guild Spielberg may have been unable to do so. Spielberg has repeatedly stated that Lucas consciously did not let him direct any Star Wars films, despite the fact that Spielberg wanted to. Other directors Lucas pursued to aid him were David Lynch and David Cronenberg, both of whom declined.
Lucas was influential in the development of industry-standard post-production tools such as the Avid Film and Video non-linear editor, first developed as the Edit Droid, and the Sound Droid, which later became the Digidesign Pro Tools sound editing and mixing software.
On October 3, 1994, Lucas started to write the three Star Wars prequels, and on November 1 that year, he left the day-to-day operations of his filmmaking business and started a sabbatical to finish the prequels.
He recently announced that he would produce a TV series about Star Wars, which would take place between episodes III and IV. Lucas purportedly also announced that he plans on making two additional Star Wars films that will take place after Return of the Jedi, but this rumor was debunked at Celebration IV in Los Angeles, California, in May 2007. When Steve Sansweet, Director of Content Management and Head of Fan Relations at Lucasfilm, was asked about the proposed two films post–Return of the Jedi, he stated that it was a misunderstanding of what Lucas was explaining. According to Sansweet, Lucas was referring to the two Star Wars television projects then in production: Star Wars: Clone Wars which is a CG animated show that debuted October 3, 2008, and a yet-to-be-titled Star Wars live-action show that was set to premiere in 2009, the development status of which is currently uncertain.
Lucas appears in an interview on the January 15, 2008 DVD release of the Family Guy episode "Blue Harvest," which parodied Star Wars: Episode IV A New Hope.
After The Walt Disney Company acquired Lucasfilm, Lucas provided story material for the seventh film, which would ultimately be titled Star Wars: Episode VII The Force Awakens. Disney, however, ultimately chose not to use Lucas's story ideas in the final film. In interviews regarding the matter, Lucas stated that Disney "…looked at the stories and they said, 'We want to make something for the fans.' People don't actually realize it's actually a soap opera and it's all about family problems – it's not about spaceships. So they decided they didn't want to use those stories, they decided they were going to do their own thing so I decided, 'fine…. I'll go my way and I let them go their way.'"[6]
Innovations in film
"Well, I would argue that the prequels are — and Lucas in general is — the bedrock that all of this is built on. He is the first person that had digital photography, he was the first person to do completely CG characters. The whole notion of not having even a print [version of the film], of having everything be 0's and 1's, was all George. Not to mention EditDroid, which turned into Avid, Pixar was spawned out of their laboratories at Lucasfilm, so he is arguably the center of the Big Bang for everything that I'm doing. It's building on the shoulders of what he was able to innovate."
Besides his directorial and production work on movies, Lucas is one of the most significant contemporary contributors to modern movie technology. In 1975 Lucas established Industrial Light & Magic (ILM) in Van Nuys, California, which was responsible for the invention of the special computer-assisted camera crane "Dykstraflex" that was used for most of the space fight sequences in the Star Wars movies (technology which was later adopted by most other visual effects production units, such as those responsible for Battlestar Galactica—considered very similar to Star Wars by many—and Star Trek: The Next Generation). Through ILM, Lucas spurred the further development of computer graphics, film laser scanners, and the earliest use of 3D computer character animation in a film, Young Sherlock Holmes. Lucas sold his early computer development unit to Steve Jobs in 1988, which was renamed Pixar.
Lucas is also responsible for the modern sound systems found in many movie theaters. Though Lucas didn't invent THX, he is responsible for its development.
Now Lucas is spearheading digital photography for movies. Though personal digital photography is now mainstream, most movie studios still use traditional cameras and film for movie production. Lucas departed from this model by filming Star Wars: Episode II Attack of the Clones completely digitally. He showed the result to a select audience of the Hollywood elite, before the movie's general release. For the presentation, Lucas used a special digital projection system. The attendees said the movie had the clearest and sharpest presentation they had ever seen.
Despite the successful demonstration of the technology, movie studios are slow to move to this new model, in part because of the high price of the digital equipment. But digital movie photography has several advantages:
Footage can be reviewed immediately on set after shooting, rather than having to wait for dailies to be printed.
Digital editing is much easier and less expensive since the movie is already in digital form.
Movies stored digitally are less susceptible to decay and degradation in quality.
Transferring digital movies to DVD is much cheaper since both forms are digital.
Awards, donations and other activities
Lucas was nominated for four Academy Awards: Best Directing and Writing for American Graffiti, and Best Directing and Writing for Star Wars. He also received the Academy's Irving G. Thalberg Award in 1991. He appeared at the 79th Academy Awards ceremony in 2007 with Steven Spielberg and Francis Ford Coppola to present the Best Director award. During the speech, Spielberg and Coppola talked about the joy of winning an Oscar, making fun of Lucas, who has not won a competitive Oscar.
The American Film Institute awarded Lucas its 2005 Life Achievement Award on June 9, 2005.[7] This was shortly after the release of Star Wars: Episode III Revenge of the Sith, to which he jokingly made reference in his acceptance speech, stating that, since he views the entire Star Wars series as one movie, he could actually receive the award now that he had finally "gone back and finished the movie."
On June 5, 2005, Lucas was named 100th "Greatest American" by the Discovery Channel.
In 2005, Lucas donated US$1 million to help build the Martin Luther King, Jr. National Memorial on the National Mall in Washington D.C. to commemorate American civil rights leader Martin Luther King, Jr..[8]
On September 19, 2006, USC announced that George Lucas had donated $175 million to his alma mater to expand the film school. It is the largest single donation to USC and the largest gift to a film school.[9] Previous donations led to the already existing George Lucas Instructional Building and Marcia Lucas Post-Production building.[10][11]
In 1991, The George Lucas Educational Foundation was founded as a nonprofit operating foundation to celebrate and encourage innovation in schools. The Foundation's content is available under the brand Edutopia, in an award-winning magazine, on a website and via documentary films.
On January 1, 2007 George Lucas served as the Grand Marshal for the 2007 Tournament of Roses Parade, and made the coin toss at the 2007 Rose Bowl. The toss favored Lucas's alma mater, the Trojans. His team, which came into the game as underdogs, went on to defeat the Michigan Wolverines (32-18).
On June 12, 2013, George Lucas received the Nora Zarky Humanitarian Award, an award for those who demonstrated support for the advancement of equal opportunity for all.[12]
On July 10, 2013, George Lucas received the National Medal of Arts from United States President Barack Obama himself, inside the White House.[13]
On September 20, 2013, SFMOMA hosted a party for the Bay Area Treasure Award, and honored George Lucas for the year.[14]
On February 9, 2018, it was reported that Lucas had helped to direct a scene in Solo: A Star Wars Story, which was released on May 25, 2018. This makes Solo so far the only Disney-helmed Star Wars film to have counted at least very little with Lucas' direct involvement.[15][16]
On December 18, 2018, Forbes reported that George Lucas was America's wealthiest celebrity, with an estimated net worth of 5.4 billion dollars.[17]
Lucas spearheaded the development of the Lucas Museum of Narrative Art, which is being constructed in Los Angeles, California.[18]
Personal life
In 1969, Lucas married film editor Marcia Lou Griffin, who went on to win an Oscar for her editing work on the Star Wars: Episode IV A New Hope. They adopted a daughter, Amanda (b. 1981), before divorcing in 1983. Lucas subsequently adopted two more children as a single parent: daughter Katie (b. 1988) and son Jett (b. 1993). [19] Lucas began dating Mellody Hobson, president of Ariel Investments and chair of DreamWorks Animation, in 2006. She accompanied him to the 79th Academy Awards ceremony in February 2007. As of January 2013, George Lucas became engaged to Hobson.[20] The two were married on Saturday, June 22, 2013 at Skywalker Ranch.[21] They have one daughter together, Everest Hobson Lucas, who was born via gestational carrier on August 12, 2013.[19]
Lucas was born and raised in a strongly Methodist family. After inserting religious themes into Star Wars he would eventually come to identify strongly with the Eastern religious philosophies he studied and incorporated into his movies, which were a major inspiration for "the Force." Lucas eventually came to state that his religion was "Buddhist Methodist."[22]
Lucas is a well-known aficionado of cars and racing.
Filmography/Bibliography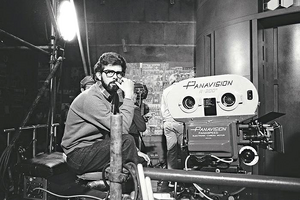 Short and student films
| Title | Released | Role(s) |
| --- | --- | --- |
| Freiheit | 1966 | writer, director, and editor |
| Look at Life | 1965 | writer, director, and editor |
| The Bus | 1965 | production assistant |
| Grand Prix | 1966 | additional camera operator |
| Herbie | 1966 | writer, director, and editor |
| 1:42:08 | 1966 | writer, director, and editor |
| The Emperor | 1967 | writer and director |
| Electronic Labyrinth THX 1138: 4EB | 1967 | writer and director |
| Anyone Lived in a Pretty How Town | 1967 | writer, director, and editor |
| 6-18-67 | 1967 | writer, director, and editor |
| Filmaker | 1968 | writer, director, and editor |
| Finian's Rainbow | 1968 | uncredited production assistant |
| The Rain People | 1969 | associate producer |
| Gimme Shelter | 1970 | co-cinematographer |
| Captain EO | 1986 | story and exec. producer |
| Star Tours | 1987 | characters, story, exec. producer |
| Rush Rush | 1991 | producer |
| Rollin' with Saget | 2006 | cameo at 1:43 |
Feature films
Title
Released
Role(s)
THX 1138
1971
director, story, co-writer
American Graffiti
1973
director, story, co-writer
Star Wars: Episode IV A New Hope
1977
director, story, writer, exec. producer
More American Graffiti
1979
exec. producer, uncredited co-director
Kagemusha[23]
1980
exec. producer[24]
Star Wars: Episode V The Empire Strikes Back
story, uncredited co-writer,[25] exec. producer, uncredited co-director
Body Heat
1981
uncredited exec. producer
Raiders of the Lost Ark
story,[26] exec. producer, uncredited second unit director
Star Wars: Episode VI Return of the Jedi
1983
exec. producer, story, co-writer, uncredited co-director
Twice Upon a Time
exec. producer
Indiana Jones and the Temple of Doom
1984
story, exec. producer, cameo as "Tourist boarding plane"
Latino
1985
uncredited co-producer and co-editor
Mishima
exec. producer
Howard the Duck
1986
exec. producer
Labyrinth
exec. producer
Powaqqatsi
1988
exec. producer
Willow
story, exec. producer
Tucker: The Man and His Dream
exec. producer
The Land Before Time
exec. producer
Indiana Jones and the Last Crusade
1989
story,[27] exec. producer
Hook
1991
cameo as "Man kissing on bridge"
Beverly Hills Cop III
1994
cameo as "Disappointed Man"
Radioland Murders
story, exec. producer
Men in Black
1997
uncredited cameo as "Alien on TV Monitor"
Star Wars: Episode I The Phantom Menace
1999
director, story, writer, exec. producer
Star Wars: Episode II Attack of the Clones
2002
director, story, co-writer, exec. producer
Star Wars: Episode III Revenge of the Sith
2005
director, story, writer, exec. producer, cameo as "Baron Papanoida"
Indiana Jones and the Kingdom of the Crystal Skull
2008
story, exec. producer
Star Wars: The Clone Wars
exec. producer
Red Tails
2012
executive producer, uncredited director reshoots
Strange Magic
2015
story, executive producer
Television
| Title | Released | Role(s) |
| --- | --- | --- |
| The Star Wars Holiday Special | 1978 | story |
| Caravan of Courage: An Ewok Adventure | 1984 | characters, story, exec. producer |
| Star Wars: Droids | 1985—1986 | characters, exec. producer |
| Ewoks | 1985—1987 | characters, exec. producer |
| Ewoks: The Battle for Endor | 1985 | characters, story, exec. producer |
| The Young Indiana Jones Chronicles | 1992—1996 | characters, stories, exec. producer |
| Just Shoot Me!: "It's Raining Babies" | 2003 | cameo as himself |
| Star Wars: Clone Wars | 2003—2005 | characters, executive producer |
| The O.C. | 2005 | cameo as himself |
| The Colbert Report | 2006 | cameo as green screen finalist "George L." |
| Robot Chicken: Star Wars | 2007 | voice of himself |
| Star Wars: The Clone Wars | 2008—2014 | executive producer |
| Star Wars: Underworld | TBA | characters, exec. producer |
| Star Wars: Detours | TBA | characters |
Novels
Lucas also served as a producer on the video game Star Wars: The Force Unleashed, and many Expanded Universe and fan productions have one form or another of the credit "Special thanks to George Lucas."
Criticism
George Lucas receives a large amount of negative attention from fans who claim that his recent actions influencing the Star Wars galaxy detract from the overall value of the saga. People who argue this point vehemently are sometimes called "Lucas Bashers."
Lucas bashing is a form of criticism of the works of George Lucas. Whereas normal criticism typically involves pragmatic engagement on the artistic merits of a work, Lucas bashing is characterised by a prejudicial stance often combined with personal attacks.
Filmmaking style and trademarks
A common theme throughout Lucas's works is escape. Lucas's films tend to emphasize visuals and plot. They often include chase scenes of some sort, and are often edited to move along at a fast pace. Lucas has a love of the past, and many of his works indicate this (American Graffiti, the Star Wars and Indiana Jones films, The Young Indiana Jones Chronicles, Radioland Murders, and Red Tales.) Additionally, his USC student films and THX 1138 were designed to be abstract and esoteric.
Trivia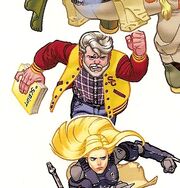 Lucas considers himself a "Trekkie" and has cited Star Trek as his inspiration for working with sci-fi. He also finds hypothetical "war" scenarios distasteful.[29]
In 1976, Lucas published a novelization of A New Hope, which was initially (like the film) titled just Star Wars. Although Lucas was credited as author of the book, it was later revealed that the book was actually ghostwritten by Alan Dean Foster, who would also write Splinter of the Mind's Eye, the first original Star Wars novel and, in many respects, the first Star Wars sequel.
Lucas is a member of the United Methodist Church, though he claims that he doesn't believe in a specific religion, due to his college studies.
In his spare time, Lucas enjoys playing Star Wars video games with his children. He has also been known to read some of the Star Wars comic books, including Dark Empire. At one point, Lucas even said that he liked the story presented in the Star Wars: Shadows of the Empire multimedia project so well, that if he had had the story in the 1980s, he might have produced a film based on the events in it; in addition, Dash Rendar's Outrider was added leaving Mos Eisley during the special edition of A New Hope.
In addition to his role as Baron Notluwiski Papanoida, Lucas has made two Expanded Universe appearances. His name was modified for Egroeg Sacul, a character paged on the Star Tours ride, and his likeness was used for a limited-edition action figure of a character called Jorg Sacul.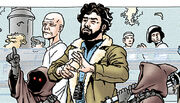 Lucas also appears twice in the Tag and Bink comics. He appears in Tag & Bink: Revenge of the Clone Menace in Dex's Diner and is depicted among the many characters chasing Tag Greenley and Bink Otauna on the back of the Tag and Bink Were Here trade paperback. Lucas also appears in the third part of the Star Wars: X-Wing Rogue Squadron: The Phantom Affair comic.
On June 5, 2005, Lucas was named the 100th "Greatest American" by the Discovery Channel.
In Star Wars: Episode II Attack of the Clones, there's a bust of George Lucas in the Jedi Archives.
In the non-canon special LEGO Star Wars: The Padawan Menace, George Lucas makes an appearance, where he has to herd Darth Vader off screen after Vader interrupts scenes by inserting himself into them. He eventually tells Vader to get off of the set.
Bibliography
Notes and references
↑ George Lucas. Forbes. Retrieved on October 11, 2019.
↑

According to Interview and Q&A with George Lucas, Lawrence Kasdan, and Frank Darabont, by Drew Casper, CTCS 469 Film & Television Style Analysis, Spring 2000, a videotape published by the University of California in April 12, 2000, filmed in the university's Norris Cinema Theater

↑ JediNews.co.uk (06-21-2013). George Lucas Presents Indiana Jones and Yoda Statues to San Anselmo

(English)

. Retrieved on June 25, 2013.
↑ 5.0 5.1 Hormby, Thomas (2007-01-22). The Pixar Story: Dick Shoup, Alex Schure, George Lucas, Steve Jobs, and Disney. Low End Mac. Retrieved on March 1, 2007.
↑ Goldberg, Matt (November 20, 2015). 'Star Wars': George Lucas Explains Why He and Disney Disagreed on New Trilogy. Collider. Retrieved on November 21, 2015.
↑ Stuart Silverstein, George Lucas Donates USC's Largest Single Gift, The Los Angeles Times, September 19, 2006.
↑ George Lucas Instructional Building, USC School of Cinematic Arts.
↑ Marcia Lucas Post-Production, USC School of Cinematic Arts.
↑ Breznican, Anthony (February 9, 2018). Ron Howard: A Star Wars Story. Entertainment Weekly. Retrieved on February 18, 2018.
↑ Trumbore, Dave (February 9, 2018). 'Solo: A Star Wars Story': How George Lucas Helped Shape a Scene Aboard the Falcon. Retrieved on February 18, 2018.
↑ Robehmed, Natalie (December 18, 2018). America's Wealthiest Celebrities 2018: George Lucas Leads Kylie Jenner, Jay-Z With $5.4 Billion Net Worth.
↑ George Lucas, Mellody Hobson Engaged: 'Star Wars' Director, Businesswoman Set To Marry

(English)

. Huffington Post (1-3-2013). Retrieved on January 3, 2013.
↑ George Lucas, Mellody Hobson Tied The Knot This Weekend

(English)

. TheForce.net (6-24-2013). Retrieved on June 24, 2013.
↑ also known as The Shadow Warrior
↑

of international edition

↑ (with Philip Kaufman)
↑ (with Menno Meyjes)
↑ The novel is credited to Lucas, but was ghostwritten by Alan Dean Foster; based on Lucas's story and screenplay.
↑ Pollock, Dale. Skywalking: the Life and Films of George Lucas. ISBN 0306809044
External links
Community content is available under
CC-BY-SA
unless otherwise noted.