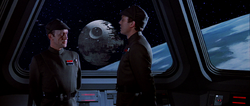 Glass was a hard, brittle, transparent or translucent material that was used for making a great variety of objects, such as windows,[1] starship viewports,[2] ornamental chandeliers,[3] jars,[4] drinking vessels,[5] doors,[6] bottles, statuettes,[7] and kaleidoscopes.[8] Glass could be used to create panes that were partially reflective and partially transparent, allowing viewing from the darkened side but not vice versa.[9] Glass could form naturally, as a product of volcanic activity,[5] or when a meteorite impacted the ground.[10]
Community content is available under
CC-BY-SA
unless otherwise noted.