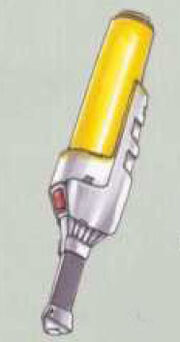 "What's the difference between a lightsaber and a glowrod? A lightsaber impresses girls!"
―Jacen Solo
The glowrod (also referred to as a glowtube, glowlight, glowlamp, light stick, chemlight,[1] glow stick,[1] or glowpole[2]) was a device utilized for the purpose of producing light.
Glowrods created a beam of light illuminating up to 10 meters. There were two varieties: those that produced light using chemical phosphorescents[3] and those that used a portable power cell. The latter could be hooked up to a generator for indefinite light generation. The standard glowrod weighed roughly 1 kilogram and cost 10 credits.
It was a standard issue item given to stormtroopers. They also came in versions that could be switched to ultraviolet.[4]
A glowrod could be modified so that it flickered instead of emitting a constant light so that it would resemble the flickering of torchlight.[2]
The Chemlight was activated by breaking the stick in half, providing two lights.
The Glo-Long company was widely considered the finest manufacturer of glow sticks in the galaxy.[1]
Glowrods seem to be Star Wars Universe-adaptations to real-world flashlights and glow-sticks.
Community content is available under
CC-BY-SA
unless otherwise noted.