The Gozanti-class cruiser, also known as the Gozanti-class armed transport, was a class of armored starship used by various factions, and as such had many modified sub-variants, including the Black Sun frigate, the Imperial Gozanti-class cruiser, the C-ROC Gozanti-class light cruiser, the IGV-55 surveillance vessel, and the Gozanti-class Assault Carrier. During the First Order–Resistance war, the Gozanti Armed Transport shared a similar name.
The Gozanti-class cruiser was a starship that could act as a freighter and cruiser. It could be modified to accomodate a twin laser turret in a dorsal mount and a heavy laser cannon on its ventral side. The Gozanti also had a loading elevator on the bottom near the nose and docking ports to the side near the cockpit section.[8] The ships had a hyperdrive and three engines.[1]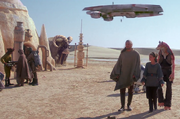 Gozanti-class cruisers were introduced by the Corellian Engineering Corporation[1] around 34 BBY,[7] and they proved to be one of the major starship success stories of the late Republic Era.[4]
Shortly before Anakin Skywalker won the Boonta Eve Classic, a Gozanti-class cruiser with red markings was seen in the spaceport of Mos Espa on Tatooine.[9]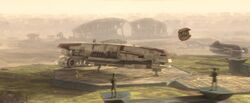 During the Clone Wars, the cruiser was adopted by various factions, including the Confederacy of Independent Systems. At least three were in the fleet led by the super tactical droid Aut-O.[10] One cruiser was on Zygerria as Dooku arrived to discuss the execution of Anakin Skywalker with Miraj Scintel.[11]
The Black Sun crime syndicate also used modified Gozanti-class cruisers. They were forced into joining Darth Maul's Shadow Collective and took part in the takeover of Mandalore.[12] Several joined with Maul's forces after the battle of Zanbar. These ships were painted black with gold highlights, including a stylized rim of a star placed over the cruiser's front, taken from the syndicate's emblem.[13]
While using a malfunctioning Joben T-85 speeder bike, former Jedi Padawan Ahsoka Tano nearly collided with a Gozanti in an underworld portal, but she regained control of the speeder in time.[14]
The Gozanti-class cruiser first appeared in Star Wars: Episode I The Phantom Menace. It was later added to Star Wars: The Clone Wars TV series to add more ship models.
The young readers book Star Wars Rebels: Head to Head, written by Pablo Hidalgo and featuring various match-ups from the series, placed an Imperial Gozanti cruiser against an Auzituck anti-slaver gunship, with the gunship damaging the cruiser and escaping.
↑ 7.0 7.1 Star Wars Helmet Collection 20 (Databank A-Z: Saw Gerrera–Commander Gree) states that the Gozanti-class was introduced "about 15 years before the rise of the Empire," which Star Wars: Galactic Atlas dates to 19 BBY.
Community content is available under
CC-BY-SA
unless otherwise noted.