Grant Gould is an artist who drew 1,000 Artist Sketch Cards for the Topps 2005 Topps Star Wars: Revenge of the Sith trading card set in 2005. In addition to his Artist Sketch Cards, he has done features on StarWars.com and was one of the four artists who worked on The Clone Wars web comics.
Along with the Star Wars: Episode III Revenge of the Sith set, Grant has done sketch cards for Star Wars: The Clone Wars (100 cards) (Topps) and 2007 Topps Star Wars 30th Anniversary (500 cards). He worked on 2009 Topps Star Wars Galaxy Series 4 which featured artist renderings of the Star Wars galaxy. Grant contributed 100 sketch cards to the set and provided art for one of the cards in the base set.
In October 2008 at the Midwest Comic Book Association Fallcon convention, Gould was given honarary membership in both the Rebel Legion and the 501st Legion fan organizations.
Grant has done the lettering for the The Clone Wars web comics as well as art for the issues Procedure, Discount, and Bait.
In 2010, Grant illustrated the badges for Star Wars Celebration V.
Star Wars works

[

]
Artist Sketch Cards drawn by Grant Gould
[
]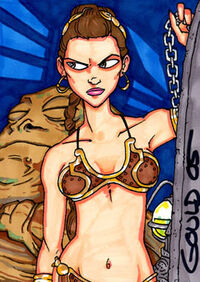 The Clone Wars web comics

[

]
Sources
[
]
External links
[
]