Grant Imahara was an Industrial Light & Magic modeler and animatronics technician who controlled R2-D2's movements in the Star Wars prequel trilogy. Imahara cameoed in the mockumentary R2-D2: Beneath the Dome, and was an actor and writer of the TheForce.net fan film Architects of Evil. The in-universe company Imaharatronics is named for him.
Grant Imahara was also known as the creator of the Battlebot Deadblow and was a cast member on Discovery Channel's MythBusters, prior to a restructuring of the program.
On April 2, 2011, Imahara was inducted into the 501st Legion fan organization.[2] He passed away following a brain aneurysm on July 13, 2020.[1]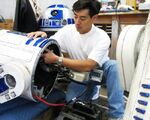 ↑ 1.0 1.1 1.2 Rahman, Abid (2020-07-13). Grant Imahara, Host of 'MythBusters' and 'White Rabbit Project,' Dies at 49. Hollywood Reporter. Archived from the original on July 14, 2020. Retrieved on July 14, 2020.
↑ Grant Imahara (@grantimahara) on Twitter: "I was inducted into the @501stLegion at #WonderCon yesterday. It was a tremendous honor! Special thanks to Jedi @bonniegrrl!" (backup link)
Community content is available under
CC-BY-SA
unless otherwise noted.