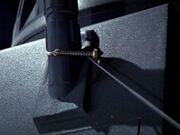 "Is that a grappling hook on your weapon?"
"Yes. It's a combination blaster and ascension gun."
―Thrawn and Padmé Amidala
A grappling hook was a type of device that allowed a user to climb or ascend large objects. During the Clone Wars, the Galactic Republic's clone troopers used a type of grappling hook called ascension cables with their DC-15A blaster rifles.[1]
Community content is available under
CC-BY-SA
unless otherwise noted.