Jurassic World: Dominion Dominates Fandom Wikis - The Loop
Play Sound
"It was a very low-gravity environment. You could throw a lightsaber hilt a kilometer if you tried."
―Jacen Solo, referring to The Home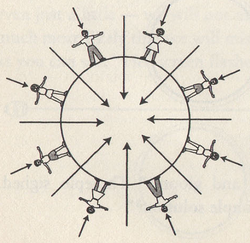 Gravity[2] or gravitation[3] was the attraction between two bodies, dependent on their masses and the distance between them. Empirically speaking, gravity was what kept a being's feet on the ground and caused dropped objects to fall. All bodies, including planets, moons and stars, exerted gravity. The larger a body was, the more gravity it had, and the harder it "pulled" other things toward its center. On the surface of a planetary body, that direction was commonly referred to as "down." In realspace, however, there was very little natural gravity, which is why starships utilized artificial gravity generators to simulate it. Orbiting a planet resulted from the perfect balance between gravity and the ship's forward motion toward the planet.[4]
In the modern galactic civilizations, there existed certain technologies that countered the effects of gravity. An example of common low-maintenance antigrav devices were the repulsorlifts, which allowed landspeeders to hover, helped starships for liftoffs and landings. Other gravity-altering devices included tractor beam projectors and acceleration compensators.[5]
Most inhabited planets and moons in the galaxy had an acceleration of gravity at or near standard gravity of 9.81 m/s². For beings who evolved on worlds that had standard gravity, traveling to planets that had lower or higher ones could be a disturbing experience. On a lower-than-standard gravity planet, a Human could jump very high effortlessly. On a higher-gravity world, however, the same Human could feel plastered to the ground.[4] For example, the planet Carida had a gravity nearly twice the galactic standard,[6] which was turned into an advantage: Carida was the site of a reputed Military Academy, and its higher gravity enhanced the challenge of field maneuvers.[7] Some believed that low-grav locations such as Columus had health benefits to obese beings by reducing strain on the heart and increasing mobility. It was not at all the case, however. In fact, those who maneuvered on a low-gravity planet reduced their muscle use, which only tended to slow metabolism.[8]
Gravity was responsible for helping Obi-Wan Kenobi find the missing planet of Kamino, as all nearby objects were drawn towards the spot where Kamino was supposed to be, though nothing was recorded in the Jedi Archives at those coordinates.[9]
Appearances
[
]
Non-canon appearances
[
]
Sources
[
]
"First Contact" – Star Wars Adventure Journal 1 (Varonat game information)
"A Glimmer of Hope" – Star Wars Adventure Journal 1 (Garos IV game information)
"Whispers in the Dark" – Star Wars Adventure Journal 2 (Garos IV game information)
"Out of the Cradle" – Star Wars Adventure Journal 2 (Socorro game information)
"Mission to Zila" – Star Wars Adventure Journal 3 (Garos IV game information)
"Shadows of Darkness" – Star Wars Adventure Journal 4 (Garos IV game information)
"Turning Point" – Star Wars Adventure Journal 5 (Garos IV game information)
"Vengeance Strike" – Star Wars Adventure Journal 5 (Wroona game information)
"Ringers" – Star Wars Adventure Journal 6 (Stassia game information)
"The Cure" – Star Wars Adventure Journal 6 (Sedesia game information)
"Kella Rand, Reporting..." – Star Wars Adventure Journal 6 (Indu San game information)
"Missed Chance" – Star Wars Adventure Journal 7 (Garqi game information)
"Passages" – Star Wars Adventure Journal 7 (Kabaira game information)
"Uhl Eharl Khoehng" – Star Wars Adventure Journal 8 (Trulalis game information)
"Blaze of Glory" – Star Wars Adventure Journal 8 (Gabredor III game information)
"Firepower" – Star Wars Adventure Journal 8 (Hargeeva game information)
"Combat Moon" – Star Wars Adventure Journal 9 (Rabaan and S'krrr game information)
"Easy Credits" – Star Wars Adventure Journal 9 (Rydonni Prime game information)
"Small Favors" – Star Wars Adventure Journal 12 (Corulag game information)
"Conflict of Interest" – Star Wars Adventure Journal 13 (Verkuyl game information)
"The Occupation of Rhamalai" – Star Wars Adventure Journal 13 (Rhamalai game information)
"Murder in Slushtime" – Star Wars Adventure Journal 14 (Gamorr game information)
"The Draw" – Star Wars Adventure Journal 15 (Vernet game information)
"Ilum: A Frozen World Hides a Jedi's Secret" on Wizards.com (original article link, content now obsolete; backup link)
"Even More Aliens!" on Wizards.com (original article link, content now obsolete; backup link)
"Raxus Prime" on Wizards.com (original article link, content now obsolete; backup link)
"J't'p'tan: Temples and Tybis" on Wizards.com (original article link, content now obsolete; backup link)
"Kessel: Hell in Space" on Wizards.com (original article link, content now obsolete; backup link)
"Arbra: Sanctuary In the Storm" on Wizards.com (original article link, content now obsolete; backup link)
"Ando: Planet of the Walrus Men" on Wizards.com (original article link, content now obsolete; backup link)
"Aargau: For All Your Banking Needs" on Wizards.com (original article link, content now obsolete; backup link)
"Carida: Heavy Duty" on Wizards.com (original article link, content now obsolete; backup link)
"Korriban: Planet of Lost Souls" on Wizards.com (original article link, content now obsolete; backup link)
"Hoth: Under the Ice" on Wizards.com (original article link, content now obsolete; backup link)
"Manaan: Depths of History" on Wizards.com (original article link, content now obsolete; backup link)
"Galactic Gazetteer: Hoth and the Greater Javin" on Wizards.com (original article link, content now obsolete; backup link)
"Rough and Tundra" on Wizards.com (original article link, content now obsolete; backup link)
"Adumar: Pilots Wanted" on Wizards.com (original article link, content now obsolete; backup link)
"Hapes: Ladies First" on Wizards.com (original article link, content now obsolete; backup link)
"Beheboth: Blood and Water" on Wizards.com (original article link, content now obsolete; backup link)
"Bespin: Action Tidings" on Wizards.com (original article link, content now obsolete; backup link)
"Byss and the Deep Core" on Wizards.com (original article link, content now obsolete; backup link)
"The Dark Forces Saga, Part 5" on Wizards.com (original article link, content now obsolete; backup link)
"Saga Edition Web Enhancement: Devaronians" on Wizards.com (original article link, content now obsolete; backup link)
"Planet Hoppers: Phindar" on Wizards.com (original article link, content now obsolete; backup link)
"Planet Hoppers: Cathar" on Wizards.com (original article link, content now obsolete; backup link)
"Planet Hoppers: Skako" on Wizards.com (original article link, content now obsolete; backup link)
The Complete Star Wars Encyclopedia (Mentioned in multiple entries, but without own entry)
Essential Atlas Extra: The History of Xim and the Tion Cluster on StarWars.com (article) (backup link)
Dining at Dex's on Hyperspace (article) (content removed from StarWars.com; backup link)
Non-canon sources
[
]
Notes and references
[
]
↑ "Carida: Heavy Duty Part 1" on Wizards.com (original article link, content now obsolete; backup link)
↑ Carida Backs Military Creation Act — HoloNet News Vol. 531 #52 (content now obsolete; backup link)
↑ Healthy Vacation Claims Disputed — HoloNet News Vol. 531 #56 (content now obsolete; backup link)
External links
[
]