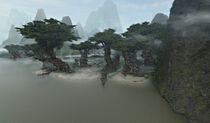 "Green is the color of grass, and of leaves on the trees, and of Greedo."
―Central Computer
Green can refer to the following:
The color green.
---
This is a disambiguation page—a navigational aid that lists other pages that might otherwise share the same title. If an article link referred you here, you might want to go back and fix it to point directly to the intended page.
---
Community content is available under
CC-BY-SA
unless otherwise noted.