Cobra Kai Season 4 - The Loop
Play Sound
Ground Assault was the second installment of the Star Wars PocketModel TCGTM trading card game. Released on November 14, 2007, itintroduced an additional one hundred-twenty cards and thirty six styrene sheets—collectively printed with 67 units—to the game. Units included ship classes from the original and prequel films, as well as from the Expanded Universe, representing Rebel, Imperial, Republic, and Separatist forces. A stand-alone release, ownership of the Base Set was not required for game play, although cards and units from both sets were interchangeable. This expansion included ground units, such as AT-ATs and Spider Droids, and new rules for the use of ground units.
Supplemental products for this expansion included the Battle for Hoth Tin (BHoth), which included a fixed 30 card deck focusing on the Battle of Hoth, and AT-AT, AT-ST, snowspeeder and tauntaun PocketModels (MSRP $19.99). The tin also included an exclusive emplacement to be used with an equally exclusive objective card. Each Ground Assault expansion pack (MSRP $4.99) for this release contained 2 styrene cards (4-8 PocketModels), 6 cards, 2 dice and a rules sheet.
The pre-release tournament for Ground Assault was held at GenCon 2007. The expansion was originally scheduled for release in September 2007, but the release date was postponed to November. A promotional playmat poster was made available through mail-in offer with the purchase of five packs from participating retailers.
New gameplay rules and concepts in the Ground Assault expansion included:
Rules for ground units
New icons: Battle Droid, Blaster, Transport, and Armor
Cards
[
]
Advancing Assault
Aerial Assault
Anger Leads to Hate
Anti-Infantry Guns
Attack From Within
Blast the Doors
Blizzard
Clone Troopers
Close Attack
Cover Fire
Defensive Line
Deflect Shot
Droid Assault
Fatal Mistake
Flanking Maneuver
Hide in the Trees
Jar Jar's Strategy
Jedi Defense
Jedi Leap
Jedi Reach
Narrow Escape
New Friends
Pursuit Fire
Rebel Stand
Relentless Assault
Shielded Troops
Slow Advance
Tight Formation
Timely Surrender
Hoth Drop Zone
Altering the Deal
Anticipation
Antivehicle Barrage
Assault the Shields
Avoid Detection
Bottleneck
Chain Blast
Chain Reaction
Damaged Droid Control Ship
Decoy
Droid Command Officer
Droid Patrol
Ewok Squad
Fallen Comrade
Fambaa Shield
Find Cover
Kaadu Riders
Long-Range Barrage
Missile Barrage
Reinforcements
Ruthless Tactics
Strength in Numbers
Submerged Attack
Tauntaun Patrol
Unstable Footing
Wild Ride
Dark Cave
Rebel Bunker
Staging Area
Support Ship
Echo Base Hangar Bay
Ewok Trap
Grassy Plains
Hoth Snowfield
Wampa Cave
Darth Vader
Padmé Amidala
Units
[
]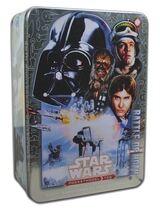 This Star Wars 30th Anniversary commemorative Battle of Hoth tin (BHoth) introduced a new type of playable piece called an emplacement that was deployable with an included exclusive Echo Base objective card. Due to factory errors, no rules book/model construction sheet was included, so only the following items were packaged in the tin:
Units
Cards
3x Attack from Within
3x Blizzard
3x Jedi Leap
2x Pursuit Fire
2x Echo Base Command Post
2x Hoth Drop Zone
2x Assault the Shields
3x Snowtroopers
2x Tauntaun Patrol
1x Tow Cables
2x Rebel Bunker
1x Support Ship
1x Chewbacca
1x Wampa
1x Echo Base Hangar Bay
1x Echo Base
Battle of Hoth Playmat
[
]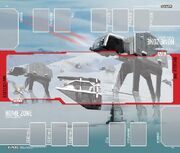 A mail-away coupon for a promotional Battle of Hoth-themed playmat (Hoth mat) was available on the official WizKids site, or at an LGS upon the purchase of five booster packs, and redeemable when sent in with five wrappers with the corresponding receipts for them. The playmat was divided into zones for use in playing the game, with other areas labeled for placement of cards and game pieces held in reserve.
The background image of the playmat featured PocketModel units arranged in an icy landscape to portray a scene from Star Wars: Episode V The Empire Strikes Back during the Battle of Hoth. The zones and fields used in the game were labeled on the map in both Aurebesh and in English.
External links
[
]