Wiki Targeted (Entertainment)
Play Sound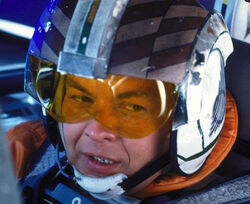 "Wedge, I've lost my gunner. You'll have to make this shot. I'll cover for you. Set your harpoon. Follow me on the next pass."
―Luke Skywalker, to Wedge Antilles during the Battle of Hoth
Gunner was a generalized term for an individual who operated heavy weapons.
The position of gunner could be found on attack vehicles such as the Defoliator Deployment Tank or onboard medium or large spacecraft.[1] Wes Janson served as a gunner at the Battle of Hoth.[2]
Some infantry soldiers operating heavy guns were also referred to as gunners, such as the towering Gigoran mercenary Moroff, who wielded a Vulk TAU-6-23 "Blastmill" rotary blaster cannon.[3]
Appearances
[
]
Sources
[
]
 ARC-170 starfighter in the Encyclopedia (content now obsolete; backup link) (as tailgunner)
 All Terrain Armored Transport in the Encyclopedia (content now obsolete; backup link)
 AT-TE walker in the Encyclopedia (content now obsolete; backup link)
 DDT tank in the Encyclopedia (content now obsolete; backup link)
 Pirate Speeder Tank in the Encyclopedia (content now obsolete; backup link)
 Rebel Pilots in the Encyclopedia (content now obsolete; backup link)
 Republic attack gunship in the Encyclopedia (content now obsolete; backup link)
 Republic police gunship in the Encyclopedia (content now obsolete; backup link)
 Snowspeeder in the Encyclopedia (content now obsolete; backup link) (as "tailgunner")
 Y-wing starfighter in the Encyclopedia (content now obsolete; backup link) (as "tailgunner")
Star Wars Helmet Collection 12 (Databank A-Z: Cosians–Dagobah; Helmets: Imperial Gunner; Weapons & Uniforms: The Geonosians)
Star Wars Helmet Collection 37 (Helmets: AT-RT Drivers; Weapons & Uniforms: Republic Ground Vehicles)
 Star Wars: X-Wing Second Edition – BTL-A4 Y-Wing Expansion Pack (Card: Veteran Turret Gunner) (Reissued in Galactic Empire Conversion Kit, Rebel Alliance Conversion Kit, Scum and Villainy Conversion Kit, Resistance Conversion Kit, VT-49 Decimator Expansion Pack)
 Star Wars: X-Wing Second Edition – Galactic Empire Conversion Kit (Card: Hotshot Gunner) (Reissued in Rebel Alliance Conversion Kit, Scum and Villainy Conversion Kit, First Order Conversion Kit, Resistance Conversion Kit, TIE/sf Fighter Expansion Pack, Huge Ship Conversion Kit, Tantive IV Expansion Pack, C-ROC Cruiser Expansion Pack)
 Star Wars: X-Wing Second Edition – Lando's Millennium Falcon Expansion Pack (Card: Agile Gunner) (Reissued in Ghost Expansion Pack, Huge Ship Conversion Kit, Tantive IV Expansion Pack, C-ROC Cruiser Expansion Pack, Hotshots and Aces Reinforcements Pack, LAAT/i Gunship Expansion Pack)
 Star Wars: X-Wing Second Edition – Rebel Alliance Conversion Kit (Card: Veteran Tail Gunner) (Reissued in Scum and Villainy Conversion Kit, Slave I Expansion Pack, ARC-170 Starfighter Expansion Pack)
 Star Wars: X-Wing Second Edition – First Order Conversion Kit (Card: Special Forces Gunner) (Reissued in TIE/sf Fighter Expansion Pack)
Star Wars: Build Your Own X-Wing 1 (Starfighter Aces: Luke Skywalker – Savior of the Rebel Alliance)
 Cloud Car in the Databank (backup link)
 Imperial Star Destroyer in the Databank (backup link)
 Moroff in the Databank (backup link)
 Omega's Room in the Databank (backup link)
 Paige Tico in the Databank (backup link)
 Pirate Speeder Tank in the Databank (backup link)
 Patrol Transport in the Databank (backup link)
 Rebel Pilots in the Databank (backup link)
 Republic Attack Gunship in the Databank (backup link)
 Snowspeeder in the Databank (backup link) (as "tailgunner")
 Wedge Antilles in the Databank (backup link)
 Wes Janson in the Databank (backup link)
 Y-wing Starfighter in the Databank (backup link)
Notes and references
[
]
↑  DDT tank in the Encyclopedia (content now obsolete; backup link)
↑  Moroff in the Databank (backup link)