Jurassic World: Dominion Dominates Fandom Wikis - The Loop
Play Sound
"They have to fight hand-to-hand. And in that kind of fight, my money's on the Wookiee. Beat his ass, Chewbacca."
―Lando Calrissian backs Chewbacca in his fight against Boba Fett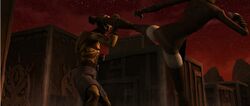 Hand-to-hand combat,[2] unarmed combat or martial arts was a variety of combat in which no distance weapons were used, as opposed to firefights. The phrase "hand-to-hand" could refer to both unarmed combat[3] and combat using melee weapons. A person who practiced martial arts was known as martial artist.[4]
The Zygerrians had a tradition of resolving their differences by unarmed combat.[5] Known fighting moves included the Strike of the Nexu and the Kick of the Bantha.[6] The bounty hunter Latts Razzi was an expert in several forms of exotic martial arts. The combat droid C-21 Highsinger studied Razzi's martial arts moves in order to imitate her deadly fighting style.[7] Mitth'raw'nuruodo was skilled at unarmed combat and was familiar with the limitations of the Imperial Academy martial art. The Grand Admiral managed to defeat Kallus in hand to hand combat. Kallus was also skilled in hand to hand combat; having managed to hold the Chiss at bay for a while until he was kicked in the head. The force of the kick sent him flying into a barrier, resulting in the fight ending.[8]
List of hand-to-hand combat styles
[
]
"It is unfortunate you and I cannot resolve our differences as you do in the Zygerrian tradition."
"With no weapons, you would fight me?"
Appearances
[
]
Sources
[
]
}
Notes and references
[
]
↑ C-21 Highsinger in the Encyclopedia (content now obsolete; backup link)
External links
[
]