Harkos was a bounty hunter that operated in Black Spire Outpost on the planet Batuu on the edge of Wild Space in the Outer Rim. He had a reputation for being a bounty hunter whose list many people did not want to end up on, and it was generally considered dangerous to visit the local cantina if one had a bounty on their head due to the fact that Harkos frequented the venue.[1]
Harkos was announced as a character that would make appearances in the theme park land Star Wars: Galaxy's Edge at the Walt Disney Parks and Resorts panel at the D23 Expo on July 16, 2017. The themed lands opened in 2019, first at Disneyland in Anaheim, California and then at Walt Disney World in Orlando, Florida.[1] Harkos' picture was first revealed during December 16, 2017, "Galactic Nights" event, where a promotional trading card showed him waving his fist menacingly at a patron, with the text "Trouble's Brewing at the Cantina" written in either Aurebesh or High Galactic.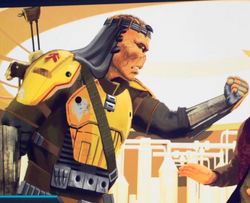 Community content is available under
CC-BY-SA
unless otherwise noted.