Spider-Man: No Way Home Trailer Dropped - The Loop
Play Sound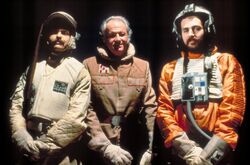 Peter S. "P.S." Ellenshaw, also known as Harrison Ellenshaw (July 20, 1945, Harrisburg, Pennsylvania, USA) is a matte painter who worked as matte artist in A New Hope (1977)[1] and as matte painting supervisor in The Empire Strikes Back (1980).
The son of prominent Academy Award-winning matte artist Peter Ellenshaw (Spartacus, Treasure Island, Mary Poppins), and brother of also visual effects artist Lynda Ellenshaw Thompson (Ghost Busters, Flubber), Peter S. Ellenshaw followed his father's footsteps and began working with matte in the 1970s with films as The Castaway Cowboy (1974, Vincent McEveety), The Shaggy D.A. (1976, Robert Stevenson) and Pete's Dragon (1977, Don Chaffey), for the Walt Disney Studios. Later, Ellenshaw joined George Lucas's effect studio, Industrial Light & Magic, where he started with the matte effects of the first Star Wars movie. He nevertheless returned to Disney productions alternatively.
In 1979, while working for Disneys' The Black Hole (1979, Gary Nelson) along with his father, Ellenshaw noticed that he was being recognized for his work and, to avoid confusion with his also famous father, he changed his stage name to "Harrison Ellenshaw", after his native Harrisburg. As such, it was Harrison Ellenshaw who was nominated for the 1980 Visual Effect Academy Award, although the Ellenshaws lost to H.R. Giger's Alien (1979, Ridley Scott).
Ellenshaw's work in the first movie was first recognized in Star Wars Official Poster Monthly #13, with the article P.S. Ellenshaw and the Magic of Matte, by Dr. M.F. Marten, published in October 1978.
Harrison Ellenshaw continued his work in the 1980s with successes such as The Empire Strikes Back (1980, Irvin Kershner), TRON (1982, Steven Lisberger, awarded with a BAFTA) and Superman IV (1987, Sidney J. Furie, nominated to a Razzie).
In the 1990s, Ellenshaw returned to Disney to work in Dick Tracy (1990, Warren Beatty). He also worked Ghost (1990, Jerry Zucker), Dave (1993, Ivan Reitman) and successful TV series Xena. Ellenshaw eventually became the head of Disney's effects studio, Buena Vista Visual Effect, and worked as its executive producer in Escape from L.A. (1996, John Carpenter)
Ellenshaw's work was again recognized in a Star Wars publication with Bantam Spectra's The Illustrated Star Wars Universe (1995), with text by Kevin J. Anderson and illustrations of different authors from the original trilogy (including Ralph McQuarrie and Nilo Rodis-Jamero).
Harrison's son Michael has worked as director, writer, editor and actor in straight-to-video short Answer (2002).
Sources
[
]
Notes and references
[
]