Jurassic World: Dominion Dominates Fandom Wikis - The Loop
Play Sound
"Starring in a science fiction film doesn't mean you have to act science fiction."
―Harrison Ford
Harrison Ford (born July 13, 1942[1]) is an Academy Award-nominated actor and director most famous for his portrayals of the character Han Solo in the Star Wars saga as well as the archaeologist Indiana Jones in the Indiana Jones franchise.
Ford has also been the star of many high-grossing hit Hollywood blockbusters such as Air Force One and The Fugitive, which have distanced him from his famous Star Wars and Indiana Jones roles. At one point Ford had roles in the top five box-office hits of all time, though his role in E.T. the Extra-Terrestrial (as Elliot's school principal) was deleted from the final cut of the film. Five of his films have been inducted into the National Film Registry.
Biography
[
]
Harrison Ford was born on July 13, 1942, in Chicago, Illinois. He studied English and philosophy at Ripon College, but he never finished his degree.[2] He married Mary Marquardt in 1964 and moved west shortly afterward. He was a contract player for Columbia Pictures and Universal Studios. To support his family, he worked as a carpenter on the side. It was during this time that he met casting director Fred Roos. Ross was the casting director for George Lucas's film American Graffiti, and he cast Ford to play the role of Bob Falfa. After production on the movie, Ford announced that he wanted to disocver new faces and talent, so he did not imagine working with anyone from American Graffiti. However, production on Star Wars was beginning, and Roos thought the character of Han Solo would be a perfect fit for Ford.
In 1975, Ford worked a carpentry job at American Zoetrope, where he ran into Lucas again. Recalling Roos's advice, Lucas asked Ford to read opposite the hopeful actors and actresses auditioning for Star Wars. Ford read for Han Solo and Luke Skywalker. Both Carrie Fisher and Mark Hamill read against him. As he read against them, Ford began to feel hopeful about being cast the role of Solo, although he never believed he would. Behind the scenes, Roos continued to advocate for Ford to Lucas.[2] Another strong advocate for Ford was Steven Spielberg. Finally, in January 1976, Lucas settled on Fisher, Ford, and Hamill as the principal actors for the film.
Prior to Ford's arrival in England on April 1, 1976, producer Gary Kurtz warned the crew about Ford's strong opinions and mannerisms. One of these strong opinions was directed towards costume designer John Mollo. The first fitting for Solo included a bright blue collar, and Ford demanded it be removed. The rest of the costume was approved, with Ford liking the Western gunslinger aesthetic. Ford often improvised lines or emotions during a scene, based upon what the other actors' did. The worst trouble with the scripts were the techno-speak, such as, "It'll take a few moments to get the coordinatescoordinates from the navicomputer."
Ford often intimated his fellow co-stars, but he was just as intimidated acting opposite Alec Guinness, who played Ben Kenobi. The first scene filmed between them was the Mos Eisley cantina recruitment scene. Ford extensively prepared for the scene, and succeeding scenes, and thoroughly impressed Guinness, who wrote fondly of him to Anne Kauffman. Paul Blake was another actor whom Ford immediately felt comfortable being around. Blake played the Rodian Greedo in the cantina scene.[2]
Ford went on to star as Han Solo in the next two Star Wars sequels, The Empire Strikes Back and Return of the Jedi, as well as in The Star Wars Holiday Special. He asked George Lucas to write in the death of Han Solo at the beginning of the third act of Return of the Jedi, saying that it would lend more dramatic weight to the film, but Lucas refused.[3]
Filmography
[
]
Sources
[
]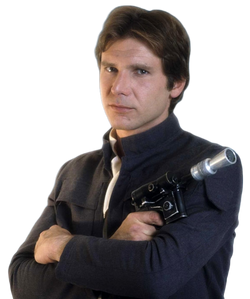 Notes and references
[
]
↑ 1.0 1.1 The Bad Batch Returns, Your Photos of The Child, and More! on the official Star Wars YouTube channel (backup link)
↑ Harrison Ford Wanted Han Solo to Die (2006-03-02). starpulse.com. Starpulse.com. Archived from the original on April 14, 2006.
External links
[
]