"Gunship, come in. Hawk, we need an evac in the south tower."
"Roger that, sir. We're coming."
―Anakin Skywalker calls Hawk for an evacuation
"Hawk," also using the callsign Valkyrie 2929, a human male clone of the bounty hunter Jango Fett, was the nickname of a clone trooper pilot who served in the Galactic Republic Navy during the Clone Wars. He often performed escort, drop-off, or extraction duties for Jedi General Anakin Skywalker and the Grand Army of the Republic's 501st Legion.
Biography
Edit
Early Life
Edit
"Hawk" was a clone of the bounty hunter Jango Fett; created and trained on Kamino as part of the Galactic Republic's new military.[1] Following the outbreak of the Clone Wars, Hawk served as a gunship pilot for the Republic Navy.[2]
Battle of Christophsis
Edit
During the Battle of Christophsis, Hawk flew a gunship to rescue Jedi Generals Anakin Skywalker and Obi-Wan Kenobi, as well as their clone troopers after a failed ambush on the Separatist battle droids.[2]
Battle of Umbara
Edit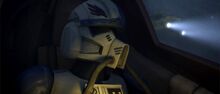 Later, Hawk was present at the Battle of Umbara where he transported clone troopers of the 501st Legion to the surface of Umbara.[3]
Appearances
Edit
Notes & References
Edit
↑ 1.0 1.1 1.2 1.3 1.4  Clone Troopers in the Databank (backup link)
Community content is available under
CC-BY-SA
unless otherwise noted.