Jurassic World: Dominion Dominates Fandom Wikis - The Loop
Play Sound
Hayden Christensen (born April 19, 1981) is a film actor from Vancouver, British Columbia. Christensen is best known for his portrayal of an adult Anakin Skywalker in both Attack of the Clones and Revenge of the Sith. Christensen also portrayed Darth Vader in the final prequel, in both the character's suited and unsuited forms. He later returned to voice Anakin Skywalker in Star Wars: Episode IX The Rise of Skywalker, the concluding chapter in the Skywalker Saga. He also wrote the foreword for The Art and Making of Star Wars: The Force Unleashed. He reprised his role as Darth Vader in Obi-Wan Kenobi, along with James Earl Jones, who returned as his voice.
Biography
[
]
Birth
[
]
Christensen was born in Vancouver, British Columbia, Canada on April 19, 1981. His parents are Alie, a speechwriter for the heads of large companies, and David Christensen, a software programmer and communications executive. His father is of Danish descent, and his mother has Italian and Swedish ancestry. Christensen has an elder brother and sister, Tove and Hejsa, and a younger sister, Kaylen.
Star Wars

[

]
On May 12, 2000, Christensen announced that he would be starring as the adult Anakin Skywalker in the next two prequels, Star Wars: Episode II Attack of the Clones (2002) and Star Wars: Episode III Revenge of the Sith (2005), succeeding Jake Lloyd, who played the character's younger self. The star was chosen by director George Lucas because he felt that Christensen had raw talent and good chemistry with actress Natalie Portman. Lucas said he "needed an actor who has that presence of the dark side" that was essential to solidify the story of the origins of Darth Vader. Lucas stunned the movie world by picking the then-unknown actor after he had turned down such big names as Leonardo DiCaprio and Jonathan Jackson, as well as 400 other candidates.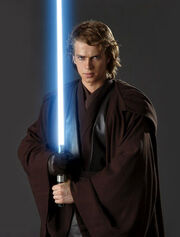 In the final two films of the prequel trilogy, Christensen was the only actor portraying a Jedi who was not allowed to customize his character's lightsaber. This was because in Episode II, Anakin Skywalker's lightsaber was built to be reminiscent of Darth Vader's lightsaber in the original trilogy, while in Episode III, Anakin's lightsaber was designed to match the lightsaber that Obi-Wan Kenobi gives to Luke Skywalker, in Episode IV—canonically, the same lightsaber.
Hayden Christensen, during the production of Episode III, asked Lucas if a special Darth Vader suit could be constructed to fit his own body, rather than have a different actor don one of the original sets of Vader armor worn by David Prowse. Lucas agreed, and a suit was engineered to fit Christensen's frame, even including extensions to allow for the actor to attain Vader's 2.02-meter (6 feet 8 inches) stature. Hayden's voice as the "robotic" Vader, however, was dubbed over by James Earl Jones despite rumors to the contrary.
For the DVD release of the original trilogy, Christensen's head was digitally superimposed onto the body of Sebastian Shaw as the Force ghost of Anakin.[3] Shaw's face during the unmasking scene was subtly altered to better resemble an elder Christensen. Additionally, Shaw's eyebrows were digitally removed in order to reflect Anakin's appearance after being burned alive on Mustafar. Christensen insists this was done without his knowledge, an act that Lucasfilm confirmed in the featurette "Return of the Jedi: What has changed?" as posted to the official website to commemorate the 2006 DVDs.
His role as Anakin Skywalker made him a star. Although his performance in both films was met with mixed reviews, he became very popular, being named in People magazine's "50 Most Beautiful People" and "50 Hottest Bachelors" and Teen People magazine's "25 Hottest Stars under 25." A Singapore magazine also named him, for his time as Darth Vader prior to Mustafar, as "Prettiest Villain." For both appearances as Anakin, he won a Razzie for Worst Supporting Actor in 2003 and 2005 respectively. In 2005, for his portrayal in Revenge of the Sith, Christensen won the MTV Movie Award for Best Villain.
For the 40th anniversary of Star Wars in 2017, he appeared on stage at Celebration Orlando alongside George Lucas and Ian McDiarmid, and was interviewed by Andi Gutierrez on The Star Wars Show LIVE!.[4][5]
On December 10, 2020, Lucasfilm President Kathleen Kennedy announced that Hayden Christensen would be returning in the role of Darth Vader in Obi-Wan Kenobi at the Disney Investor Day presentation.[6]
Filmography
[
]
Bibliography
[
]
Sources
[
]
Notes and references
[
]
↑ A Sneak Peek at Disney Gallery: The Mandalorian, Join The Star Wars Show Book Club, and More! on the official Star Wars YouTube channel (backup link)
↑ SWCO 2017: 11 Highlights from the Powerful "40 Years of Star Wars" Panel on StarWars.com (backup link)
↑ Star Wars Celebration Orlando 2017 Live Stream – Day 3 | The Star Wars Show LIVE! on the official Star Wars YouTube channel (backup link)
External links
[
]