"Surely we can't keep kidnap her? She's a queen? People tend to be somewhat protective of their Heads of State, in my experience."
―Tunga Arpagion, on Queen Trios
Head of State was a title to refer to the leader of a government.[2] Count Dooku possessed the title.[1] Dooku served as the leader of the Separatist Parliament, the legislative organ of the Confederacy of Independent Systems,[3] and presided power over the Separatist Council.[4]
"In accordance with the Bylaws of Independent Systems, a voice vote is required."
―Count Dooku
The powers of the Head of State of the Confederacy of Independent Systems was legally limited by the Bylaws of Independent Systems which vested most power the Separatist Senate in regards to state matters, with only the Head of State being officiator of congressional procedure.[3] However, during the Clone Wars, the position became an dictatorship under the guise of Count Dooku who made executive orders in regards to governmental decisions which undermined the democratic process completely and making the senate ineffective.[5]
Dooku Premiership
Edit
"I am committed to the idea of a galaxy ruled by an enlightened leader, with laws that apply universally—not one set for the Core Worlds, another for the Outer Rim worlds."
"An autocracy, guided by the count of Serenno."
"I am ambitious, but not to that degree."
―Count Dooku and Governor Wilhuff Tarkin of Eriadu, during their final dinner together before the onset of the Clone Wars.
In the wake of the Naboo Crisis, Sheev Palpatine was appointed to the position of Supreme Chancellor in the image of himself as a mild-mannered servant of the common good.[6][7] Despite his true intentions, growing tensions between the Core Worlds and the Outer Rim Territories gradually increased to the point where many believed that a war was imminent. Following Dooku's denouncement of the Galactic Republic, many systems rallied to Dooku and seceded from the Republic to the Confederacy of Independent Systems, he also began backing coups on Ryloth and meddling in the affairs of a variety of worlds including Kashyyyk, Sullust and Onderon while alienating distant worlds from the galactic political process and denied all attempts to negotiate with the Republic—igniting a Separatist Crisis as he elected as its Head of State by parliament.[6]
Residence
Edit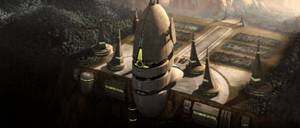 During the Clone Wars, as Count of Serenno, Dooku in his capacity as Head of State resided his prestigious family[8] palace on the planet. His private quarters was in the main tower which featured a grand window on cliff side which was made up of luxurious and lush furnishings, and were decorated with many statues and elaborate paintings.[9]
Appearances
Edit
Notes and references
Edit
Community content is available under
CC-BY-SA
unless otherwise noted.