She-Hulk Trailer Dropped - The Loop
Play Sound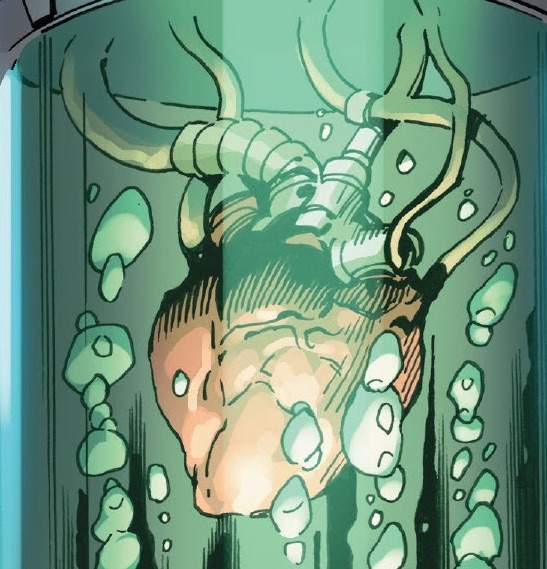 The heart was an organ that pumped blood through the body of certain species[2] (including humans,[3] Kaleesh,[2] Rodians[4] and Umbarans[4]) by "beating." Smaller lifeforms had a quicker heartbeat than larger ones.[5] Some species, like Zabrak,[6] Cereans,[2] and Chadra-Fans, had two hearts.[7] The Wermal species had three hearts.[8]
When an individual became physically active, excited or ill, their heart rate could rise significantly.[3] When a being was exposed to cold and inadequately protected, their heart rate and breathing would slow so that they became hard to detect at all. If the heart ever stopped beating completely, death ensued.[5] Human Jedi were known to have much slower heart rates than an average human.[9] The Rodian senator Onaconda Farr died after drinking poison that affected his heart. Physical injuries to the heart could also lead to fatal issues: the Umbaran senator Mee Deechi perished after Lolo Purs drove a dagger through his heart.[10] Disease was another malady that could affect the heart. One illness rotted the heart of Senache and eventually killed him.[11]
The word "heart" also referred to a person's personality or disposition. While fighting Alexsandr Kallus, Grand Admiral Thrawn told him that he had "the heart of a rebel."[12] During the war between the First Order and the Resistance, Supreme Leader Snoke accused Kylo Ren of having "too much of his father's heart."[13]
Appearances
[
]
"Set For Life"—The High Republic Adventures Annual 2021 (Mentioned only)
The High Republic: Into the Dark (Mentioned only)
The High Republic: Into the Dark audiobook (Mentioned only)
"Starlight: Part One: Go Together" – Star Wars Insider 199 (Mentioned only)
The High Republic: Light of the Jedi (Mentioned only)
The High Republic: Light of the Jedi audiobook (Mentioned only)
The High Republic: The Great Jedi Rescue (Mentioned only)
The High Republic: A Test of Courage (Mentioned only)
The High Republic: A Test of Courage audiobook (Mentioned only)
The High Republic 5 (Mentioned only)
The High Republic: The Rising Storm (Mentioned only)
The High Republic: Race to Crashpoint Tower (Mentioned only)
The High Republic: Race to Crashpoint Tower audiobook (Mentioned only)
The High Republic 7 (Mentioned only)
The High Republic: Out of the Shadows (Mentioned only)
The High Republic: Out of the Shadows audiobook (Mentioned only)
The High Republic Adventures 11 (Mentioned only)
The High Republic Adventures 12 (Mentioned only)
The High Republic: Midnight Horizon (Mentioned only)
"Starlight: Past Mistakes" – Star Wars Insider 205–206 (Mentioned only)
The High Republic 11 (Mentioned only)
The High Republic: Mission to Disaster (Mentioned only)
"Starlight: Shadows Remain" – Star Wars Insider 207–208 (Mentioned only)
The High Republic 13 (Mentioned only)
The High Republic: The Fallen Star (Mentioned only)
The High Republic: Eye of the Storm 1 (Mentioned only)
Age of Republic - Qui-Gon Jinn 1 (Mentioned only)
Star Wars (2015) 29 (Mentioned only)
Star Wars: Episode II Attack of the Clones (First mentioned)
Queen's Hope (Mentioned only)
Jedi of the Republic – Mace Windu 1 (Mentioned only)
Jedi of the Republic – Mace Windu 4 (Mentioned only)
Brotherhood (Mentioned only)
Star Wars Adventures: The Clone Wars – Battle Tales 4 (Mentioned only) (In flashback(s))
"Dooku Captured"—The Clone Wars: Stories of Light and Dark (Mentioned only)
Star Wars: The Clone Wars – "Senate Spy" (Mentioned only)
Star Wars: The Clone Wars – "The Deserter" (Mentioned only)
Star Wars: The Clone Wars – "ARC Troopers" (Mentioned only)
"Pursuit of Peace"—The Clone Wars: Stories of Light and Dark (Mentioned only)
Star Wars: The Clone Wars – "Senate Murders" (Mentioned only)
Forces of Destiny: Daring Adventures: Volume 1 (Mentioned only)
"The Shadow of Umbara"—The Clone Wars: Stories of Light and Dark (Mentioned only)
"Bug"—The Clone Wars: Stories of Light and Dark (Mentioned only)
"The Lost Nightsister"—The Clone Wars: Stories of Light and Dark (Mentioned only)
"Dark Vengeance: The True Story of Darth Maul and His Revenge Against the Jedi Known as Obi-Wan Kenobi"—The Clone Wars: Stories of Light and Dark (Mentioned only)
"Almost a Jedi"—The Clone Wars: Stories of Light and Dark (Mentioned only)
"Kenobi's Shadow"—The Clone Wars: Stories of Light and Dark (Mentioned only)
Dark Disciple (Mentioned only)
Dark Disciple audiobook (Mentioned only)
Thrawn Ascendancy: Chaos Rising (Mentioned only)
Thrawn Ascendancy: Chaos Rising audiobook (Mentioned only)
Darth Maul—Son of Dathomir 4 (Mentioned only)
Star Wars: The Clone Wars – "Old Friends Not Forgotten" (Mentioned only)
Darth Vader (2017) 1 (Mentioned only)
Adventures in Wild Space: The Escape (Mentioned only)
Adventures in Wild Space: The Steal (Mentioned only)
Adventures in Wild Space: The Cold (Mentioned only)
Adventures in Wild Space: The Rescue (Mentioned only)
"The Spirit of Life Day"—Life Day Treasury (Mentioned only)
Thrawn (Mentioned only)
Thrawn audiobook (Mentioned only)
Obi-Wan Kenobi – "Part I" (Mentioned only)
HoloNet News Exclusive: Mas Amedda receives Governor Arihnda Pryce for Lothal report (link) (backup link) (Mentioned only)
The Rebellion Begins (Mentioned only)
Servants of the Empire: Rebel in the Ranks (Mentioned only)
Servants of the Empire: Imperial Justice (Mentioned only)
Leia, Princess of Alderaan (Mentioned only)
Leia, Princess of Alderaan audiobook (Mentioned only)
Leia Organa: Ordeal of the Princess (Mentioned only)
"Academy Cadets"—Star Wars Rebels Magazine 18 (Mentioned only)
Star Wars: Forces of Destiny—Hera (Mentioned only)
Star Wars Rebels – "The Wynkahthu Job" (Mentioned only)
Star Wars Rebels – "Zero Hour" (Mentioned only)
"Droid Hunters"—Star Wars Adventures Free Comic Book Day 2019 (In flashback(s)) (Mentioned only)
"Reflection Day"—Life Day Treasury (Mentioned only)
Vader - Dark Visions 3 (Mentioned only)
Rogue One: A Star Wars Story novelization (Mentioned only)
Rogue One: A Star Wars Story audiobook (Mentioned only)
Star Wars: Rogue One: A Junior Novel (Mentioned only)
Star Wars: Rogue One: A Junior Novel audiobook (Mentioned only)
Rogue One Adaptation 2 (Mentioned only)
Rogue One Adaptation 3 (Mentioned only)
Rogue One Adaptation 5 (Mentioned only)
A New Hope: The Princess, the Scoundrel, and the Farm Boy (Mentioned only)
A New Hope: The Princess, the Scoundrel, and the Farm Boy audiobook (Mentioned only)
"The Baptist"—From a Certain Point of View (Mentioned only)
"There is Another"—From a Certain Point of View (Mentioned only)
Star Wars Adventures: Smuggler's Run 1 (Mentioned only)
Heir to the Jedi (Mentioned only)
Heir to the Jedi audiobook (Mentioned only)
Han Solo 1 (Mentioned only)
Doctor Aphra: An Audiobook Original (Mentioned only)
Star Wars (2015) 30 (Mentioned only)
Doctor Aphra (2016) 1 (Mentioned only)
Doctor Aphra (2016) 2 (Mentioned only)
The Screaming Citadel 1 (Mentioned only)
Doctor Aphra (2016) 7 (Mentioned only)
Doctor Aphra (2016) 18 (Mentioned only)
Star Wars (2015) 58 (Mentioned only)
Doctor Aphra (2016) 32 (Mentioned only)
Doctor Aphra (2016) 35 (Mentioned only)
Doctor Aphra (2016) 39 (Mentioned only)
Doctor Aphra (2016) 40 (Mentioned only)
Star Wars (2015) 75 (Mentioned only)
"The Song of Winter's Heart"—Life Day Treasury (Mentioned only)
"Tales of Villainy: A Last Chapter"—Star Wars Adventures (2020) 13 (Mentioned only)
The Empire Strikes Back: So You Want to Be a Jedi? (Mentioned only)
"Eyes of the Empire"—From a Certain Point of View: The Empire Strikes Back (Mentioned only)
"Hunger"—From a Certain Point of View: The Empire Strikes Back (Mentioned only)
"A Good Kiss"—From a Certain Point of View: The Empire Strikes Back (Mentioned only)
"She Will Keep Them Warm"—From a Certain Point of View: The Empire Strikes Back (Mentioned only)
"Rendezvous Point"—From a Certain Point of View: The Empire Strikes Back (Mentioned only)
"Amara Kel's Rules for TIE Pilot Survival (Probably)"—From a Certain Point of View: The Empire Strikes Back (Mentioned only)
"STET!"—From a Certain Point of View: The Empire Strikes Back (Mentioned only)
"No Time for Poetry"—From a Certain Point of View: The Empire Strikes Back (Mentioned only)
"Bespin Escape"—From a Certain Point of View: The Empire Strikes Back (Mentioned only)
"Faith in an Old Friend"—From a Certain Point of View: The Empire Strikes Back (Mentioned only)
"Due on Batuu"—From a Certain Point of View: The Empire Strikes Back (Mentioned only)
"The Witness"—From a Certain Point of View: The Empire Strikes Back (Mentioned only)
"Right-Hand Man"—From a Certain Point of View: The Empire Strikes Back (Mentioned only)
Bounty Hunters 3 (Mentioned only)
Doctor Aphra (2020) 3 (Mentioned only)
Doctor Aphra (2020) 8 (Mentioned only)
Bounty Hunters 7 (Mentioned only)
Bounty Hunters 12 (Mentioned only)
Bounty Hunters 14 (Mentioned only)
Bounty Hunters 15 (Mentioned only)
Star Wars (2020) 14 (Mentioned only)
War of the Bounty Hunters 4 (Mentioned only)
Bounty Hunters 16 (Mentioned only)
Darth Vader (2020) 17 (Mentioned only; in the opening crawl)
Bounty Hunters 17 (Mentioned only)
War of the Bounty Hunters – IG-88 1 (Mentioned only)
Crimson Reign 1 (Mentioned only)
Doctor Aphra (2020) 16 (Mentioned only)
Doctor Aphra (2020) 18 (Mentioned only)
Doctor Aphra (2020) 19 (Mentioned only)
Doctor Aphra (2020) 20 (Mentioned only) (In flashback(s))
Darth Vader (2020) 19 (Mentioned only) (In flashback(s))
TIE Fighter 4 (In flashback(s))
Age of Rebellion - Luke Skywalker 1 (Mentioned only)
Return of the Jedi: Beware the Power of the Dark Side! (Mentioned only)
Return of the Jedi: Beware the Power of the Dark Side! audiobook (Mentioned only)
"Blade Squadron" – Star Wars Insider 149–150 (Mentioned only)
Star Wars Adventures: Shadow of Vader's Castle (Mentioned only) (In flashback(s))
Alphabet Squadron (Mentioned only)
Alphabet Squadron audiobook (Mentioned only)
Aftermath (Mentioned only)
Aftermath audiobook (Mentioned only)
Star Wars Adventures: Ghosts of Vader's Castle 1 (Mentioned only)
Star Wars Adventures: Ghosts of Vader's Castle 2 (Mentioned only)
Star Wars Adventures: Ghosts of Vader's Castle 3 (Mentioned only) (In dream)
The Light You Bring on Electronic Arts' official website (article) (backup link) (Mentioned only)
Shadow Fall (Mentioned only)
Shadow Fall audiobook (Mentioned only)
Victory's Price (Mentioned only)
Victory's Price audiobook (Mentioned only)
"The Tree of Life"—Life Day Treasury (Mentioned only)
The Mandalorian – "Chapter 1: The Mandalorian" (Mentioned only)
Star Wars: The Mandalorian Junior Novel (Mentioned only)
Poe Dameron: Free Fall (Mentioned only)
Poe Dameron: Free Fall audiobook (Mentioned only)
Shadow of the Sith (Mentioned only)
"Scorched" – Star Wars Insider 165 (Mentioned only)
Bloodline (Mentioned only)
Bloodline audiobook (Mentioned only)
Life Day 1 (Mentioned only)
Phasma (Mentioned only)
Phasma audiobook (Mentioned only)
"The Perfect Weapon" (Mentioned only)
"The Crimson Corsair and the Lost Treasure of Count Dooku"—Tales from a Galaxy Far, Far Away: Aliens: Volume I (Mentioned only)
Before the Awakening (Mentioned only)
Star Wars Resistance – "The Platform Classic" (Mentioned only)
Join the Resistance (Mentioned only)
Choose Your Destiny: A Scavenger Mission (Mentioned only)
Star Wars: The Force Awakens novelization (Mentioned only)
Star Wars: The Force Awakens audiobook (Mentioned only)
Star Wars: The Force Awakens: A Junior Novel (Mentioned only)
Star Wars: The Force Awakens: A Junior Novel audiobook (Mentioned only)
"Hear Nothing, See Nothing, Say Nothing"—Canto Bight (Mentioned only)
"The Wine in Dreams"—Canto Bight (Mentioned only)
Chewie and the Porgs (Mentioned only)
Resistance Reborn (Mentioned only)
Resistance Reborn audiobook (Mentioned only)
"The Knight & the Dragon"—Myths & Fables (In flashback(s))
"The Droid with a Heart"—Myths & Fables (In flashback(s))
"Vengeful Waves"—Myths & Fables (In flashback(s))
"The Wanderer"—Myths & Fables (In flashback(s))
"The Black Spire"—Myths & Fables (In flashback(s))
"The Orphanage"—Dark Legends (In flashback(s))
"Buyer Beware"—Dark Legends (In flashback(s))
"The Predecessor"—Dark Legends (In flashback(s))
"The Dark Mirror"—Dark Legends (In flashback(s))
"A Life Immortal"—Dark Legends (In flashback(s))
"The Obstacle Course, Part 1"—Star Wars Adventures (2020) 1 (Mentioned only)
"Tales from Wild Space: The Journey"—Star Wars Adventures (2017) 20 (Mentioned only) (In flashback(s))
Star Wars: The Rise of Skywalker: A Junior Novel (Mentioned only)
Star Wars: The Rise of Skywalker: A Junior Novel audiobook (Mentioned only)



Sources
[
]
Notes and references
[
]
External links
[
]