A droid factory manufacturing helper droids was located on Corellia during the Galactic Civil War.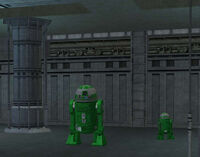 The droid factory was located in an isolated area of forested hills on the planet Corellia. The factory produced helper droids, variants of R2-series astromech droids which would give people repetitive advice on their respective professions. The manufacturing operations were oversaw by the droid QU3-3N.[1]
Around 1 ABY,[2] the droid factory was targeted by Draykken Bender, a leader of the Meatlumps, a group technology-hating Corellian terrorists.[1] Draykken and Hraykken Bender tasked a spacer with attacking the factory to destroy as much helper droids as possible. The spacer therefore fought and destroyed most helper droids in the droid factory, including QU3-3N.[1]
Around the same time, the droids C-3PO and R2-D2 also moved to the droid factory in order to study the programming of the helper droids. C-3PO requested a spacer to retrieve several droid interfaces for further analysis.[3]
The helper droid factory was a location in the 2003 video game Star Wars Galaxies, a massively multiplayer online role-playing game developed by Sony Online Entertainment and published by LucasArts,[1] prior to its closure on December 15, 2011.[4] The helper droid factory was added to the game with the "Game Update 10", released on June 2, 2009.[5]
Community content is available under
CC-BY-SA
unless otherwise noted.