HoloNet News Vol. 531 #56 was one of many in-universe HoloNet News issues published shortly before the release of Attack of the Clones. This issue was released May 16, 2002.
NEWS:

BREAKING NEWS: Amidala Alive
Coco District Jailbreak Alert
Loyalist Committee Split on Vote
Palpatine Confident in Negotiations
Senate Speeder Thief Arrested

BUSINESS:

Antitrust Suits Dropped in Light of Separation
Cybot Galactica Tries Proprietary Limbs
Salliche Ag Sues Dasobo Meats for Gornt Copying
Balmorran Secures Musician Rearmament Contract

REGIONAL:

Lahara Patrol Attacked, Jedi to Send Aid
100 Metric Tons of Ryll Seized
Sluis Van Offer Met with Doubt

JEDI WATCH:

Jedi Starfighters Moved to Eriadu Base

SPORTS:

Noviee Exposed as a Changeling

LIFE:

Healthy Vacation Claims Disputed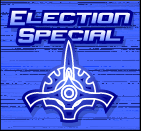 By type
Characters
Droid models
Locations
Organizations and titles
Miscellanea
Community content is available under
CC-BY-SA
unless otherwise noted.