"The holocrons contain the most closely guarded secrets of the Jedi Order."
Holocrons were information-storage datacron devices used by both the Jedi Order and the Sith that contained ancient lessons or valuable information in holographic form. Jedi holocrons were also called Jedi datacrons. They appeared as palm-sized, glowing polyhedrons of crystalline material and hardware, and could only be activated and used through the power of the Force.
Description
Edit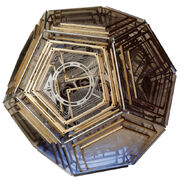 Holocrons were information-storage devices that could fit in the palm of the hand. It was common for them to be shaped like evenly proportioned polyhedra, with facets made from a crystalline material. Some had transparent outer shells that allowed their users to perceive their inner mechanisms, and they glowed when activated. While known Jedi holocrons were cubes and dodecahedrons,[1] those built by the Sith were usually identified by their pyramidal shapes. They functioned similarly to their Jedi counterparts, and contained the ancient secrets of the dark side and the Sith Order.[8]
Holocrons acted as repositories of vital, sensitive knowledge and wisdom pertaining to the nature and use of the Force, a mystical energy field that connected all living things in the galaxy. Data playback typically took the form of an interactive hologram resembling the person who recorded the information. Given the sensitive nature of the lessons they contained, many such devices were equipped with a security mechanism that granted access only to those keenly attuned with the Force. Additionally, many holocrons could only be activated if paired with a specific memory crystal.[1]
If a Jedi holocron and a Sith holocron were opened together by a lightsider and a darksider, they would fuse and be able to answer any question the users desired. Holocron fusions were incredibly uncommon, due to the rarity of having a lightsider and darksider work together, and by the Galactic Civil War knowledge of the practice was mostly lost.[9]
Over the centuries hundreds of Jedi holocrons were made. Valuing those artifacts both for their invaluable lessons and historical signifiance, the Jedi kept them in the Archives of the Jedi Temple on Coruscant. The most valuable specimens were locked away in the restricted Holocron Vault.[1]
During the Clone Wars, Cad Bane executed a daring heist to steal one of these artifacts from the Vault.[7] After Darth Sidious founded the Galactic Empire and ordered the Jedi Purge, holocrons became scarce remnants of a bygone era.[10]
Some time after the end of the Clone Wars, Grakkus the Hutt obtained a number of Jedi Holocrons that he kept on Nar Shaddaa.[6] These were later taken by Darth Vader to further impede possible Jedi training.[11]
Appearances
Edit
Non-canon appearances
Edit
Notes and references
Edit
↑  Holocron in the Databank (backup link)