Jurassic World: Dominion Dominates Fandom Wikis - The Loop
Play Sound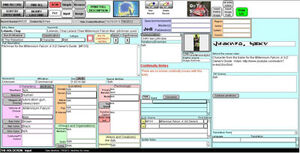 "You don't know how much you don't know until you get here."
―Leland Chee
The Holocron continuity database is the database used internally by Lucas Licensing to keep track of all of the fictional elements created for the Star Wars universe, and contains elements from nearly every officially sanctioned Star Wars source. It is maintained by Leland Chee on FileMaker Pro 7 software, and was created in early 2000, starting from a core of material imported into the database from the Behind the Magic and Star Wars: Episode I Insider's Guide CD-ROMs, but it has since grown substantially as new information has been added. The first article, titled "Welcome to the Holocron!", was created on February 9, 2000,[1] and 22 years later, the Holocron reached the major milestone of 100,000 entries, on February 16, 2022.[2]
At present, there are no plans to release any portion of the Holocron to the public. One reason cited by Chee is:
"In addition to being an archive for information that has already been published, the Holocron is a tool to track everything that is currently in development. Information is entered at the earliest stages, so there is information about products that won't be released until years later. It is also used to store unpublished reference information."
―Leland Chee
A rare glimpse at the Holocron was seen at the Celebration IV "30 Years of Star Wars Publishing and Continuity" panel.[3] At Celebration Anaheim in 2015, Chee reiterated that Lucas Licensing will never make the Holocron public, because it includes forthcoming content.[4]
Holocron statistics
[
]
Year
Total
Sources
Images
Characters
Planets
Aliens
Creatures
Vehicles
Weapons
Groups
2005[5]
23,000+
1,018
8,360
7,633
3,311
713
1,190
2,202
1,031
1,433
2006[6]
27,032
1,180
9,503
8,742
3,419
756
1,255
2,716
1,130
1,641
2011[7]
45,915
1,683
13,432
15,795
4,277
958
1,747
1,919(Types)
1,689
3,129
2012[8]
55,000+
?
?
19,000+
5,300+
2,900+ (Species)
2,100+(Types)
?
?
2013[9]
61,128
?
?
?
?
?
?
?
?
?
2020[1]
87,742
?
?
?
?
?
?
?
?
?
2021[10]
~98,000
?
?
?
?
?
?
?
?
?
2022[11]
100,000
3,051
28,282
34,302
6,625
1,593
3,018
3,540(Types)
3,983
7,327
Sources
[
]
Notes and references
[
]
↑ 1.0 1.1 Leland Y Chee (@holocronkeeper) on Instagram: Leland Chee celebrating the 20th anniversary of the Holocron continuity database (screenshot)
↑ Leland Chee (@HolocronKeeper) on Twitter: "Just entered my 100,000th Holocron entry." (backup link)
↑ "Celebration IV Continuity Panel" – Keeper of the Holocron's Blog, Leland Chee's StarWars.com Blog (content now obsolete; archived from the original)
↑ Pablo Hidalgo and Leland Chee Interview – Star Wars Celebration Anaheim on StarWars.com (backup link)
↑ As of May 5, 2005, per "What is the Holocron?" – Keeper of the Holocron's Blog, Leland Chee's StarWars.com Blog (content now obsolete; archived from the original)
↑ As of August 24, 2006, per "What is the Holocron?" – Keeper of the Holocron's Blog, Leland Chee's StarWars.com Blog (content now obsolete; archived from the original)
↑ As of March 18, 2011, per "What is the Holocron?" – Keeper of the Holocron's Blog, Leland Chee's StarWars.com Blog (content now obsolete; archived from the original)
↑ As of July 20, 2012, per What is the Holocron? on StarWars.com (backup link)
↑ As of May 16, 2013, per Leland Chee (@HolocronKeeper) on Twitter: "@ThatChrisA @WookieeNewsNet @ericmoro Number of entries: Wookieepedia: 103,472 Holocron: 61,128" (backup link)
↑ Leland Chee (@HolocronKeeper) on Twitter: "The Holocron and I are still here as multiple onscreen Keeper of the Holocron credits in the past 8 years can attest. We're nearly at 98,000 entries. I didn't purge any entries, just changed some layouts so certain information displayed more prominently." (backup link)
External links
[
]