The Home One Expansion Pack is a supplement to the tactical naval warfare game, Star Wars: Armada, published by Fantasy Flight Games. The expansion features a detailed miniature of the Home One capital ship. It was announced on April 6, 2015[2] and released on November 26 of that same year.
Publisher's Summary
Edit
Admiral Ackbar and his flagship star cruiser, Home One, arrive to Star Wars: Armada in the Home One Expansion Pack!
Featuring one large-size, pre-painted miniature MC80 star cruiser, two ship cards, three command dials, and fourteen upgrades, the Home One Expansion Pack gives the Rebel Alliance a ship that boasts battery armaments of six dice from both its left and right hull zones, making it capable of trading blow for blow with nearly any Imperial vessel and empowering a whole new set of tactics that you can employ in your battles for galactic freedom!
This is not a complete game experience. A copy of the Star Wars: Armada Core Set is required to play.
The Home One Expansion Pack contains one miniature, plus a maneuver dials and action tokens, as well as ship and upgrade cards.
Ship components
Edit
Ship cards
Edit
Upgrade cards
Edit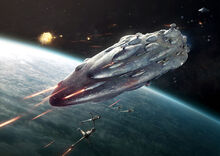 Boosted Comms
Navigation Officer
Support Officer
Projection Experts
Slaved Turrets
Notes and references
Edit
External links
Edit
Community content is available under
CC-BY-SA
unless otherwise noted.