Jurassic World: Dominion Dominates Fandom Wikis - The Loop
Play Sound
"If I had a planet that was truly my homeworld, I wouldn't give it away. I'd want to be able to come back whenever I wanted."
―A young Anakin Skywalker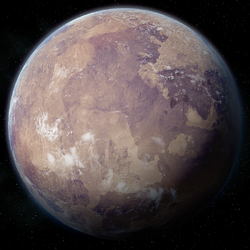 Homeworld, sometimes referred to as "home planet,"[2] was a term used to identify the planet that a being was raised or born on, or migrated to,[3][4] and in the case of droids, where they were constructed. Many notable individuals, such as Luke Skywalker[5] and Leia Organa Solo,[6] referred to the planets where they spent their childhood as their homeworld, despite the fact that they were born elsewhere. Natasi Daala referred to her birthworld as her homeworld, even though she grew up elsewhere.[7] Curiously, Yoda, Grand Master of the Jedi Order, never revealed his homeworld.[8]
The term homeworld also referred to the home planet of a species. Most species had a homeworld or home system. Some were found in many systems, while others, suchs as the Hutts, had transplanted themselves to a new home.[9] There were thousands of such homeworlds throughout the galaxy. Most of these planets had modern starports, a sophisticated trader network and a high level of technology.[10] The term was also used to describe the homeworld of a culture, like the planet Mandalore, the homeworld of the Mandalorians,[11][12] an ancient, warrior-based culture.[12]
Members of some species, like the Falleen[13] and the Kaminoans,[14] rarely left their homeworld. Most Ithorians never set foot on their homeworld, and instead spent most of their time on floating cities above Ithor. As a result, most of them were comfortable only on starships or other artificial constructs.[15] Flakax who left their homeworld tended to become psychopaths.[16]
The Yevetha equivalent term was spawnworld.[17]
Appearances
[
]
The following is a list of media in which homeworlds are specifically referred to:
Dawn of the Jedi: Into the Void (As "home planet")
Dawn of the Jedi: The Prisoner of Bogan 4 (In flashback(s))
Tales of the Jedi: Dark Lords of the Sith audio drama (Mentioned only) (As "home planet")
Knights of the Old Republic 12 (Mentioned only)
Knights of the Old Republic 16 (Mentioned only)
Knights of the Old Republic: War 2 (Mentioned only)
Lost Tribe of the Sith: Purgatory (Mentioned only)
Red Harvest (Mentioned only)
Red Harvest audiobook (Mentioned only)
Star Wars: The Old Republic: Galactic Starfighter (Codex entry)
Copero Short Story Blog on The Old Republic

'

s official website (article) (backup link) (Mentioned only)
Jedi Apprentice: The Rising Force (Mentioned only)
Jedi Apprentice: The Mark of the Crown (Mentioned only) (As "home planet")
Jedi Apprentice: The Evil Experiment (Mentioned only)
"The Syrox Redemption" – Star Wars Insider 146 (Mentioned only) (As "home planet")
Cloak of Deception (Mentioned only)
Maul: Lockdown (Mentioned only) (As "home planet")
Darth Maul: Shadow Hunter (Mentioned only)
Star Wars Episode I: The Phantom Menace junior novelization (Mentioned only)
Star Wars (1998) 17 (Mentioned only)
Star Wars (1998) 11 (In flashback(s))
Rogue Planet (Mentioned only)
Outbound Flight (Mentioned only)
Jedi Quest: The Trail of the Jedi (Mentioned only)
Jedi Quest: The Dangerous Games (Mentioned only)
Jedi Quest: The School of Fear (Appears in hologram)
Jedi Quest: The Final Showdown (Mentioned only)
Star Wars Adventures 3: The Hostage Princess (Mentioned only)
Star Wars: Zam Wesell (Mentioned only)
 Nikto Cultists Plague Sisar Run—HoloNet News Vol. 531 #45 (content now obsolete; backup link on Archive.org) (Mentioned only)
 Gotal Guerillas Hijack Commuter Hopper, Take Hostages—HoloNet News Vol. 531 #52 (content now obsolete; backup link on Archive.org) (Mentioned only)
 Dooku Spotted in Gree Enclave—HoloNet News Vol. 531 #54 (content now obsolete; backup link on Archive.org) (Mentioned only)
 Loyalist Committee Split on Vote—HoloNet News Vol. 531 #56 (content now obsolete; backup link on Archive.org) (Mentioned only)
The Approaching Storm (Mentioned only)
The Approaching Storm audiobook (Mentioned only)
Jedi Trial (Mentioned only)
Boba Fett: Maze of Deception (Mentioned only)
Star Wars: The Clone Wars – "Rookies" (Mentioned only)
The Clone Wars: Grievous Attacks! (Mentioned only)
Boba Fett: Hunted (Mentioned only)
Star Wars: The Clone Wars – "Liberty on Ryloth" (As "home planet", via computer screen)
Star Wars: The Clone Wars – "Holocron Heist" (Mentioned on computer screen only)
The Clone Wars 4 (Mentioned only)
Star Wars: The Clone Wars: Jedi Alliance (As "home planet")
Star Wars: The Clone Wars – "Wookiee Hunt" (Mentioned only)
"Out"—Star Wars: The Clone Wars Comic UK 6.30 (Mentioned only)
Republic Commando: Triple Zero (Mentioned only)
Star Wars: The Clone Wars – "Water War" (Mentioned only)
MedStar I: Battle Surgeons (Mentioned only)
"MedStar: Intermezzo" – Star Wars Insider 83 (Mentioned only)
MedStar II: Jedi Healer (Mentioned only)
The Wrath of Darth Maul (Mentioned only)
The Clone Wars: The Sith Hunters (In flashback(s))
The Clone Wars: Darth Maul: Shadow Conspiracy (Mentioned only)
Star Wars: The Clone Wars – "An Old Friend" (As "home planet")
Star Wars: The Clone Wars – "Destiny" (Mentioned only)
Star Wars: The Clone Wars – "Sacrifice" (As "home planet")
Boba Fett: Pursuit (Mentioned only)
Yoda: Dark Rendezvous (Mentioned only)
Labyrinth of Evil (Mentioned only)
Order 66: A Republic Commando Novel (Mentioned only)
Imperial Commando: 501st (Mentioned only)
Kenobi (Mentioned only)
Star Wars: Purge: Seconds to Die (In flashback(s)) (As "home planet")
Purge – The Tyrant's Fist 2 (Mentioned only)
Coruscant Nights I: Jedi Twilight (Mentioned only)
Coruscant Nights II: Street of Shadows (Mentioned only)
Coruscant Nights III: Patterns of Force (Mentioned only)
Last Jedi (Mentioned only)
The Last of the Jedi: Dark Warning (Mentioned only)
The Last of the Jedi: Underworld (Mentioned only)
The Last of the Jedi: Return of the Dark Side (Mentioned only)
The Last of the Jedi: Reckoning (Mentioned only)
Death Star (Mentioned only)
Han Solo and the Lost Legacy (Mentioned only)
Empire 11 (Mentioned only)
Star Wars: Episode IV A New Hope (As "home planet") / novel (First appearance) (As "home planet") / junior novel
Star Wars: A New Hope - The Special Edition (As "home planet")
Star Wars Manga: A New Hope 2 (As "home planet")
Star Wars Episode IV: A New Hope (PhotoComic) (As "home planet")
We Don't Do Weddings: The Band's Tale (Mentioned only)
A Hunter's Fate: Greedo's Tale (Mentioned only)
Play It Again, Figrin D'an: The Tale of Muftak and Kabe (Mentioned only)
Nightlily: The Lovers' Tale (Mentioned only)
Empire Blues: The Devaronian's Tale (Mentioned only)
"A Certain Point of View" – Star Wars Adventure Journal 8 (Celia Durasha and Detien Kaileel game information)
Beyond the Rim (Mentioned only)
The Jewel of Yavin (Mentioned only)
Operation: Shadowpoint (Mentioned only)
"Dead in the Water"—Star Wars: Age of Rebellion Game Master's Kit (Mentioned only)
"Star Wars (1977) 23 (Mentioned only)
Perfect Evil, Part 2" – Star Wars Manga: Silver (Non-canonical appearance) (As "home planet")
"A Bitter Winter" – Star Wars Adventure Journal 5 (Mentioned only)
Rebel Force: Target (Mentioned only)
Star Wars #2: In the Shadow of Yavin, Part 2 (Appears in hologram)
Star Wars #3: In the Shadow of Yavin, Part 3 (Mentioned only)
Star Wars (2013) 7 (Mentioned only) (As "home planet")
Star Wars (2013) 12 (Mentioned only)
Star Wars (2013) 17 (Mentioned only)
The Weapons Master! (Mentioned only) (As "home planet")
The Kashyyyk Depths (As "home planet")
Imperial Spy (Mentioned only) (As "home planet")
"The Most Dangerous Foe" – Star Wars Adventure Journal 11 (In flashback(s))
Galaxy of Fear: Eaten Alive (Mentioned only)
Galaxy of Fear: City of the Dead (Mentioned only) (As "home planet")
Galaxy of Fear: Planet Plague (Mentioned only)
Galaxy of Fear: The Nightmare Machine (Appears in hologram)
Galaxy of Fear: Ghost of the Jedi (Mentioned only)
Galaxy of Fear: Army of Terror (Mentioned only)
Choices of One (Mentioned only)
Galaxy of Fear: The Swarm (Mentioned only)
Galaxy of Fear: Spore (Mentioned only)
"Finder's Fee" – Star Wars Adventure Journal 6 (Mentioned only)
Razor's Edge (Mentioned only) (As "home planet" and "home world")
"Idol Intentions" – Star Wars Adventure Journal 12 (Mentioned only)
"The Last Hand" – Star Wars Adventure Journal 13 (Mentioned only) (As "home planet")
"Laughter After Dark" – Star Wars Adventure Journal 15 (In flashback(s))
Star Wars Episode V: The Empire Strikes Back junior novel (Mentioned only)
Star Wars (1977) 65 (Mentioned only)
Caravan of Courage: An Ewok Adventure (As "home")
The Life and Legend of Obi-Wan Kenobi (Mentioned only)
Star Wars: Episode VI Return of the Jedi (As "home planet") / novel (As "home planet")
Star Wars Manga: Return of the Jedi 1 (As "home planet")
Star Wars Episode VI: Return of the Jedi (PhotoComic) (As "home planet")
Let Us Prey: The Whiphid's Tale (Mentioned only)
And the Band Played On: The Band's Tale (Mentioned only)
Of the Day's Annoyances: Bib Fortuna's Tale (Mentioned only)
The Great God Quay: The Tale of Barada and the Weequays (Mentioned only)
A Free Quarren in the Palace: Tessek's Tale (Mentioned only)
A Barve Like That: The Tale of Boba Fett (Mentioned only)
Epilogue: Whatever Became Of...? (Mentioned only)
Star Wars (1977) 85 (Mentioned only)
Star Wars: X-Wing Rogue Squadron: Requiem for a Rogue (Mentioned only)
Star Wars: X-Wing Rogue Squadron: In the Empire's Service (Mentioned only)
Luke Skywalker and the Shadows of Mindor (Mentioned only)
"Missed Chance" – Star Wars Adventure Journal 7 (Mentioned only)
Tatooine Ghost (Mentioned only)
"Artifact of Aaris"—The DarkStryder Campaign (Mentioned only)
"Galaxy's Edge"—The Kathol Outback (Mentioned only)
"The Saga Nears Its End"—Endgame (Mentioned only)
X-Wing: Isard's Revenge (Mentioned only)
Jedi Search (Mentioned only)
Champions of the Force (Mentioned only)
The Crystal Star (Mentioned only)
Before the Storm (Mentioned only)
Shield of Lies (Mentioned only)
The New Rebellion (Mentioned only)
Jade Solitaire (Mentioned only)
Showdown at Centerpoint (Mentioned only)
Specter of the Past (Mentioned only)
Specter of the Past unabridged audiobook (Mentioned only)
Junior Jedi Knights: Anakin's Quest (Mentioned only)
Young Jedi Knights: Heirs of the Force (Mentioned only)
Young Jedi Knights: The Lost Ones (Mentioned only)
Young Jedi Knights: Diversity Alliance (Mentioned only)
Young Jedi Knights: Crisis at Crystal Reef (Mentioned only)
Boba Fett: A Practical Man (Mentioned only)
The New Jedi Order: Vector Prime (Mentioned only)
The New Jedi Order: Dark Tide I: Onslaught (Mentioned only)
The New Jedi Order: Dark Tide II: Ruin (Mentioned only)
The New Jedi Order: Agents of Chaos I: Hero's Trial (Mentioned only)
The New Jedi Order: Agents of Chaos II: Jedi Eclipse (Mentioned only)
The New Jedi Order: Balance Point (Mentioned only)
The New Jedi Order: Edge of Victory I: Conquest (Mentioned only)
The New Jedi Order: Edge of Victory II: Rebirth (Mentioned only)
"Emissary of the Void: Episode I: Battle on Bonadan"—Star Wars Gamer 8 (Mentioned only)
"Emissary of the Void: Episode III: The War on Wayland"—Star Wars Gamer 10 (Mentioned only)
"Emissary of the Void: Episode V: A Perilous Plan" – Star Wars Insider 63 (Mentioned only)
"The Apprentice"—Star Wars Gamer 8 (Mentioned only)
The New Jedi Order: Enemy Lines I: Rebel Dream (Mentioned only)
The New Jedi Order: Enemy Lines II: Rebel Stand (Mentioned only)
The New Jedi Order: Traitor (Mentioned only)
The New Jedi Order: Ylesia (Mentioned only)
The New Jedi Order: Force Heretic III: Reunion (Mentioned only)
The New Jedi Order: The Final Prophecy (Mentioned only)
Dark Nest II: The Unseen Queen (Mentioned only)
Dark Nest III: The Swarm War (Mentioned only)
Legacy of the Force: Tempest (Mentioned only)
Legacy of the Force: Sacrifice (Mentioned only)
Legacy of the Force: Fury (Memory)
Legacy of the Force: Revelation (Mentioned only)
Fate of the Jedi: Outcast (Mentioned only)
Fate of the Jedi: Outcast audiobook (Mentioned only)
Fate of the Jedi: Backlash (Mentioned only)
Fate of the Jedi: Backlash audiobook (Mentioned only)
Legacy (2006) 41 (Mentioned only)
Sources
[
]
"First Contact" – Star Wars Adventure Journal 1 (Morodin game information)
"The Final Exit" – Star Wars Adventure Journal 4 (Najiba and Trulalis game information)
"A Bitter Winter" – Star Wars Adventure Journal 5 (Fahs Oxsor game information)
"Vengeance Strike" – Star Wars Adventure Journal 5 (Wroona Roleplaying Game Statistics)
"Kella Rand, Reporting..." – Star Wars Adventure Journal 6 (Indu San game information)
"Straight from the Horse's Mouth: A Guide to the Star Wars: Tales of the Jedi Universe, Part 2" – Star Wars Insider 27
"Uhl Eharl Khoehng" – Star Wars Adventure Journal 8 (Trulalis and Adalric Brandl game information)
"Only Droids Serve the Maker" – Star Wars Adventure Journal 10 (Monor II: Kline Colony game information)
"The Breath of Gelgelar" – Star Wars Adventure Journal 14 ("T'laerean Larn" capsule)
"Special Ops: Drop Points" – Star Wars Adventure Journal 14 ("Nofre Ecls/Talana" capsule)
Star Wars: Episode I The Visual Dictionary (Eeth Koth, Watto and Ratts Tyerell sections)
"Meet Zeev, a Pet Duuvhal" on Wizards.com (original article link, content now obsolete; backup link)
"Shaggy Slaves: The Gentle Talz" on Wizards.com (original article link, content now obsolete; backup link)
The Official Star Wars Fact File 3 (ACK4, Admiral Ackbar)
The Official Star Wars Fact File 7 (PLA4, Planets of the Core Worlds)
"Ultimate Alien Anthology Web Enhancement" on Wizards.com (original article link, content now obsolete; backup link)
"Cydon Prax" on Wizards.com (original article link, content now obsolete; backup link)
"Universe Preview 9" on Wizards.com (original article link, content now obsolete; backup link)
"Saga Edition Web Enhancement: Devaronians" on Wizards.com (original article link, content now obsolete; backup link)
The Clone Wars Episode Guide: Rookies on StarWars.com (content now obsolete; backup link)
"Planet Hoppers: Cathar" on Wizards.com (original article link, content now obsolete; backup link)
"Planet Hoppers: Skako" on Wizards.com (original article link, content now obsolete; backup link)
The Clone Wars Episode Guide: Holocron Heist on StarWars.com (content now obsolete; backup link)
"Fringe Stat Pack" on Wizards.com (original article link, content now obsolete; backup link)
The Clone Wars Episode Guide: Padawan Lost on StarWars.com (content now obsolete; backup link)
The Clone Wars Episode Guide: Wookiee Hunt on StarWars.com (content now obsolete; backup link)
 A'baht, General Etahn in the Databank (content now obsolete; backup link)
 Star Wars: The Card Game – Assault on Echo Base (Card: Renegade Squadron Recruit)
 Star Wars: The Card Game – Edge of Darkness (Card: Trandoshan Terror)
 Star Wars: The Card Game – Escape from Hoth (Card: Tauntaun) (As "home planet)
Star Wars: Force Collection (Card: Kardue'sai'Malloc)
Star Wars: Force Collection (Card: Zuckuss (★★★★))
Slugthrowers: An Overview of Popular Music and Musicians in a Galaxy Far, Far Away, Part 1 on StarWars.com (article) (backup link)
Star Wars: The Essential Guide to Warfare Author's Cut, Part 6: Showdown at Naboo on StarWars.com (article) (backup link)
Take Me Out to the Ball Game: Sports in the Star Wars Galaxy, Part 2 on StarWars.com (article) (backup link) (As "homeplanet")
2015 Topps Star Wars Illustrated: The Empire Strikes Back (Card: One Year Earlier: Princess Leia Organa)
Notes and references
[
]
↑ The Last of the Jedi: The Desperate Mission, p. 166: Ferus Olin reflects: "He was not a native Bellassan, but he had adopted that world. It was his homeworld."
↑ Star Wars: The Clone Wars: New Battlefronts: The Visual Guide, p. 66: "Cut's life changes when the war he fled comes to his new homeworld"
↑ Children of the Jedi, Chapter 3
↑ The Essential Guide to Warfare, pp. 230, 233
↑ Legacy of the Force: Bloodlines, p. 57
↑ Coruscant Nights I: Jedi Twilight, p. 248
↑ Dark Nest III: The Swarm War, p. 76
↑ Before the Storm, p. 264