The Hotshots and Aces Reinforcements Pack is an expansion for the Star Wars: X-Wing Second Edition miniatures game, a tactical ship-to-ship combat game released by Fantasy Flight Games. It features new pilot cards and upgrades for the ships. It was released on January 31, 2020.
Enhance your squadron options and launch new pilots with the Hotshots and Aces Reinforcements Pack! With upgrades available to all factions and new pilots for numerous ships in the Rebel, Imperial, Scum, Resistance, and First Order factions, you can now add iconic characters like Leia Organa, Captain Phasma, and K-2SO to your squads.
Rebel Alliance:
Galactic Empire:
Scum:
Resistance:
First Order: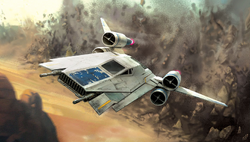 Talent Upgrade Cards
Force Power Upgrade Cards
Tech Upgrade Cards
Sensor Upgrade Cards
Cannon Upgrade Cards
Torpedo Upgrade Cards
Missile Upgrade Cards
Crew Upgrade Cards
Gunner Upgrade Cards
Illicit Upgrade Cards
Title Upgrade Card
Modification Upgrade Cards
Configuration Upgrade Cards
Community content is available under
CC-BY-SA
unless otherwise noted.