Hugh Fleming is an Australian artist who produced cover art for a number of Dark Horse Comics' Star Wars series in the 1990s.
One of the company's major Star Wars cover artists of the time, his work includes covers for Tales of the Jedi, Splinter of the Mind's Eye, Shadows of the Empire, and Star Wars: Episode I: The Phantom Menace. Fleming was also artist of the Star Wars Rocks! poster for The Star Wars Fan Club. His work with Dark Horse began through one of the company's other popular movie licenses, Indiana Jones.
Known for his cinematic, photo-realistic, and poster-art style illustrations, Fleming's compositions often relied on rare or less-known photo-references from film production photos or stills to help create authentic yet still innovative illustrations for well-known media properties. Fleming took pride in creating scenes that did not look like they came from well-known photo references.
In this period Fleming became one of a cadre of Dark Horse Star Wars cover painters including such noteworthy artists as Dave Dorman, Kilian Plunkett and Duncan Fegredo, who were following in the footsteps of original trilogy poster artist Drew Struzan and helped give the company's Star Wars line a reputation for consistently impressive poster-style cinematic cover art.
Inspired by the first Star Wars and Indiana Jones films, Fleming wanted to go into filmmaking from a young age. He was basically self taught as an illustrator, with the only art school he attended being a commercial art course for five months in 1985, just after leaving high school. Fleming's life as a painter in the comics field began when he went to the San Diego Comic Convention in the early 90's and began to get some work painting cover art with a number of smaller comic book publishers.
He first met editors from Dark Horse Comics at the 1993 San Diego Convention, when Fleming and his best friend, Pete Ford, took a proposal for a 4-issue Indiana Jones mini-series, tentatively titled Indiana Jones and the Lost Horizon to the convention.
Lifelong Indiana Jones fans, Fleming and Ford co-wrote the story--which would have been a prequel faithfully depicting an Indy adventure with his mentor Abner Ravenswood--and Fleming created color art for the document to sell it. Dark Horse picked up the mini-series and Fleming was set to provide interior artwork for the 96 page story. However, the mini-series was cancelled before they could begin work on it because of low sales on Indy comics at the time.
While that project was still in development, though, Fleming was approached by his would-be editor, Ryder Windham to paint the cover for another Indy mini-series already being released by the company titled Thunder in the Orient.
Thunder's first issue's cover had been done by popular 90s cover artist Dave Dorman, but Dorman was very in-demand at the time (doing numerous Star Wars covers among other things), so Fleming was brought in to take over for expediency.
Thus, Fleming became a regular cover artist for Dark Horse's Indiana Jones stories, first with Thunder and then followed by Indiana Jones and the Spear of Destiny in 1995.
Because he had demonstrated that he knew his way around the character with his initial Indy story proposal, Fleming was afforded a lot of creative freedom throughout the process of creating his covers.
He would be provided with copies of interior art from the stories and then would work with Windham to select the most dramatic scene to illustrate for the cover. He would typically get around a month to complete a given cover. He mostly used his own supply of Indy paraphernalia and Harrison Ford books for photo-reference.
The year after his first Indiana Jones work, Fleming would again succeed Dave Dorman as cover artist on one of the company's popular Lucasfilm license being edited by Ryder Windham, the most popular: Star Wars.
In 1994, Fleming illustrated the six covers for the second part of the Star Wars: Tales of the Jedi epic, Star Wars: Tales of the Jedi - Dark Lords of the Sith, continuing the story of ancient Jedi Knights Ulic Qel-Droma and Exar Kun. The covers would include such firsts as the first depiction of a double-bladed lightsaber.
According to Fleming, Lucasfilm Licensing was far more generous when providing the artist with Star Wars reference materials, providing him directly with packages of color copies from the LFL stock library, and filling any requests he may have had.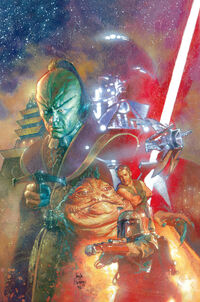 These covers were followed by work on the third Tales of the Jedi miniseries, Star Wars: Tales of the Jedi — The Sith War, the following year--firsts for these covers included the first painted image of Mandalore--and then as cover artist for the miniseries adaptations of Splinter of the Mind's Eye, and Star Wars: Shadows of the Empire, through to the end of 1996.
One of the most unique non-comic cover pieces of Star Wars art came for Fleming in 1998, when The Star Wars Fan Club presented an exclusive poster by the artist entitled Star Wars Rocks! The poster featured an in-action image of the heroes of the Original Trilogy playing a rock concert, complete with instruments, pyrotechnic lights, smoke effects, a crowd of cheering fans, and Darth Vader descending by wires from above the stage.
Fleming returned to Star Wars universe to paint covers for the 4-part Dark Horse adaptation of Star Wars: Episode I The Phantom Menace in 1999.
As of December 2002, Fleming had taken a break from illustration to focus on his writing and filmmaking ambitions, and was last mentioned as working on a number of lower profile TV and film projects in an online interview. However, in 2008, he returned to illustrate the covers for the Dark Horse adaptation of Indiana Jones and the Kingdom of the Crystal Skull.
As an illustrator, Fleming has also painted for DC Comics, on the titles Star Trek, Batman, Green Arrow/Green Lantern and others.
Community content is available under
CC-BY-SA
unless otherwise noted.