Jurassic World: Dominion Dominates Fandom Wikis - The Loop
Play Sound
"Some people would consider this a skill. Humans adapt. Got mountains? Build ridgecrawlers. Too much water? Build scub-subs. An ice planet? Use radiated igurts. People adapt."
"Yes, but should they? Either humans adapt, or they force the planet to adapt to them. This is not normal."
Humans were a species of sentient, bipedal mammals with bilateral symmetry possibly native to the planet Coruscant. Throughout the galaxy, they constituted the culturally dominant species and were commonly encountered on most settled planets, from the bountiful planet of Naboo to the desert world of Tatooine. They were known to engage in many different pursuits, from politics to bounty hunting. Species that bore structural resemblance to humans (bipedal gait, two arms and two legs, opposable thumb) were referred to as "humanoids". Species that were very physically similar to, but still distinct from baseline humans were refered to as "near-humans".
By the time of the Galactic Civil War, humans were the galaxy's most numerous sentient species.[36] However, in total there were still more non-human sentients than humans,[39] so humans constituted a plurality rather than a majority of the galaxy's sentients.
Biology and appearance
[
]
"I knew all about human anatomy, but it turns out I didn't know anything else. I didn't know what to feed her or how often, whether she was a species that needed or loathed physical touch, or what it meant when she made those awful wailing sounds."
―Lexo Sooger, on caring for his adopted human daughter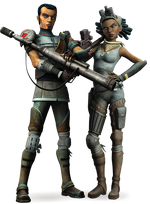 Humans were an intelligent mammalian species[2] that arguably originated on Coruscant.[37] They gave birth to live young.[21] They were bipedal beings with a bilateral symmetry, having a front and a back end, as well as an upside and downside. Their bodies were comprised of a torso with a head and four limbs attached to it. The upper limbs, or arms, ended in hands which had five fingers each; the lower ones, called legs, ended in feet. The human fingers had multiple points of articulation, and one of them was an opposable thumb that allowed for fine manipulation. Finally, they had one head perched atop their torso.[34] Many other species, including the Twi'leks[41] the Mon Calamari[42] or the Zygerrians, were referred to as "humanoids" because of their structural resemblance to humans.[43] Like many other species, humans needed to take in oxygen from their environment to live.[35]
Compared with the Wookiees of Kashyyyk,[44] humans had little hair on their bodies.[45] Most of it was concentrated on the scalp as well as the lower portions of the faces of some males, though these regions were often shaved in various patterns, either for hygiene or self-expression. Strips of concentrated hair, referred to as "eyebrows," were also located above the eyes, and were used in non-verbal communication.[1] Human skin tones ranged from dark brown,[1] through lighter shades,[46] to pale.[21] The skin of most humans native to Lothal had a copper sheen.[47] Human eyes came in shades of blue,[26] green,[29] or brown.[27] Occasionally, humans with purple[31] or even red eyes could be encountered.[32] The average height of humans was a little below 1.85 meters.[20]
While examining the human Luke Skywalker after capturing him, a wampa noted his appearance, coming to the conclusion that a human was built to be useless and frail. The wampa was unable to fathom how such a lifeform had survived, especially since he saw that Skywalker was not a youngling. Additionally, the wampa noted the human's arms were not built to strike at prey and lacked claws. He also realized a human's legs were too short to be able to run fast across snow or ice.[48] Because the throats of the two species were vastly different, most humans were incapable of speaking Shyriiwook, the language of the Wookiees.[47] However, some humans could imitate Shyriiwook well enough to at least be somewhat understood by Wookiees.[49] In comparison with most other species, the humans' sense of smell was quite underdeveloped.[50]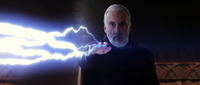 Like many other species, they could be sensitive to the Force, a mysterious energy that connected all living things in the galaxy and gave special powers to those who learned how to manipulate it.[51] The Chosen One, Anakin Skywalker, was human, as were many Sith and Jedi such as Darth Sidious, Count Dooku, Mace Windu, and Obi-Wan Kenobi.[52]
Society and culture
[
]
"I gather you heard them coming?"
"There is a particular tread that all predators tend to use, a balance between silence and speed. Humans use a version of this tread."
―The human Eli Vanto and the Chiss Thrawn, after being attacked by a group of humans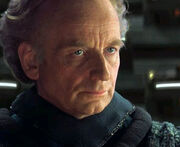 Although humans could occupy a variety of occupations, from politicians[1] to bounty hunters[54] or moisture farmers,[34] they were reputedly unable to work as podracers.[1] Anakin Skywalker was reportedly the only human who could race pods.[1] Humans were one of the most successful colonial species at migrating and adapting to dominate new worlds, meaning there existed many diverse[37] planetary groups of humans with their own cultures, such as the Alderaanians[3] and the Pamarthens.[15]
The Grindalid Prybolt Garavult believed humans, at least from what he had seen of their species, had a reckless habit of getting into danger, reflecting that humans had in the past had recklessly become involved in situations involving horrible diseases or death through murder, with some humans escaping such crises but ending up horribly injured. Believing that humans had a horrible and persistent habit to run into a situation no matter the danger present, he believed humans could not be trusted to follow basic safety procedures.[55]
History
[
]
"You call yourselves human?"
―Leia Organa, in the wake of Alderaan's destruction at the hands of the Empire
Some believed that humans hailed from Coruscant, one of the galaxy's so-called Core Worlds, but that theory was never proven.[37] Many humans changed the course of galactic history, from politicians[1] to slaves and even Jedi Knights.[21] Darth Sidious, the Sith Lord who founded the autocratic Galactic Empire that ruled over the galaxy for over two decades, was a human from Naboo.[57] Many members of the Alliance to Restore the Republic, including its founding members Mon Mothma,[24] Bail Organa,[58] and his adopted daughter Leia Organa were humans as well.[27] The Galactic Empire was known to favor humans at the expense of nonhuman—or "alien"—species.[51] The Empire's government and Imperial Military were dominated by humans.[59] During the Age of the Empire, some humans like the Lothalite athletic director Janus Fhurek harbored xenophobic attitudes towards aliens[60] and thought that their alien physiology gave them an unfair advantage over human grav-ball players.[61]
Humans in the galaxy
[
]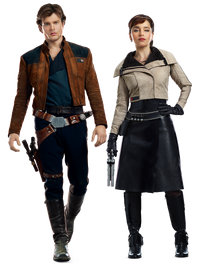 Like Duros, humans were one of the most successful colonial species, having migrated and adapted to dominate a variety of worlds. Their diverse cultures outside of Coruscant included Naboo, Ming Po, Alderaanian, Corellian,[37] Pamarthen,[15] Chalactan,[5] and Chandrilan.[5] By the time of the Galactic Civil War, humans were the most populous of the galaxy's intelligent species, and could be encountered nearly anywhere communities of people gathered.[36]
Although humans tended to regard their great adaptiveness as a skill, aliens sometimes reproached them for spreading all across the galaxy, forcing themselves upon ecosystems they did not belong to. Burta, a Krish female, notably held that point of view, which she vehemently defended against Jyn Erso. They discussed how humans could adapt such as using radiated igurts on ice planets, use ridgecrawlers if there were mountains, and used scub-subs if there was water. Erso said that some people would consider humans adapting a skill. Burta, however, mentioned that either humans adapted or they would force the planet to adapt to them.[38]
Behind the scenes
[
]
Humans have appeared so far in the nine film main installments of the Star Wars saga. They have also appeared in several spin-offs and TV shows as main characters.
In the Star Wars universe, the Star Wars Legends originally established that humans lived longer than in the real-world largely as they didn't have to take into account the actors getting older. However, in the new canon, Holocron continuity database keeper Leland Chee has stated that humans lived the same real-world average lifespan,[62] which is estimated to be 71 years old.[63]
Appearances
[
]
Non-canon appearances
[
]
Sources
[
]
Padmé Amidala in the Encyclopedia (content now obsolete; backup link)
"Ambush" Episode Guide – The Clone Wars on StarWars.com (backup link) (Picture only)
"Rising Malevolence" Episode Guide – The Clone Wars on StarWars.com (backup link) (Picture only)
"Shadow of Malevolence" Episode Guide – The Clone Wars on StarWars.com (backup link) (Picture only)
"Destroy Malevolence" Episode Guide – The Clone Wars on StarWars.com (backup link) (Picture only)
"Rookies" Episode Guide – The Clone Wars on StarWars.com (backup link) (Picture only)
"Downfall of a Droid" Episode Guide – The Clone Wars on StarWars.com (backup link) (Picture only)
"Duel of the Droids" Episode Guide – The Clone Wars on StarWars.com (backup link) (Picture only)
"Bombad Jedi" Episode Guide – The Clone Wars on StarWars.com (backup link) (Picture only)
"Cloak of Darkness" Episode Guide – The Clone Wars on StarWars.com (backup link) (Picture only)
"Dooku Captured" Episode Guide – The Clone Wars on StarWars.com (backup link) (Picture only)
"The Gungan General" Episode Guide – The Clone Wars on StarWars.com (backup link) (Picture only)
"Jedi Crash" Episode Guide – The Clone Wars on StarWars.com (backup link) (Picture only)
"Defenders of Peace" Episode Guide – The Clone Wars on StarWars.com (backup link) (Picture only)
"The Hidden Enemy" Episode Guide – The Clone Wars on StarWars.com (backup link) (Picture only)
"Blue Shadow Virus" Episode Guide – The Clone Wars on StarWars.com (backup link) (Picture only)
"Storm Over Ryloth" Episode Guide – The Clone Wars on StarWars.com (backup link) (Picture only)
"Innocents of Ryloth" Episode Guide – The Clone Wars on StarWars.com (backup link) (Picture only)
"Liberty on Ryloth" Episode Guide – The Clone Wars on StarWars.com (backup link) (Picture only)
"Hostage Crisis" Episode Guide – The Clone Wars on StarWars.com (backup link) (Picture only)
"Holocron Heist" Episode Guide – The Clone Wars on StarWars.com (backup link) (Picture only)
"Cargo of Doom" Episode Guide – The Clone Wars on StarWars.com (backup link) (Picture only)
"Children of the Force" Episode Guide – The Clone Wars on StarWars.com (backup link) (Picture only)
"Senate Spy" Episode Guide – The Clone Wars on StarWars.com (backup link) (Picture only)
"Landing at Point Rain" Episode Guide – The Clone Wars on StarWars.com (backup link) (Picture only)
"Weapons Factory" Episode Guide – The Clone Wars on StarWars.com (backup link) (Picture only)
(Set: 75106 Imperial Assault Carrier)
Much to Learn You Still Have: 9 Things You Might Not Know About Rodians on StarWars.com (backup link)
Art of Coloring: Rogue One: A Star Wars Story (Picture only)
Star Wars: Destiny – Awakenings (Card: Abandon All Hope) (Picture only)
Star Wars: Destiny – Awakenings (Card: All In) (Picture only)
Star Wars: Destiny – Awakenings (Card: Anticipate) (Picture only)
Star Wars: Destiny – Awakenings (Card: Armed to the Teeth) (Picture only)
Star Wars: Destiny – Awakenings (Card: Award Ceremony) (Picture only)
Star Wars: Destiny – Awakenings (Card: Bala-Tik) (Picture only)
Star Wars: Destiny – Awakenings (Card: Black Market) (Picture only)
Star Wars: Destiny – Awakenings (Card: Block) (Picture only)
Star Wars: Destiny – Awakenings (Card: Boundless Ambition) (Picture only)
Star Wars: Destiny – Awakenings (Card: Captain Phasma) (Picture only)
Star Wars Helmet Collection 1 (Databank A-Z: Ask Aak–Stass Allie; Helmets: Darth Vader, Master of the Dark Side; Weapons & Uniforms: Imperial High Command; Highlights of the Saga: Duel in Cloud City)
Star Wars Helmet Collection 2 (Databank A-Z: Alzoc III–Antilles; Helmets: Boba Fett–Notorious Bounty Hunter; Weapons & Uniforms: Bounty Hunters; Highlights of the Saga: The Capture of Han Solo)
Star Wars Helmet Collection 6 (Databank A-Z: Jar Jar Binks–B'omarr Order; Helmets: TIE Fighter Pilot)
Star Wars Helmet Collection 8 (Databank A-Z: Bric–C-3PO; Helmets: General Grievous; Weapons & Uniforms: Imperial Droids; Highlights of the Saga: Kidnap of the Chancellor)
Star Wars Helmet Collection 9 (Databank A-Z: C-21–Chandrila; Helmets: AT-AT Pilot; Weapons & Uniforms: Imperial Droids; Highlights of the Saga: Ground Assault on Hoth)
Star Wars Helmet Collection 10 (Databank A-Z: Chewbacca–Cloud City; Helmets: Emperor's Royal Guard; Weapons & Uniforms: Imperial Dignitaries; Highlights of the Saga: Birth of an Empire)
Star Wars Helmet Collection 11 (Databank A-Z: Rush Clovis–Coruscant; Helmets: Tusken Raiders; Weapons & Uniforms: Inhabitants of Tatooine; Highlights of the Saga: Anakin's Tragedy)
Star Wars Helmet Collection 12 (Databank A-Z: Cosians–Dagobah; Helmets: Imperial Gunner; Weapons & Uniforms: The Geonosians; Highlights of the Saga: The Death Star)
Star Wars Helmet Collection 13 (Databank A-Z: Poe Dameron–Delta 7-B; Helmets: Naboo Pilot; Weapons & Uniforms: The Gungan Grand Army; Highlights of the Saga: The Battle for Naboo)
Star Wars Helmet Collection 14 (Databank A-Z: Dengar–Domino Squad; Helmets: AT-ST Pilot; Weapons & Uniforms: The Sith)
Star Wars Helmet Collection 15 (Databank A-Z: Dooku–Dwarf Spider Droids; Helmets: Commander Bacara; Weapons & Uniforms: The Grand Army of the Republic; Highlights of the Saga: Palpatine Unmasked) (Picture only)
Star Wars Helmet Collection 16 (Databank A-Z: E-11 Blaster–Cornelius Evazan; Helmets: 501st Legion Stormtroopers; Weapons & Uniforms: Citizens of Coruscant; Highlights of the Saga: The Fall of the Jedi)
Star Wars Helmet Collection 17 (Databank A-Z: Ewoks–Finn (FN-2187); Helmets: Anakin Skywalker Podracer; Weapons & Uniforms: Sebulba and Rival Pilots; Highlights of the Saga: The Boonta Eve Classic)
Star Wars Helmet Collection 18 (Databank A-Z: First Order–Fyrnocks; Helmets: First Order Stormtroopers; Weapons & Uniforms: The First Order; Highlights of the Saga: Assault on Jakku)
Star Wars Helmet Collection 19 (Databank A-Z: GA-97–Geonosis; Helmets: Lando Calrissian; Weapons & Uniforms: Jabba's Skiff Guards; Highlights of the Saga: The Death of Jabba the Hutt)
Star Wars Helmet Collection 20 (Databank A-Z: Saw Gerrera–Commander Gree; Helmets: Rebel Trooper; Weapons & Uniforms: Leaders of the Rebel Alliance; Highlights of the Saga: The Capture of the Tantive IV)
Star Wars Helmet Collection 21 (Databank A-Z: Greedo–Gundarks; Helmets: Kylo Ren; Weapons & Uniforms: Maz Kanata's Castle; Highlights of the Saga: Raid on Takodana)
Star Wars Helmet Collection 23 (Databank A-Z: Hassk Triplets–Holograms; Helmets: Rebel Commando; Weapons & Uniforms: Princess Leia Organa; Highlights of the Saga: Assault on Endor)
Star Wars Helmet Collection 24 (Databank A-Z: The HoloNet–General Hux; Helmets: Magnaguard; Weapons & Uniforms: Terror of the IG-100s; Highlights of the Saga: Duel to the Death)
Star Wars Helmet Collection 25 (Databank A-Z: Hydroid Medusas–Imperial Academies; Helmets: Commander Cody; Weapons & Uniforms: The Utapauns; Highlights of the Saga: Intrigue on Utapau)
Star Wars Helmet Collection 26 (Databank A-Z: Imperial Future Council–Inquisitorius; Helmets: Y-wing Pilot; Weapons & Uniforms: Yavin Base; Highlights of the Saga: Fall of the Malevolence) (Picture only)
Star Wars: Build Your Own R2-D2 2 (Droid Directory: 3PO-series Protocol Droids, Part 1) (Picture only)
Star Wars: Build Your Own R2-D2 3 (Droid Directory: R2-series Astromech Droids, Part 2) (Picture only)
Star Wars: Build Your Own R2-D2 4 (Building the Galaxy: Filming R2-D2, Part 1; Droid Directory: 3PO-series Protocol Droids, Part 2)
Star Wars: Build Your Own R2-D2 5 (Droid Directory: 2-1B-series Medical Droids, Part 1) (Picture only)
Star Wars: Build Your Own R2-D2 6 (Building the Galaxy: Filming R2-D2, Part 3; Droid Directory: EGL Power Droids)
Star Wars: Build Your Own R2-D2 7 (Building the Galaxy: The Star Wars Stunt Team; Droid Directory: LOM-series Protocol Droids; Understanding Robotics: Artificial Assistants)
Star Wars: Build Your Own R2-D2 8 (Building the Galaxy: The Weapon of a Jedi; Droid Directory: Imperial Mark IV Sentry Droid; Understanding Robotics: Humanoid Robots)
Much to Learn You Still Have: Talking Rogue One Aliens with Pablo Hidalgo on StarWars.com (backup link)
Star Wars: A-wing Deluxe Book and 3D Wood Model (Picture only)
Star Wars Helmet Collection 27 (Databank A-Z: InterGalactic Banking Clan–Jakku; Helmets: Commander Gree)
Star Wars Helmet Collection 28 (Databank A-Z: Queen Jamillia–Jedi Temples; Helmets: Coruscant Emergency Crew; Weapons & Uniforms: Droid Firefighters; Highlights of the Saga: Crash Landing on Coruscant)
Star Wars Helmet Collection 29 (Databank A-Z: Jelucan–Lord Junn; Helmets: Snowtrooper; Weapons & Uniforms: Imperial Fleet; Highlights of the Saga: The Empire Strikes Back!)
Star Wars Helmet Collection 30 (Databank A-Z: Tee Watt Kaa–Kamino; Helmets: Senate Guard; Weapons & Uniforms: Senate Commandos; Highlights of the Saga: The Betrayal of Captain Argyus)
Star Wars Helmet Collection 31 (Databank A-Z: Kaminoans–King Katuunko; Helmets: Poe Dameron; Weapons & Uniforms: The Resistance; Highlights of the Saga: Assault on Starkiller Base)
Star Wars Helmet Collection 32 (Databank A-Z: Kel Dor–Ki-Adi-Mundi; Helmets: Hoth Rebel Soldier; Weapons & Uniforms: Echo Base; Highlights of the Saga: Attack of the Wampa)
Star Wars Helmet Collection 33 (Databank A-Z: Admiral Kilian–Kowakian; Helmets: Commander Neyo; Weapons & Uniforms: The Republic Fleet; Highlights of the Saga: The Unlikely Heroes)
Star Wars Helmet Collection 34 (Databank A-Z: Davish Krail–Kuat Drive Yards; Helmets: Death Star Trooper; Weapons & Uniforms: Citizens of Alderaan; Highlights of the Saga: Alderaan Survives!)
Star Wars Helmet Collection 35 (Databank A-Z: Kyber Crystals–Laser Cannons; Helmets: 212th Attack Battalion; Weapons & Uniforms: Ready for Action; Highlights of the Saga: Escape from Utapau)
Star Wars Helmet Collection 36 (Databank A-Z: Cut Lawquane–Lothal; Helmets: Boushh; Weapons & Uniforms: Jabba's Courtiers; Highlights of the Saga: Attack on Jabba's Palace)
Star Wars Helmet Collection 37 (Databank A-Z: Luggabeast–Malakili; Helmets: AT-RT Drivers; Weapons & Uniforms: Republic Ground Vehicles; Highlights of the Saga: The Battle of Ryloth)
Star Wars Helmet Collection 38 (Databank A-Z: Baze Malbus–Darth Maul; Helmets: Commander Thire; Weapons & Uniforms: Toydarians; Highlights of the Saga: Ambush on Rugosa)
Star Wars Helmet Collection 39 (Databank A-Z: Kwazel Maw–Sly Moore; Helmets: Zam Wesell; Weapons & Uniforms: The Outlander Club; Highlights of the Saga: Raid on the Jedi Temple)
Star Wars Helmet Collection 40 (Databank A-Z: Moraband–Muftak; Helmets: Clone Pilot; Weapons & Uniforms: The Jedi Knights; Highlights of the Saga: Battle on Geonosis)
Star Wars Helmet Collection 41 (Databank A-Z: 'Occupier' Tank–Oola; Helmets: Jango Fett; Weapons & Uniforms: The Kaminoans; Highlights of the Saga: The Secret of Kamino)
Star Wars Helmet Collection 42 (Databank A-Z: OOM-9–Viceroy Bail Organa; Helmets: Captain Phasma; Weapons & Uniforms: The New Republic; Highlights of the Saga: Infiltrating Starkiller Base)
Star Wars Helmet Collection 43 (Databank A-Z: Leia Organa; Helmets: Flametrooper; Weapons & Uniforms: Inhabitants of Jakku; Highlights of the Saga: Breakout)
Star Wars Helmet Collection 44 (Databank A-Z: Zeb Orrelios–Pau City; Helmets: Snowtrooper; Weapons & Uniforms: Starkiller Base Personnel; Highlights of the Saga: Striking at the New Republic)
Star Wars Helmet Collection 45 (Databank A-Z: Petranaki Arena–Proton Torpedoes; Helmets: Odd Ball; Weapons & Uniforms: Republic Pilots; Highlights of the Saga: The Battle of Teth)
Star Wars Helmet Collection 46 (Databank A-Z: Providence-class–Raxus; Helmets: Resistance Trooper; Weapons & Uniforms: Heroes of the Resistance; Highlights of the Saga: The Hunt for Luke Skywalker)
Star Wars Helmet Collection 47 (Databank A-Z: Max Rebo–Sabacc; Helmets: Ezra Bridger; Weapons & Uniforms: The Lothal Rebels; Highlights of the Saga: Leaving Lothal)
Star Wars Helmet Collection 48 (Databank A-Z: Sabe–The Separatist Council; Helmets: First Order TIE Pilot; Weapons & Uniforms: First Order Fleet Personnel; Highlights of the Saga: Fire on Jakku)
Star Wars Helmet Collection 49 (Databank A-Z: Serenno–Anakin Skywalker; Helmets: Shoretrooper; Weapons & Uniforms: Creators of the Death Star; Highlights of the Saga: Battle on the Beach)
Star Wars Helmet Collection 50 (Databank A-Z: Luke Skywalker–Han Solo; Helmets: Jess Pava; Weapons & Uniforms: D'Qar Resistance Base Personnel; Highlights of the Saga: The Search for Lor San Tekka)
Star Wars Helmet Collection 51 (Databank A-Z: Soulless One–Super Battle Droids; Helmets: The Grand Inquisitor; Weapons & Uniforms: Dark Side Servants; Highlights of the Saga: Duel on Stygeon Prime)
Star Wars Helmet Collection 52 (Databank A-Z: Hera Syndulla–Ahsoka Tano; Helmets: The Guavian Death Gang; Weapons & Uniforms: The Kanjiklub)
Star Wars Lightsabers: A Guide to Weapons of the Force (Picture only)
Star Wars: Build Your Own X-Wing 1 (Starfighter Aces: Luke Skywalker – Savior of the Rebel Alliance; Rocket Science: Fighter Design) (Picture only)
Star Wars: Build Your Own X-Wing 11 (Creating a Starship Fleet: The Ice Hangar – Filming the Rebel Base; Starfighter Aces: Jango Fett – Legendary Bounty Hunter)
Star Wars Helmet Collection 53 (Databank A-Z: Tantive IV–Tatooine; Helmets: Nien Nunb; Weapons & Uniforms: The Adventures of Nien Nunb; Highlights of the Saga: Operation Yellow Moon)
Star Wars Helmet Collection 54 (Databank A-Z: Tauntaun–TIE Craft; Helmets: Naboo Royal Guard; Weapons & Uniforms: The Naboo; Highlights of the Saga: Flight from Naboo)
Star Wars Helmet Collection 55 (Databank A-Z: Saesee Tiin–Toydaria; Helmets: Tank Trooper; Weapons & Uniforms: Saw Gerrera's Partisans; Highlights of the Saga: Target: The Holy City)
Star Wars Helmet Collection 56 (Databank A-Z: Tractor Beams–Tri-Fighters; Helmets: Imperial Ground Crew; Weapons & Uniforms: Rogue One Commandos; Highlights of the Saga: Infiltrating the Citadel)
Star Wars Helmet Collection 57 (Databank A-Z: Trident Assault Ship–Turbolasers; Helmets: Wedge Antilles; Weapons & Uniforms: Chopper Base–Atollon; Highlights of the Saga: Leaving Skystrike)
Star Wars Helmet Collection 58 (Databank A-Z: Tusken Raiders–Captain Typho; Helmets: 2-1B Surgical Droid; Weapons & Uniforms: 2-1Bs in the Galaxy; Highlights of the Saga: To Save a Jedi)
Star Wars Helmet Collection 59 (Databank A-Z: Darth Tyranus; Helmets: Sidon Ithano; Weapons & Uniforms: Denizens of Maz Kanata's Castle; Highlights of the Saga: Help from an Old Friend) (Picture only)
Star Wars Helmet Collection 60 (Databank A-Z: U'Il–Luminara Unduli; Helmets: Clone Scout Trooper (Kashyyyk); Weapons & Uniforms: The 41st Elite Corps; Highlights of the Saga: The Second Battle of Geonosis)
Star Wars Helmet Collection 61 (Databank A-Z: Unknown Regions–Utai; Helmets: 4-LOM; Weapons & Uniforms: Bespin's Cloud City; Highlights of the Saga: Escaping Cloud City) (Picture only)
Star Wars Helmet Collection 62 (Databank A-Z: U-wing–V-wing; Helmets: Scarif Rebel Trooper (Sergeant Melshi); Weapons & Uniforms: SpecForce on Scarif; Highlights of the Saga: Leaving Wobani)
Star Wars Helmet Collection 65 (Databank A-Z: VCX-100 Light Freighter–Veers; Helmets: Tam Posla; Weapons & Uniforms: Inhabitants of Jedha; Highlights of the Saga: Life after Jedha)
Star Wars Helmet Collection 66 (Databank A-Z: Venator–Asajj Ventress; Helmets: Biggs Darklighter; Weapons & Uniforms: Growing up on Tatooine; Highlights of the Saga: Someone to Watch Over Me)
Star Wars Helmet Collection 67 (Databank A-Z: Vibroblades–Cikatro Vizago; Helmets: B-wing Pilot; Weapons & Uniforms: Blade Squadron; Highlights of the Saga: Birth of the Blade Wing)
Star Wars Helmet Collection 68 (Databank A-Z: Pre Vizsla–Quinlan Vos; Helmets: First Order Fleet Engineer; Weapons & Uniforms: The Finalizer; Highlights of the Saga: Saving D'Qar)
Star Wars Helmet Collection 69 (Databank A-Z: Vulptex–Wampas; Helmets: Galactic Marine; Weapons & Uniforms: The Jedi Purge; Highlights of the Saga: The Rebirth of Caleb Dume)
Star Wars Helmet Collection 70 (Databank A-Z: Wicket Warrick–Weequay; Helmets: Commander Wolffe; Weapons & Uniforms: Grand Admiral Thrawn; Highlights of the Saga: Liberating Lothal)
Star Wars Helmet Collection 71 (Databank: Zam Wesell–Wexley; Helmets: General Merrick; Weapons & Uniforms: Blue Squadron; Highlights of the Saga: The Battle of Scarif)
Star Wars Helmet Collection 72 (Databank: Mace Windu; Helmets: Pilot/Training Helmet; Weapons & Uniforms: Training the Jedi; Highlights of the Saga: The Journey of Luke Skywalker)
Star Wars Helmet Collection 76 (Databank A-Z: Xev Xrexus–Yavin 4; Helmets: Commander Ponds; Weapons & Uniforms: Aurra Sing; Highlights of the Saga: The End of Endurance)
Every Language in Star Wars Movies | Star Wars By the Numbers on the official Star Wars Kids YouTube channel (backup link)
Star Wars Helmet Collection 79 (Databank A-Z: Zabrak–Zillo Beast; Helmets: Jek Porkins; Weapons & Uniforms: Rebel Leaders at Yavin 4; Highlights of the Saga: The Battle of Scarif)
Star Wars: X-Wing Second Edition – Fireball Expansion Pack (Card: Coaxium Hyperfuel) (Reissued in Hotshots and Aces Reinforcements Pack) (Picture only)
Star Wars: X-Wing Second Edition – LAAT/i Gunship Expansion Pack (Card: Clone Captain Rex) (Picture only)
Season 1 Recap | The Mandalorian | Disney+ on the official Star Wars YouTube channel (backup link)
"Chapter 1: The Mandalorian" Episode Guide on StarWars.com (backup link) (Picture only)
"Chapter 2: The Child" Episode Guide on StarWars.com (backup link) (Picture only)
"Chapter 3: The Sin" Episode Guide on StarWars.com (backup link) (Picture only)
"Chapter 4: Sanctuary" Episode Guide on StarWars.com (backup link) (Picture only)
"Chapter 5: The Gunslinger" Episode Guide on StarWars.com (backup link) (Picture only)
"Chapter 7: The Reckoning" Episode Guide on StarWars.com (backup link) (Picture only)
Star Wars Bust Collection 1 (Star Wars Universe: Darth Vader) (Picture only)
Star Wars Bust Collection 2 (Star Wars Universe: Stormtroopers; Behind the Cameras: Evolution of the Stormtroopers)
"The Final Order and the Battle of Exegol" – Star Wars Encyclopedia (Picture only)
Jedi Knight Vernestra Rwoh: Characters of Star Wars the High Republic on the official Star Wars YouTube channel (backup link)
Avar Kriss | Characters of Star Wars: The High Republic on the official Star Wars YouTube channel (backup link)
The Nihil: Characters of Star Wars the High Republic on the official Star Wars YouTube channel (backup link)
A Deep Dive Into Star Wars: The High Republic, Bringing A Younger Yoda to Life (in VR), and More! on the official Star Wars YouTube channel (backup link)
Jedi Padawan Bell Zettifar | Characters of Star Wars the High Republic on the official Star Wars YouTube channel (backup link)
Chancellor Lina Soh | Characters of Star Wars: The High Republic on the official Star Wars YouTube channel (backup link)
"Cut and Run" Episode Guide on StarWars.com (backup link) (Picture only)
"Replacements" Episode Guide on StarWars.com (backup link) (Picture only)
Star Wars: The Mandalorian: Guide to Season One (Picture only)
"Cornered" Episode Guide on StarWars.com (backup link) (Picture only)
New High Republic Comic Revealed, Lightsabers from the Prime of the Jedi, and More! on the official Star Wars YouTube channel (backup link)
"Rampage" Episode Guide on StarWars.com (backup link) (Picture only)
"Decommissioned" Episode Guide on StarWars.com (backup link) (Picture only)
"Battle Scars" Episode Guide on StarWars.com (backup link) (Picture only)
"Reunion" Episode Guide on StarWars.com (backup link) (Picture only)
Star Wars Day-at-a-Time Calendar 2022 (Picture only)
"Bounty Lost" Episode Guide on StarWars.com (backup link) (Picture only)
Common Ground Episode Guide on StarWars.com (backup link) (Picture only)
Devil's Deal Episode Guide on StarWars.com (backup link) (Picture only)
Rescue on Ryloth Episode Guide on StarWars.com (backup link) (Picture only)
"Infested" Episode Guide on StarWars.com (backup link) (Picture only)
War-Mantle Episode Guide on StarWars.com (backup link) (Picture only)
"Return to Kamino" Episode Guide on StarWars.com (backup link) (Picture only)
"Kamino Lost" Episode Guide on StarWars.com (backup link) (Picture only)
Star Wars: The Secrets of the Sith (Picture only)
Star Wars: The Mandalorian Handbook (Picture only)
Star Wars Inside Intel: Mandalorian Armor on StarWars.com (article) (backup link) (Picture only)
Faithful Friends | Star Wars: List It! on the official Star Wars Kids YouTube channel (backup link)
"Crime and Punishment" – Star Wars Insider 209 (Picture only)
Ships of the Galaxy: The Halcyon Starcruiser on StarWars.com (article) (backup link) (Picture only)
Star Wars Inside Intel: The Inquisitorius on StarWars.com (article) (backup link) (Picture only)

Star Wars: Retro Collection

(Pack: Reva (Third Sister)) (backup link)
2-1B Droid in the Databank (backup link) (Picture only)
4D-M1N in the Databank (backup link) (Picture only)
501st Legion in the Databank (backup link) (Picture only)
79's in the Databank (backup link) (Picture only)
Admiral Griss in the Databank (backup link)
Admiral Karius in the Databank (backup link) (Picture only)
Alderaan in the Databank (backup link)
Alexsandr Kallus in the Databank (backup link) (Picture only)
Alliance High Command in the Databank (backup link) (Picture only)
Alora in the Databank (backup link)
Alrich Wren in the Databank (backup link)
Alton Kastle in the Databank (backup link)
Amilyn Holdo in the Databank (backup link)
Anakin Skywalker in the Databank (backup link)
Fort Anaxes in the Databank (backup link)
Arashell Sar in the Databank (backup link)
ARC Trooper Fives in the Databank (backup link) (Picture only)
Aurra Sing in the Databank (backup link)
Bardotta in the Databank (backup link)
Bala-Tik in the Databank (backup link)
Battle Droid in the Databank (backup link) (Picture only)
Beaumont Kin in the Databank (backup link)
Beilert Valance in the Databank (backup link)
Bespin in the Databank (backup link)
camtono case in the Databank (backup link) (Picture only)
Captain Lang in the Databank (backup link)
Cobb Vanth's speeder in the Databank (backup link) (Picture only)
Commander D'Acy in the Databank (backup link)
Darksaber in the Databank (backup link) (Picture only)
Doctor Aphra in the Databank (backup link)
Dr. Pershing in the Databank (backup link) (Picture only)
Fennec Shand in the Databank (backup link) (Picture only)
General Engell in the Databank (backup link)
General Parnadee in the Databank (backup link)